The Look: It's a Life Saver
A lot of cyclists get obsessed with high-visibility. Day-glo jackets, Scotchlite tape, more blinking LEDs than you can shake a stick at, and even changing the paint jobs on their bikes with stick-on patches.
But there are two other things that you can use to make yourself more visible - especially to drivers of car's who're thinking of pulling out of a junction at you:
Your Eyes.
We seem pretty much genetically programmed to lock onto another human's gaze - and not just the eyes of your true love from across a crowded room. If you stare at someone, their brain will somehow lock onto this fact, and their gaze will be magnetically drawn to yours. Better still, the brain will actually be involved, firing off all sorts of "that's another person" signals.
The trouble is, the default marketing for Cycling (note the capital C) in the UK still seems to be pitched at the level of cycling cyborg. Lycra, body armour, helmet, carbon or even kevlar-nomex components . . . and the most bad-ass shades money can buy.
So unless you're a crime-fighting cyborg from the future, you'll have problems making any sort of eye contact with drivers of cars. If it turns out that you are in fact that particular cyborg, then your gaze probably says something like, "Stay there. Do Not Advance Beyond The Stop Line. Or There Will Be Trouble", and you can skip the rest of this post.
For the average Lycra'd-up, lidded, and shade-wearing road-racing wannabe, your gaze simply says, " ".
That's right - nothing.
Just take a look, at this photo mocked up in my office:
Any driver seeing this is going to recognise you for what you seem to be - more machine than man (or woman).
The best you can hope for is that by pointing your face directly at them, some small part of their brain will say, "Hey boss! I think that machine over there is staring at us. Should we kill it?".
There is a small advantage to this though - you can appear to stare at the driver of a car that's about to pull out on you, while at the same time, keeping your eyes on the road in front of you. Or that skirt / those pecs over there.
So let's try it without the shades:
That's a big improvement, isn't it?
Although I do seem to have developed a strange sort of squint, not unlike the wise old Chinaman, Egg Shen from Big Trouble In Little China. I'm not sure if it's a thing to worry about, or not. Maybe it's time to visit my optician.
Anyway, the point is, that when a driver is faced with this, they're going to think twice about pulling out in front of me. Their brain is forced to admit that this may in fact be a human being that's approaching.
We can do even better than this though:
See, I've ditched the helmet (please, let's not get into that again in the comments though), and I'm in the act of holding my glasses away from my face, so the driver's left in no doubt that "Yes, I'm staring at you".
But let's hope they don't realise that I'm actually short-sighted, so without the glasses, I'm not so much staring, as wondering what that vague car-like blur is up ahead.
Now I'm not suggesting that you should ride without holding the handlebars (so if you do, and subsequently fall off, don't blame me) - this is merely to illustrate a point. The more heman-like, direct, and concentrated you can make your "I've seen you, and you know I've seen you" stare, the greater the chance that the driver will think twice about how safe it is to pull out of that junction.
One last point - there's a flip side to this. If the driver never looks in your direction, so you cannot make eye contact, assume that they are about to pull out without looking. Take evasive action immediately!
**UPDATE** Following on from 2Wheels3Speed's idea below, here's an image from The Fat Cyclist for putting eyes on the back of your helmet. So drivers approaching from behind you will get the spooky feeling that you're staring right at them: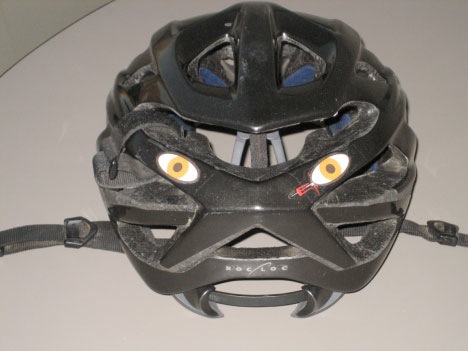 Workout:
Type:

Cycle

Date:

01/08/2009

Total Time:

1:43:00.00

Calories:

1346

Distance:

24 miles

Average Speed:

13.98 mph