Low Tech Solutions In A High Tech World?
Summer's here, and the mileage is going right up, so I've been forced out of ordinary clothes and into Lycra & it's associated accessories.
So a couple of weeks ago, I twittered (tweeted? Whatever.) about the joys of chamois cream - for the uninitiated, you slather your bum in it before a ride and it keeps your skin lubricated to avoid friction damage and dis-infected to prevent any other problems. Yeah, I know it sounds funny, but I'm reliably informed that saddle sores are no laughing matter:
Anyway, a couple of people replied that there were better low-tech alternatives to the chamois cream I was using. And this got me thinking . . . .
So this is the product of choice, at about £10 a pot - Assos Chamois Creme.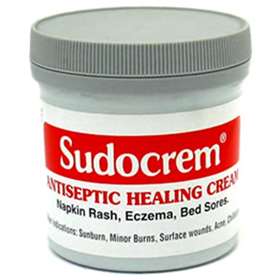 . . . while Sudocrem is just over £6 for a 400g tub. That's enough for a whole lot of nappy rash, as well as a bunch of saddle sore prevention.
Or for your eats when you're riding, how about . . .
… Jelly Belly Sports Beans work out at about £1.25 for a 28g (1 oz!) pack. True, they have all sorts of goodness and stuff in them, along with 93 cals per pack, but might there be a low-tech alternative that's fun to eat while you ride?
Yes, that's right. Jelly Babies. Clicking on the image above takes you through to an on-line sweet shop, selling two 180g packs for £1.93. The energy content's exactly the same as the 'proper' sports sweeties (93cals / oz), but the price works out at just 15 pence per ounce - that's an 88% saving, AND you get to bite their heads off:
What about clothing? Well the must-have modern technical fabrics do all sorts of amazing things:
. . . but then again, remember that the ultimate technical cloth for a very long time was tweed. Practical AND stylish:
Actually, I'm really not sure about that pattern. But you get the idea.
And did you realise that the carbon monocoque bike you spent years lusting after . . .
. . . . is actually just SO last year? Steel is the new carbon, baby:
OK, so those last two probably aren't a very fair comparison. But maybe looking at a commuting bike with Sturmey Archer 5-speed hub gears in stead of gazillions of derailleur shifted gears makes more sense than you'd think.
Finally, when you get home from a long summer ride, you might be tempted to take on some fluids in the form of a recovery drink. Naturally, there are age-old alternatives to these modern products that boast the same health and vitality-giving benefits:
So what would your low-tech solutions be in the face of today's high-tech products?