Friday Caption Contest - All Is Revealed
Congratulations to Andreas and Saprice02 , who both correctly guessed what the mystery bikehack was for. Fat Rob will be round to see you some time in the next week, wearing his rubber romper suit, a seductive grin, and carrying a tub of butt lube menthol canapé dip.
Made from solvent-welded PVC piping, this bikehack was a far from stable affair, but while I was out walking Huge Dalmatian yesterday, we saw this guy riding home: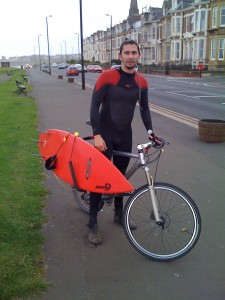 The surf was up, and he'd obviously just been catching a few (do I sound like I know what I'm talking about here?), and was off home to get warm - surfers generally don't use the triathlete's old favourite of "nature's central heating" as they're in the water more often than we are, and ammonia exposure eventually kills a wetsuit.
His board carrier was made our of some sturdy metal, and looked a lot more robust than the PVC job featured in our caption contest: