Impressions of Amsterdam
This weekend, Robbie and I met up in Amsterdam - we were in town for the marathon on Sunday, and had each flown out on Saturday.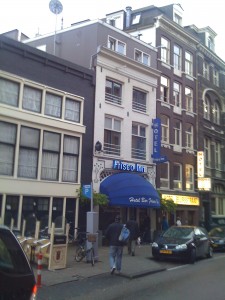 It's been a while (like 17 years) since I was last in Amsterdam, and on that occasion, I'd stayed in a tiny hotel (left) not far from the Central Station with the woman who was to become my wife about 15 months later. Since then there's been a lot of water flowing through the canals, and I've got interested in bikes and stuff in a big way. It would have been good to have the presence of mind to take lots and lots of photos to show you how big an impression the city made on me this weekend. But I was too agitated by the impending 26 miles of pain to focus on this sort of thing, so all I could do was take a few snaps with my phone.
On Saturday evening though, we met up with Marc from Amsterdamize.com . The internet is a haven for all sorts of tricks to be played on the unwary (remember that "nobody knows you're a dog in cyberspace" thing from a few years back?), so I was a little worried lest Marc turned out to be a) a twelve year-old girl, b) a 22-stone transvestite welder, or c) Papa Lazarou .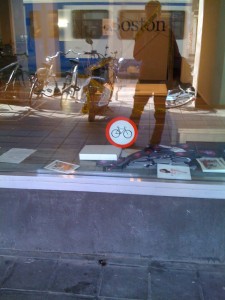 Thankfully, Amsterdamize.com is a wysiwyg kind of place, and Marc was just as seen & described in his own words. Over a couple of beers in an 'Irish' pub behind the former Heineken brewery, we set the world to rights, talked about the differences between places with a bicycle culture & the rest of the world, and got a flavour of the things going on in the Netherlands right now that might upset the applecart of what seems to be a pretty fab country.
We'd already been for a walk down to the Olympic Stadium to complete our race registration (or in Robbie's case, the walk there and back twice), and were feeling a little tired. Marc was somewhat incredulous at this, and asked why we hadn't hired bikes.
Doh!
It even turned out that I'd picked up a card for a bike hire place just around the corner from our hotel - black-bikes.com . We got there at about ten to seven, just as they were closing up, and agreed to let them get on with putting their stock away & come back tomorrow to pick up our bikes to ride to the marathon.
Anyway - Amsterdam.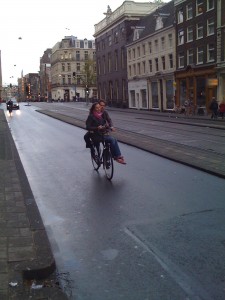 I felt like a proper tourist the whole time I was there. All I could do was stare, slack-jawed in amazement at the number and sheer ubiquity of the bikes in the city. They were absolutely everywhere - I don't think I once saw a bike rack that wasn't full, and every lamppost seemed to have at least two bikes chained to it. The traffic was dominated by bikes too, mostly sticking to the rules, and making use of the pervasive cycle lanes. There seemed to be lots of eye-to-eye negotiation of priorities too, so wherever there was any doubt about who had right of way, things just got sorted - no fuss, no raised voices, and apparently no tempers getting frayed.
In the whole weekend, I saw the sort of things that would make your average helmet zealot completely lose the plot. Out of the thousands or people I saw riding bikes, my guess is that there were fewer than five wearing helmets - and three of these were a group riding road bikes, wearing Lycra, and apparently off somewhere else.
The bikes we hired from black-bikes.com were, well, sturdy black bikes. No gears, hub brakes & dynamo, mudguards, chaincase, and a sensible sit up and go with the flow position. They also came with tyres of equal sturdiness - I know this because less than a minute after we'd picked them up, I rode with a crunching tinkle through a broken beer bottle, with no ill effects.
The surfaces of the bike routes were billiard-table smooth (much more so than the roads), and actually surprisingly fast for such sensible bikes to roll along. Riding back from the end of the race, we got trapped inside the closed roads of the race route, and ended up having to take quite a diversion. At least that's why I told Robbie we had to go that way. In reality, I was indulging my mild shoe fetish to follow some high heels [attached to some legs etc] riding a bike - something you really, really don't see in Tyneside.
Anyway - the diversion.
At one point I got a case of the giggles at this - we were riding the style of bikes which in the UK would more usually be associated with old men (chavs seem to find my Pashley particularly amusing - but then I view their Burberry baseball caps with the same disdain) . . . but with our post-marathon legs, these did seem particularly apt, as we were overtaken by several old women apparently out for an easy Sunday cycle. Oh well - you can't win them all, and I also feel that it was part of our initiation ceremony for the Slow Bicycle Movement .
So - did Amsterdam impress me? Well, my to-do list now includes . . .
Learn Dutch. Yes, I know that everyone in the Netherlands seems to speak better english than the average Geordie. But it's a matter of courtesy for me to be able to respond at least partially in kind.
Figure out how to internationalise what I do for money.
Have The Big Discussion with the women in my life.
Hmmm - I think the first two will be a whole lot easier than the third. Maybe it's time to arrange that week in the Netherlands that I've been musing about for the last couple of years, and let the country sell itself . . .