You DO NOT Have Priority
Here's a curious thing in British law - at road junctions, pedestrians have right of way over all other road users.
No, really - click on the picture to go to the Highway Code pages about this.
Anyway, over the last few months, I've started acting as if this were true. When cars are approaching from behind like shown above, it's bloody scary, and you really do need eyes in the back of your head / to concede that discretion is the better part of valour.
When cars are approaching from the front, or from the minor road you're crossing, it's much better - provided that you give drivers that gimlet-eyed-cyclist-stare. Look them in the eye, look away, and then stare hard at them again. It's a bit like the Governator's "don't f*** with me" look that he used in the original Terminator, Running Man (I will never, ever wear a race suit like that one ) or Predator. Actually, now that I think about it, every film, and pretty much all legislative sessions he's been in.
OK - so far, so good.
Now you'd think that when riding a bike along a cycle route parallel to the road, that the same would apply. Au contraire - non! Here's the standard way of dealing with this issue in British road / cycling infrastructure design, where your path is crossed by a minor road joining a major one: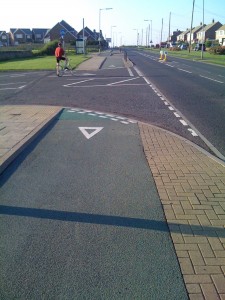 So what you have here is on the left, the pedestrian pavement, which cyclists are not allowed to use (Cycling on footways (a pavement at the side of a carriageway) is prohibited by Section 72 of the Highway Act 1835, amended by Section 85(1) of the Local Government Act 1888 . This is punishable by a fixed penalty notice of £30 under Section 51 and Schedule 3 of the Road Traffic Offenders Act 1988 .) A pedestrian walking along this has right of way over all other traffic as soon as they step into the road to cross it.
Then in the centre is the green cycle track - for people riding bikes. But when they get to the junction, they have to give way to traffic on the minor road that it crosses - hence the dotted lines and inverted triangle.
At the right is the main (major) road. People on bikes can use this instead of the cycle track (there's no compulsion to us the cycle track ), and if they did so, then they'd have right of way over the traffic joining from the minor road. They'd also have right of way over the traffic on the main road that approached them from behind, or wanted to turn across their path to join the minor road:
So. If the way to get more people riding bikes is to make it safe AND convenient, why do you think the UK seems to lag waaaay behind other countries in terms of the percentage of people who choose to ride rather than drive on short trips?