Ashington Bike Lockers
We took a walk around the retail end of Ashington today at lunch time to see how the businesses were doing, and what they were facing in terms of competition from the new Cylon Mothership Asda-Walmart store that opened this Monday. Passing through the bus station, I saw these: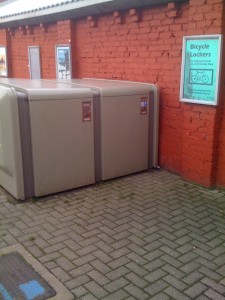 What are these? Well, look at the sign (click the picture to enlarge) - they're bicycle lockers, available for long term rental .
I guessed that this was some sort of scheme to encourage multi-modal transport. Somewhere safe & secure to leave your bike. So I went into the bus station office to see if they had a leaflet, what the deal was, or even if they had a website.
Apparently they were supplied by those nice people at Sustrans . Here's the deal:
It's a £20 deposit for a key.

You can keep the locker as long as you want.

There's no charge. No daily / weekly / monthly rental.

You get your £20 back when you give them the key back.
Is it just my imagination, or does this seem too good to be true?