Pancakes - Breakfast of Champions!
Over the summer, I got seriously into pancakes. I'd cook 'em for breakfast for Daughter & me two or three times a week, and go to work / out at the weekend with a definite full-belly-warm-glow about me.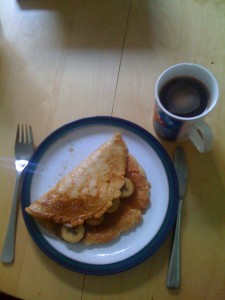 Strangely enough, everyone seems to think that pancakes are a real faff to cook in the morning - the inevitible reaction has been, "Ooh - sounds lovely. But I really couldn't be bothered going to all that effort first thing in the morning."
Pah! Pancakes is simples , and I can make 'em in the time it takes for the coffee to brew in the cafetiere :
Ingredients - makes two pancakes

1 egg
75g (3oz) plain flour OR 35g plain flour, mixed with 40g of ground oats. This is ideal if you're looking to get that porridge nomnomnom feeling that'll keep your pedals turning for hours and hours
125ml (4 1/2 fl oz) milk
Knob of butter & a little oil to cook them in
Method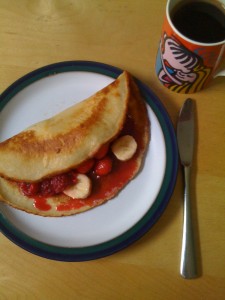 Make the pancake batter mix - put the egg, flour and milk into a bowl and beat / whisk to an even consistency. You want no lumps, and an even colour.
Put a non-stick frying pan on a medium heat, with a small knob of butter & a little oil in it (about a teaspoon of each). Melt the butter and tilt the pan to get it evenly coated. When the butter starts to sizzle, ladle in half the batter mix to the middle of the pan. Tilt the pan to spread the batter across the whole base.
When the batter starts to look pretty solid right across the top surface (about a minute or so), you need to turn it to cook this side properly. You can either flip it (high risk!), or if you're a coward like me, turn it with a couple of wooden spatulas.
It'll only need 30 seconds or so to cook this side, and then you can serve the pancake.
Top tips for toppings?
Chop a banana up & sauté with a little butter & cinnamon
Strawberries sautéed in butter, and then with a generous dollop of syrup added to the pan & brought to the boil
Banana AND strawberries AND rasberries all sautéed together. Gasp!
Bacon & maple syrup - a classic, but deservedly so.
Miniature Toblerones put onto the pancake while you're cooking the second side, so that they're soft when you serve
Peanut butter & blueberry jam
A tablespoon of lime marmalade, melted first in the pan, and then with a little brandy added just before serving (not on school days )
Go on - you know you want to!