Bicycle Shaped Object
For the last few days I've been in Croatia, teaching at the university in Osijek. I have been exceptionally well looked after by my hosts, one of whom lent me his bike so I could have a ride around the city on Friday morning before lectures.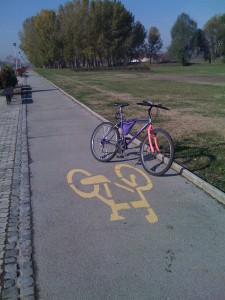 What you have here is basically a 15 year-old bicycle-shaped-object (BSO). For some reason, it hasn't been extensively (or indeed at all) ridden - the chain still had that waxy, new-chain feel, most of the sprockets were completely clean, and the original tyres still ad those little stringy bits of rubber all over them that only come with new tyres.
I've always been a bit sniffy about people being sniffy about Bicycle Shaped Objects. After all, surely any bike is better than no bike? Surely all you have to do is sit on it, pedal, and enjoy the ride?
No. Not so much, as it turns out.
Rear wheel - buckled and loose cones, making cornering feel a little interesting.
Handlebars - upside down. Or something. They just felt WRONG.
Brakes - totally optional. I managed to adjust the front ones so they'd at least slow the bike down, but I could do nothing with the rear.
Cranks - plastic, and not exactly tough. Still, at least they won't rust!
I might sound ungrateful about the loan of this bike. Far from it - it was wonderful to ride any bike around in the unusually warm autumn weather.
But it was also clear why this bike had been so infrequently ridden. I can take joy from pretty much any pedaling motion, but with the majority of his adult cycling experience involving this "bike", it's no wonder that my host hardly ever rides it.
So if you're thinking of getting a bike to ride around town, set your sights just a little higher!