There's No Glory Shooting Fish In A Barrel
This is the only conclusion I can come to on the issue of mobile phones & drivers. Either that, or the police are just too chicken-sh*t scared of the sort of drivers' lobby backlash that would ensue if they bothered to get serious on this.
Here's why I have a problem with people chatting away on the phone while they drive - it has much the same impact on driving skills as being over the drink driving limit .
Forty years ago, it was socially acceptable to drink & drive, even if it wasn't legal.
My father tells hilarious stories of driving home on Friday nights, and then having to spend Saturday mornings combing the streets trying to find where he'd abandoned the car. But now you'd be hard pressed to see him drink anything at all before getting behind the wheel.
It's just not the done thing any more.
Yet every time I'm out and about, I see people driving while on the phone. According to the Department for Transport , approximately one in forty drivers is on the phone. Most of these are on obvious hand-held devices. Not that being hands-free improves the driver distraction problem - it's having your mind elsewhere that causes the problem, not what you're doing with your hands.
But it's when you look at conviction rates, and dig into the numbers that the scale of police inaction on this issue becomes apparent. Have a guess at the total issued across the whole of the North East by Northumbria Police last year.
2,333
I don't think they're trying, do you?
It gets worse. If we compare conviction rates across the various divisions of Northumbria Police, we find some wild variations. In South Tyneside, you're three times more likely to get caught than in North Tyneside. But even there, the rate is just one conviction per 2,500,000 driver kilometers - and even the poor, over-worked Metropolitan Police Force do more than twice as well as this.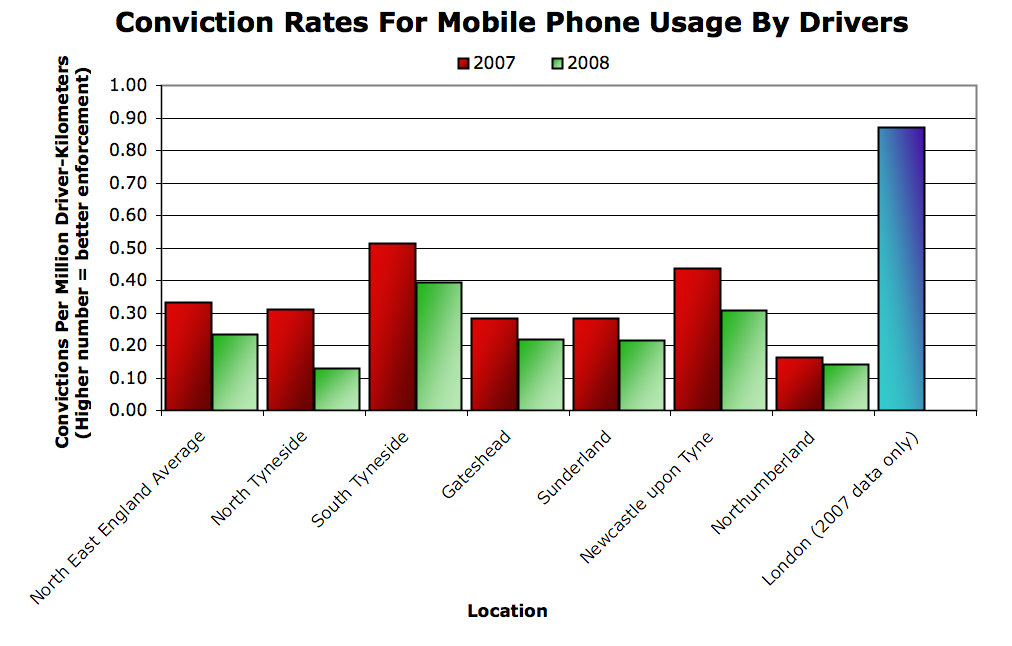 This means that on this exercise that basically is like shooting fish in a barrel, Northumbria Police's best hit rate is just 0.0016%. For every one driver who's basically rendered themselves incapable of driving to the same extent as if they'd been drinking, over 60,000 get away with it. And remember this is their best performing area - North Tyneside, where I live, is three times as bad .
For something that in terms of road safety has a direct parallel with drink-driving, yet is actually easier to detect (just open your eyes!), this is a conviction rate that my local police force ought to feel thoroughly ashamed of.
Here's my thinking on how many convictions would be at all reasonable - this is the bare minimum:
Let's take the road that runs along the coast between Tynemouth and Whitley Bay. During the peak, "school-run" times in mornings and afternoons, you get about one vehicle every three seconds or so. That means forty vehicles every 120 seconds - every two minutes. If these vehicles are doing 30mph, then the total number of driver-miles this would account for is just forty miles (about 64km).
So the police could issue penalty notices at a rate of around thirty per hour, with one notice issued for every forty driver miles. If there are two rush hours per day, and they staked out just one road in each at a time, then they could reasonably expect to issue
30 x 2 rush hours x 5 days x 52 weeks = 15,600 penalty notices
I think before they hit that number though, there might be a significant shift in driver behaviour!