iPhone Bike Apps - Why?
I'm a bit of a geek when it comes to bike stuff. I have a stack of apps on my iPhone that are bike specific. Usually variants on either
"Ooh look! I'm just sooo NOW and green and good for the planet which really needs saving. Look at all this CO2 I'm not creating!" (BikeYourDrive)

or… "Yes! I am a proper tough, fast rider. Look how fast I ride!" (TheBikeComputer, BikePro, etc)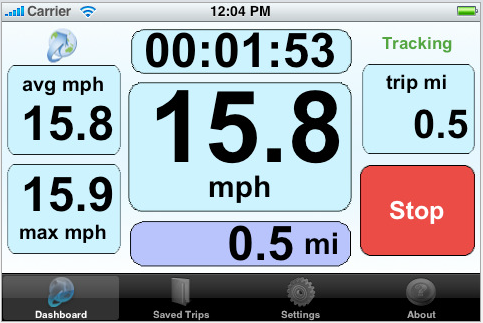 … or … "Tell me where I should have turned left. Oh, and how far did I ride?" (Bi.Cycle - GPS Cycling Computer).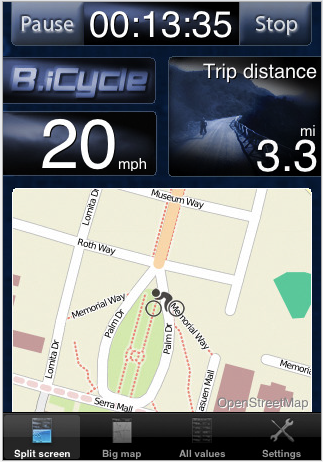 They may appeal to my inner nerd, but what are they really for? Surely the important thing is to get on your bike and ride?
Or maybe this app - Cycle Tracks - previewed on Bike Portland yesterday is something that's more than just a doodad for dweebs like me?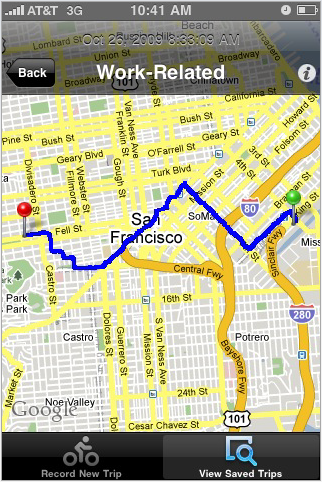 As it says in the blurb . . .
CycleTracks uses your iPhone's GPS support to record your bicycle trips, display maps of your rides, and help transportation planners make San Francisco a better place to bike. At the end of each trip, data representing your trip purpose, route, and the date and time are sent to the San Francisco County Transportation Authority (all data will be kept confidential*). By using CycleTracks, you'll be helping San Francisco's transportation planners better understand the needs of cyclists—and you'll get to see maps and statistics of your rides.

We'll use the real-time data we collect to improve the bicycle-use component of our computer model SF-CHAMP to better predict where cyclists will ride and how land developments and transportation infrastructure will affect cycling in our community.
Sounds pretty cool to me - use real data to figure out what's needed. And then hopefully provide that. I've only really got two worries though:
In places with low cycling numbers, the data might be mis-used to confirm planners' conception that there's no need for cycle infrastructure. They seem to be in favour of predict-and-provide for motorised traffic, but not so much for pedal traffic.
Uploading data on my movements to some vast database? I'm not sure I'd be too comfortable about that!