Bike Assembly Errors
A bike is an amazingly simple machine. Yet it's also amazingly easy to put it together wrong - as the folks at ASDA can testify .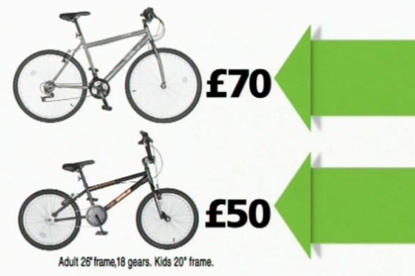 There was a lot of general sniggering in the press about this at the time, but even apparently 'professional' mechanics can make mistakes in putting bikes together.
I'm NOT a professional mechanic, but I have tinkered with bikes for a good few years, and have a background in engineering which means I'm moderately adept at figuring out how stuff works. Here are just a few of the mistakes I've made though:
Failed to tighten the cotter-pins on the cranks of an old bike. I didn't know that these need to the TIGHT. The resultant creaking squeak and slightly eccentric pedal motion could only be fixed by replacing the pins with new ones.
Didn't have the right tool to tighten the chainring bolts when I did my first fixie conversion. I realised that using a flat-bladed screwdriver to hold one side while I tightened the other with an allen key wasn't good enough when I looked down to see that I'd lost two out of the five bolts! Fortunately I was near the bike shop.
Cross-threaded a bottom-bracket cup. Thankfully bike shops have re-threading tools to fix this problem - maybe it's quite common!
Did something wierd when re-fitting a rear derraileur. On the test ride, the chain somehow became tangled in the jockey wheel assembly. I had to carry the bike home, and could only release the chain by breaking it. That was a brand new chain too.
Skimped on taking the time to completely strip down a rear-wheel hub, thinking I could just get away with adjusting the cones to fix the slack. The hub seized and dragged the axle & cones through the bearing, writing the wheel off.
Fixed punctures, only to realise half a mile down the road that I'd not removed the cause of the puncture.
Not tightened the handlebar clamp at the end of the stem properly. Not such a huge problem with straight bars, but this was with a set of drops. First good bump I hit in the road, they rotated round to point straight down … and I almost went straight over the front!
Not tightened a saddle clamp properly. Again I found out on a test ride (without any tools with me - D'Oh!), and had to ride five miles home standing up.
Had various bolts for racks, mudguards and light fittings come loose. Actually, no matter how tight you do these up, they seem to rattle free, so I now apply a dab of threadlock to these when I do them up!
Most of these have a common theme - not doing things up tight enough. Hopefully I've learned from these mistakes now . . . and I now have a tool kit that means I don't have to improvise (and not do the job properly).
Have you made any mistakes in maintaining your bike?