Friday Caption Contest: Rising Sea Level Edition
Remember this classic photograph from Amsterdamize ?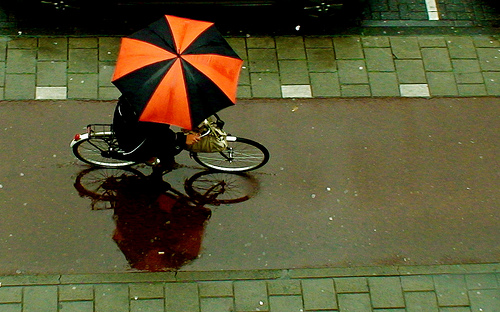 It's an example of the art of city cycling at its best. The thing is, with climate change and stuff like that, there's the potential for this sort of scene to be dramatically altered in the not-too-distant future:
So for this week's caption contest, all you have to do is come up with a caption for either or both of these photos. There's a special bonus prize (The King Cnut / Melanie Phillips-Daily Mail Award) for any captions that you could send to your country's leaders before they go to Copenhagen for their pre-Christmas shopping this year.
As ever, we're offering a [virtual] prize that's beyond the dreams of avarice - a short-haul flight, with limo-transfers to an open-air heated swimming pool, where you'll learn to swim in rapidly-rising waters, while watching once-fertile land being swallowed by the Sahara.
The Melanie Phillips / Cnut bonus prize is to fly first class to the Maldives for an extended holiday. There, you'll have the experience of a lifetime, sitting on the shore and commanding the sea to retreat and thus prove once and for all that the whole climate change thing is just one big conspiracy to wheedle research grants out of gullible governments who're desperate for any excuse to raise taxes. (We regret that we cannot supply buoyancy aids for winners of this prize.)
Good luck!