Dutchess, You're Freaking Me Out
First off, let me say that I like the Dutchess. Cannondale's take on the classic ladies' bike is full of the sort of design features that would normally not make it past the eyeball grabbing concept bike stage.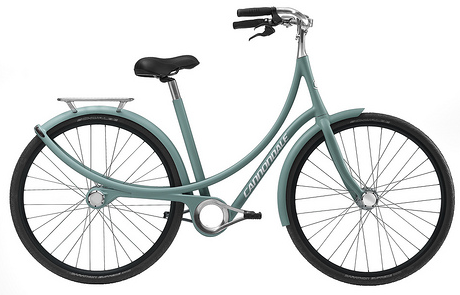 I love the structural rear-mudguard, the fact that it comes with a rack as standard, and that feature with the swiveling handlebars that turn into a lock is just great.
The big, wide-open, polished bottom bracket is pure bling, and the drive from this to the rear wheel (prop drive?) shouts low-maintenance riding without getting any of that mucky oil on your trousers or floaty skirt.
Yep. All-in-all, this looks like a lovely, practical bike.
The only problem I have, the only thing that disturbs my sleep, and frankly freaks me out, is the brakes:
Wytze's graduation project for Cannondale from Eelke D. on Vimeo .
I mean, really, what IS going on with those brakes? The levers seem to have nipples for cables, but where the smeg are the cables? Internal to those swiveling handlebars? Routed somehow under the grips? Invisible?
Or is this just a case of a bike showing it's true colours? It's billed as a practical ladies' bike, but in reality it's a brakeless fixed-wheel bike aimed squarely at the red light-jumping, courier-wannabe hipster market.
Mark my words, you'll be reading more about this bike in the pages of the Daily Mail.