Missing Item?
Flicking through my photos from Croatia, I came across this one of a bike parked up in Osijek: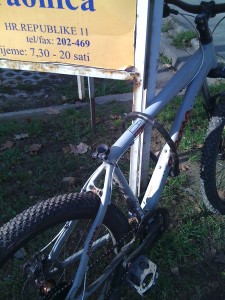 This bike was parked in the same location for several days, and I was left puzzling . . .
Did the owner always park up int he same place, but having no saddle lock, take it with them every day?

Had the saddle been stolen, and the owner had left the bike there until they could get to the shop for a new one?

Was the owner saving up for one of those no-saddle jumpy-stunty bikes, but in the meantime just wanted to experience the admiring looks of girls who like that sort of thing?
I guess we'll never know. Unless that is, the owner reads this blog.
One more thought - I'm not sure that the bike is actually locked. It may be possible to remove it, just by taking off the front wheel and working the lock over the handlebars.