I Almost Want One Of These
I was lucky enough to get one of Carlton Reid's Christmas E-cards today, and this little thingamajig caught my eye midway through the animation: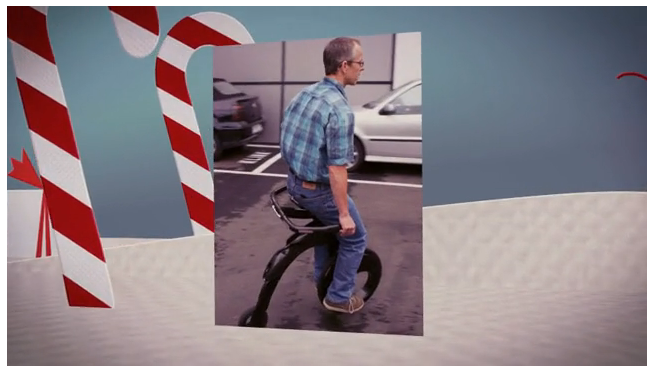 Some sort of cool, carbon fibre modern version of a Penny Farthing? I had to get more information - I could almost see this coming in really handy (because after all, I don't have enough bikes ), so I emailed right back.
And here's what we have -it's called a YikeBike , and is a carbon fibre, folding electric bike:
Looks like a whole lot of fun. But at 10kg, they could both lighten and improve its fun factor by ditching just one little tiny detail.
The electric motor. Oh, and the battery too.
I'm thinking some sort of direct drive to hub gearing and a set of pedals. The only problem would then be what to wear - traditional tweeds might be all well and good for a traditional 6ft tall Penny Farthing, but this little beastie needs something a whole lot more up to date.
Any ideas?