Fixed-Wheel Hill Training
Well three cheers and a "Huzzah!" for the weather this weekend - the roads were neither covered in snow, nor frozen with sheet ice!
What better excuse do you need to get out in the elements and experience some wind-in-your-face cycling?
I did one of my favourite loops, taking in the three hills at Sidegate, Stanley, and Wrekton .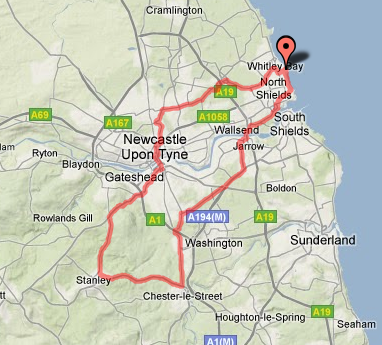 The roads were still pretty wet though, and my road bike is still clamped into the turbo trainer in the study, so I did this on my fixed-wheel training / commuting bike, Byron, which is equiped with luxuries like full mudguards, a front mudflap, a rear buddy-flap, a lovely Brooks saddle, and a voluminous Carradice saddle bag (containing D-lock, waterproofs, toolkit, spare tubes, 2nd water bottle, etc).
Turns out that without gears, those hills are "character building". Or maybe the weight of all these extras on the bike had something to do with that?
It started raining pretty hard when I was about five miles from home. But I didn't care - I was just so happy to be outside.
Workout:
Type:

Cycle

Date:

02/07/2010

Time:

09:12:36

Total Time:

2:42:00.00

Calories:

1972

Distance:

42.4 miles

Average Speed:

15.7 mph

Max Speed:

29 mph

Ascent:

1,400 ft

Descent:

1,400 ft