Up The Big Hill To Consett
Not such a good ride on Sunday - not sure why, but I just couldn't find my rhythm.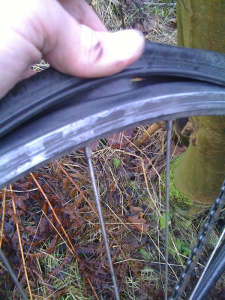 When I got a puncture at the 18-mile mark, I was pretty cheesed off. You just wouldn't believe the thorn that had gone through the tyre - I couldn't pull it out from the inside with my fingers, and neither could I push it beck the way it had come with the end of the tyre lever. In the end, I had to use my teeth.
At that point, I was ready to just turn for home, but somehow managed to find the motivation to continue up the road through Rowlands Gill to Consett. All good practice for the Ironman, as this road is nearly a 300m climb, with 240m of that in the last 1800m - good, character-building stuff on a fixed-gear bike!
From there it's a ten mile blast on an undulating descent to the Team Valley, before heading up over the top of Gateshead & home for that cool-down run.
Workout:
Type:

Cycle

Date:

02/14/2010

Total Time:

3:20:00.00

Calories:

2434

Distance:

50 miles

Average Speed:

15 mph

Ascent:

2,624.67 ft