Jumping Red Lights: Safer Than Stopping?
Big ride today - nearly 80 miles playing in the hills of County Durham, getting as far as Wolsingham & then coming home via Durham and the Angel.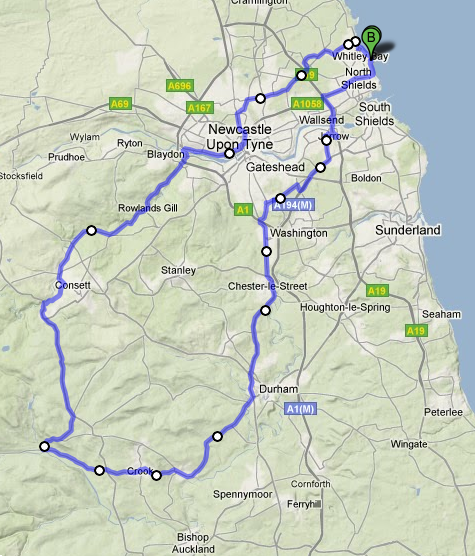 I had an incident at a set of lights that made me question the safety of my pedantic attitude to red lights. You see, when I ride on the road, my bike IS a vehicle, and so I must obey all the relevant laws that apply :
Junctions controlled by traffic lights

175

You MUST [i.e. it is a legal requirement] stop behind the white 'Stop' line across your side of the road unless the light is green. If the amber light appears you may go on only if you have already crossed the stop line or are so close to it that to stop might cause a collision.

[Laws RTA 1988 sect 36 & TSRGD regs 10 & 36]
Here's what happened - I was in a queue of traffic waiting at a set of lights leading onto a roundabout. The lights seemed to have an unusually short green phase, and wouldn't you know it, although only four cars had been ahead of me, as I glanced up from my head-down-bum-up-gonna-beat-these-lights position, they'd already turned to amber again before I reached the line. I yanked on the brakes and flicked back down through the gears, to stop straddling the white stop line.
As I unclipped, I realised that the car behind me was still going for it. The driver swerved around me (just), and roared off through the junction. By the time HE crossed the white line, the lights were definitely red. Gimp.
So here are my questions:
Bikes don't have rear-view mirrors as a rule. That means you can't see if there's someone right behind you when you try to decide if stopping on amber might cause a collision. So should I now always be an "amber gambler" to avoid the danger I can't see, in preference for the danger I can?
Does this mean for proper "vehicular cycling" though, I should just ignore the lights anyway, and

drive

ride like I own the road? After all, I DO pay road tax !
Workout:
Type:

Cycle

Date:

04/25/2010

Time:

15:29:35

Total Time:

4:52:00.00

Calories:

4265

Distance:

78.5 miles

Average Speed:

16.13 mph