Civilised, Long-distance Commute
Thursday is a bike day. We won't let the weather, the clients we have to see, or the errands we have to run put us off doing it all on two-wheels. And this week, I had all three - cold & drizzly first thing in the morning; a meeting with a client that required me not to be dressed in Lycra; an urgent need to get into Newcastle on the way home.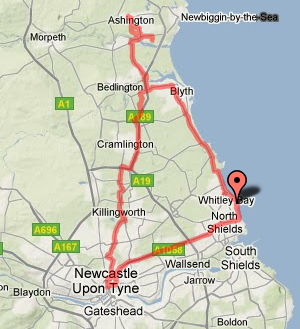 But like I said - Thursday is a bike day.
It's funny how things work out though . . . the only bike to ride was the Pashley, Siegfried. I'd delayed setting off as long as possible, but it was still drizzling and being blown hard in my face. Yet within just a few miles, the rain had stopped and the sun was trying to come out - time to shed those waterproofs.
Then the meeting with the client turned out wonderfully - she agreed to donate a fabulous prize for a competition I'm going to announce next week for my Macmillan fund-raising . More about that later.
Then the ride into Newcastle. The wind at my back, and a route that took me down a road that's now closed to motorised traffic . . .
As well as roads that just make you grin like a fool as you freewheel down them . . .
The destination was worth it too - the nice people at Start Fitness agreed to provide some schwag for the fund-raising.
The only thing left to do was get home in time to vote . . . and avoid the mobile-phone-distracted drivers along the way. The less said about them, the better.
Workout:
Type:

Cycle

Date:

05/06/2010

Time:

02:07:16

Total Time:

3:45:00.00

Calories:

2191

Distance:

47 miles

Average Speed:

12.53 mph