Electric Cars: Why Bother?

Oh, the lies these people tell. Mind you, you can't really blame them, can you? Put yourself in their position:
You run a multi-billion dollar / euro / pound / yen business, employing thousands.

For the last fifty years, governments have pandered to your every need - built infrastructure for your customers to use, gone to war to keep the supply of fuel cheep, and when times have looked tough, thrown money at you in direct grants, cash-for-clunkers to prop-up sales, and generous donations to set up training schools for your workers.

All this means that life is pretty good for everyone in the business. The people who work in production get paid pretty well, the top bosses get paid very well, and the people who get the oil out of the ground to keep the wheels turning . . . oh, hell, yeah!

But then some beardy, sandal-wearing, so-called scientists go and cook up a conspiracy to draw down government money (money that's rightly yours!) to do bogus research into "global warming". And the idiotic, credulous governments and public swallow this BS.


So now you have a problem - how to carry on with business-as-usual? Remember, business-as-usual got everyone pretty rich, so it's a good thing, but because of this pseudo-science, you're now perceived as the bad guys. Just SO unfair!
The answer is obvious when you think about it - if exhaust gasses from cars are alleged to have some sort of "greenhouse" effect that's bad for bunny-wunnies and polar bears, we need to come up with an alternative, and set our marketing boys to work on it at once with a big bucket of greenwash: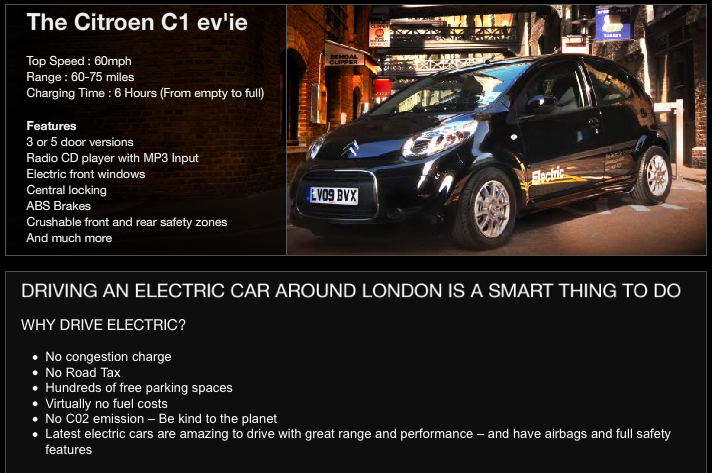 Just look at the advantages, Mr Customer:
No congestion charge! (And if only everyone else drove a car like this, there'd probably be no congestion either)
No Road Tax! (What do you mean that was abolished 75 years ago?)
Hundreds of free parking spaces! (So long as we don't sell more than a couple of hundred of these green smokescreens, and we carry on business-as-usual with the rest of our firm, that'll be true.)
Virtually no fuel costs. (Actually, this is true - electricity is so cheap that you get about 80 miles worth of fuel for about 90p - at today's petrol prices, that's the equivalent of around 600mpg)
Latest electric cars are amazing to drive with great range and performance - and have airbags and full safety features (Oh purrleasse!)
No CO2 emission - Be kind to the planet (You stupid, credulous sandal wearing hippy)
It's this last one that's the biggest lie, and the one people (from you and me, to governments and people who should know better) are keenest to believe. And it's a lie that all the manufacturers use - from producers of glorified golf-buggies: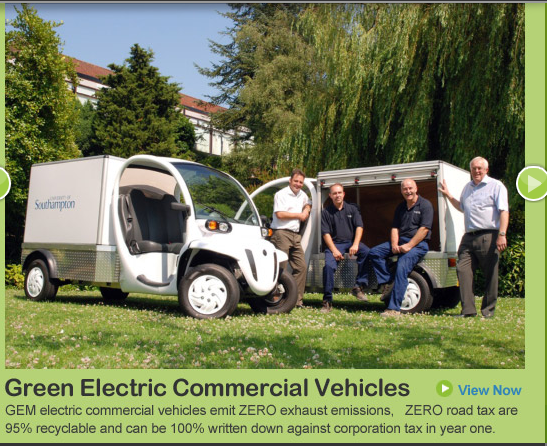 . . . to the big boys at Mercedes: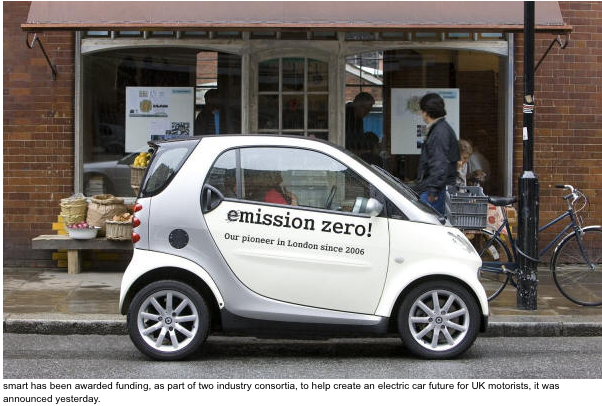 Why am I saying that all this "zero emission vehicle" stuff is a lie - green glitter thrown in your eyes so that you think you can carry on with business-as-usual? Because the elephant in the room with electric vehicles is the question of where the electricity comes from. With the UK government mandating 10% from renewables this year, that means 90% of the fuel used to generate the electricity to charge the batteries to give you that "amazing [va-va-vooom] drive with great range and performance" will come from old technologies, like coal and natural gas (which is a 25 times stronger greenhouse agent than CO2).
10% is the target, but we're way off that - nationally only halfway there.
What does this mean for your "zero emission"  vehicle? Well in the case of Citroën's C1, it means around 67g CO2 per km traveled. Don't get me wrong on this - that's 37% better than the C1 with a petrol engine (106g CO2 / km), and that's a big improvement.
But it's NOT zero, like it says in the marketing hype.
Can you think of a vehicle that's ideal for personal transport around town, where 75% of journeys are less than 6 miles (10km)?
Hundreds of free parking spaces!
No (zero, nil, nada) CO2 emission - Be kind to the planet - without waiting on some as-yet undelivered silver bullet like "clean coal" for fuel.