Here, You Must Either Be Nuts, Or Think It's Fun
So there's a whole lot of to and fro about this: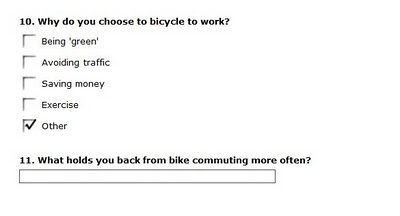 Richard at Cyclelicio.us pointed out that the obvious answer that was missing was "because it's fun", which seemed to get the Good People Of Copenhagen all vexed - to the point of wanting to get off the metaphorical bus:
I got off the bus at that point.

I don't ride a bicycle all over the map because it's fun. I don't think I've ever considered it fun. Enjoyable, perhaps, but even that isn't at the top of the list.

Frisbees are fun. That's why hundreds of millions of them have been sold since Walter Frederick Morrison concieved his flying disk. But there are very, very few people who think that it's so much fun that they want to join a league and do it full time.

When the City of Copenhagen asks its cycling citizens what their main reason for cycling is - and they ask every two years - the majority reply that it is because a bicycle is the quickest and easiest way to get around town. 56% of them say that.

In second place, 19% reply that their main reason is 'good exercise'. They get their 30 minutes a day like the Ministry of Health suggests but riding to and from work and on to the supermarket.

Only 6% ride because it's inexpensive and only 1% ride for environmental reasons.
Yeah. OK.
The thing is that the bike being the quickest and easiest way to get around town sounds great - and it almost certainly is, if you live in a place that's basically fairly congested, and you don't have to travel too far. For example, in London it's usually quicker to ride a bike than it is to drive OR take the Tube for trips of up to six miles or so, as demonstrated by Andreas at LondonCyclist :
But actually, a whole lot of us live in places which might be considered major towns, but they're still major-league Hicksville compared with London, Paris, Peckham, Barcelona, Amsterdam, or Copenhagen. And in situations where there isn't that much traffic, and there isn't the infrastructure to make cycling the most direct straight line choice . . .
. . . it is frequently quicker and easier to drive. You can sit in your little tin box playing Van Halen (or whatever your "driving anthem" is) as loud as you like, with the aircon turned up full, content with the soft seat for your padded behind, while the rain outside drenches the cyclist who's just been blown sideways off his bike by the wind and bow-wave of that lorry that's just passed him (and it's usually a him rather than a her).
You'd have to be mad to choose anything else.
But I don't believe that the people you do see riding along in spite of our piss-poor infrastructure are all lunatics. And I really don't believe that they're looking for good exercise (though it is), or a bunch of sandal-wearing bearded hippies who're smug in the way they're saving the planet (though I have my moments).
No. We do it because it's fun. That may seem a shade too frivolous for the practical, sensible people of Copenhagen, but until we get some leadership with the cajones to make bike-friendly routes the norm, reliving our childhoods is all we've got.