21 Miles of Groundhog Day
The run route for the Ironman is mentally challenging - run up and down the sea front at Nice four times. That means you pass the same midway point eight times. Not my idea of a nice run - I like varied scenery!
However, despite some lengthy correspondence, the race organisers aren't interested in changing the route, so I guess I'll just have to deal with it.
So yesterday's run - the second longest I'll do in training - was preparation for that Groundhog Day Torture: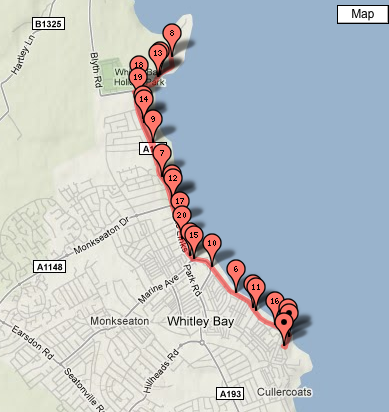 Yep - I ran to the lighthouse and back FOUR TIMES. My splits for each way (2.65 miles) were . .
19:46
21:18 (can you guess which way the wind was blowing?)
20:39
20:59
20:13
21:42
21:17
21:47
So I slowed down a little towards the end, but overall a pretty consistent pace. Mentally it was about as tough as I'd expected for the first half, but a lot easier on the second. Getting halfway there just seemed to make it seem very possible!
Workout:
Type:

Run

Date:

05/21/2010

Total Time:

2:47:00.00

Calories:

2541

Distance:

21 miles

Average Pace:

7:57.45/mile