Two Assassination Attempts - One Successful
Before you panic, not it wasn't me who actually got killed by a car - it was a fluffy bunny-wunnie.
So let's get my near-miss out of the way first. I was riding north up the coast into the wind, early on today's bank holiday. The roads were deserted at a time in the morning when they would normally be busy with people aiming their cars towards work while they multi-task the phone, the CD player, rolling a cigarette, drinking coffee, texting their anticipated late arrival ('cos of all the traffic), shouting at the kids, etc, etc.
Just thee miles from home, I was heading through Seaton Sluice - down hill on a stretch of road that's dead straight, but has a couple of traffic islands that mean you need to keep your wits about you for cars trying to overtake you where there just isn't room.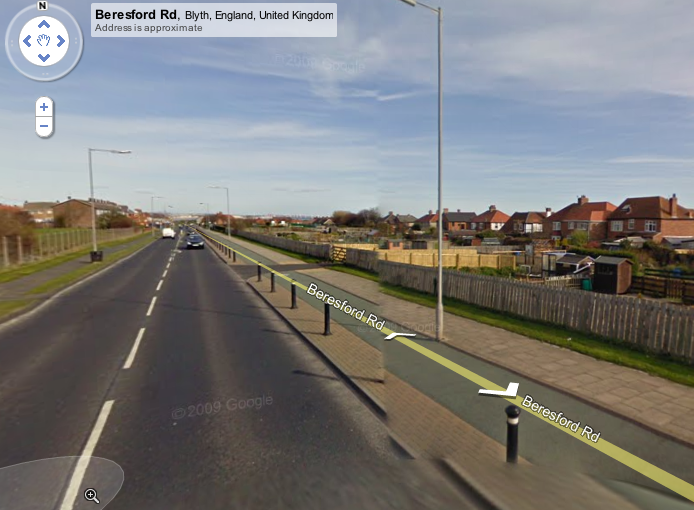 What you don't expect is to glance up from the nice safe area between the traffic islands and see a car coming straight at you at . . . oh, way over the speed limit. Yep - a driver was so impatient that he'd decided that he could overtake safely, because there was only a cyclist coming the other way.
We didn't collide, but it was close . Really close.
I'd like to apologise now to the people of Seaton Sluice who I might have woken up. I'd like to reassure them that there wasn't an edition of Just A Minute being recorded outside their front doors, featuring Roger Mellie , and that when I was swearing without hesitation, deviation, or repetition for a full minute, it was just shock.
I'd also like to reassure the driver that there is a special hell waiting for you.
Anyway, a couple of hours later, still heading into that wind, I was passing RAF Boulmer. A big shiny silver 4×4 passed me and headed up the hill to where a rabbit was in the middle of the road. It made a run for it, and almost got away to the verge. But at the last minute the rabbit's dodge-the-predator's-jaws instinct seemed to take over, and it dodged right - directly into the side of the car's rear wheel. It was thrown into the air, and when I got to it, was lying in the road with it's back legs still going.
I picked it up, ready to break its neck to finish it quickly. But as I did so, it stopped breathing, and even through my gloves I felt its heart stop. I stood there staring in disbelief, before tossing the body into the bushes at the edge of the road, clipping back in, and continuing my ride.
Now I'm not particularly squeamish about death (or rabbits) - I see enough roadkill out there, and far closer than anyone in a car would care to be.
But seeing it happen like that right before my eyes, and for such a pointless accident was very sobering, and left me more upset about a rabbit than I'd have thought possible. I don't know if it was feeling it die in my hands, seeing the impact itself, or the fact that the driver must've seen the rabbit, yet made no effort to slow down & avoid what happened.
Bah.
Workout:
Type:

Cycle

Date:

05/31/2010

Time:

18:29:02

Total Time:

5:36:00.00

Calories:

4908

Distance:

90 miles

Average Speed:

16.07 mph