Cyclist Propoganda
By "Cyclist ", I don't mean "one who rides a bike", but "one who hates cycles - in the same way that a racist hates people of different races from themselves."
Here's how it works - in the absence of using actual physical violence against road users, people resort to trying to scare the bejazus out of them. It's psychological bullying that says, "get off my road" - as shown in this image from Averyjenkins.com:
So this driver has obviously figured what people on bikes are scared of - drivers from Connecticut, in a Hyundai who see people on bikes as legitimate targets. Yeah, it's probably meant as a joke, but let's try it with other words. First of all with the hate that dares not speak its name: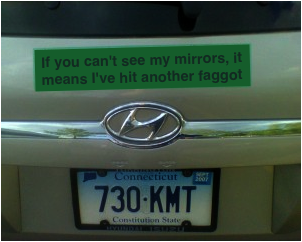 If that doesn't do it for you, how about this. Antisemitism is just hilarious , isn't it: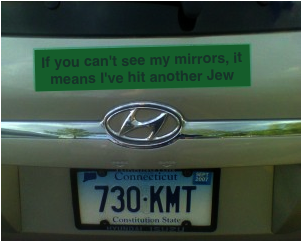 Or why not play the race card - always good for brightening up other drivers' commute: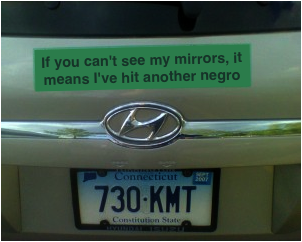 Or is there some reason that these alternative stickers aren't as funny as the original?