I Am The Human Fly (Paper)
Nearly there - today was the last long training ride I'll do prior to the Ironman. Just two weeks of taper and then its race week. Eeek!
The forecast was for hot and sunny weather, and having learned my lesson about sunburn, I set out at 6:30 slathered up with the Aloe Gator SPF40+ sunblock that Tall Robbie had thoughtfully sent me in the post. Don't mistake this for kindness though - I think it's his idea of a joke, concerning my pale, pale skin and the prospect of ten hours under the June sun in Nice.
Anyway. According to all the blurb you'll read about this sunblock, it's good for 8 hours total protection, is waterproof and non-greasy.
I think they may have lied about that last point though. Either that, or I'm not using it right - it seemed to form a greasy (though not unpleasant) layer on my skin, and particularly so on the hairs on my legs & arms. Within a few miles, I just gave up trying to free the bugs that were stuck to me. And by the time I'd turned for home, I was looking really very attractive - if you're a spider, and haven't eaten for a while, that is.
However . . . having spent six hours out in the sun, my lily-white skin hasn't turned lobster pink, so as one for whom sunburn is a major worry, the Aloe Gator SPF40 Gel sunblock
gets a big thumbs up from me. And heck, that greasiness might also be an advantage under a wetsuit, and help prevent chafing . . .
Back to today's ride.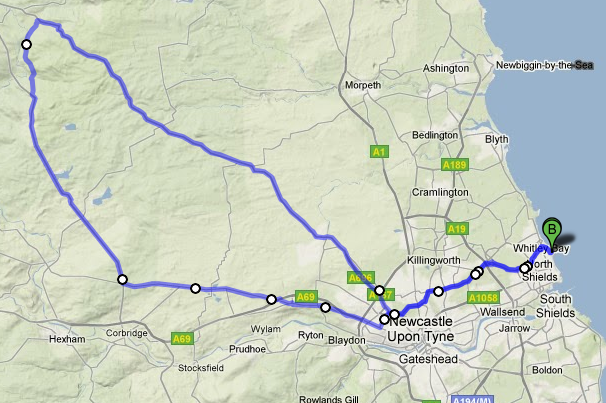 Yet again, I made the mistake of planning this ride on Google Maps, instead of something like GMaps Pedometer, or MapMyRide - either of which would have shown me the elevation profile: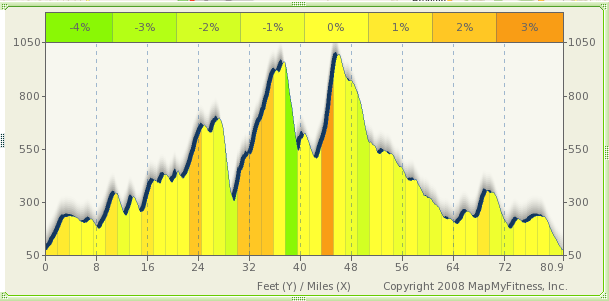 That stretch from 25 to 45 miles looks like just a couple of peaks, but each climb was made up of a series of undulating ridges - too closely spaced to make it worth while changing onto the big chainring on the downs, but steep enough to have me either spinning in first gear, or standing in third. All of which was harder work than I'd been planning on.
Workout:
Type:

Cycle

Date:

06/05/2010

Time:

06:30:00

Total Time:

5:12:00.00

Calories:

4557

Distance:

81.85 miles

Average Speed:

15.74 mph

Max Speed:

42 mph

Ascent:

2,600 ft

Descent:

2,600 ft

Average Cadence:

90