It May Be A Global Village, But We Still Have Village Idiots*
Politicians. Meh!
I like to think that they're all intelligent people, who despite the fact that I might not agree with them, they're still well-intentioned, and trying to do their best to make a better world, or at least a better corner of the world for the people they represent.
It's probably my naïve sense of idealism that keeps me wanting this to be true - despite the evidence to the contrary. Like this example brought to us today via Cyclelicio.us :
"The town of Black Hawk, Colorado banned bicycles from most of its local streets. And Black Hawk Mayor David Spellman — who won the mayoral election unanimously in 2008 — is a drunken wife beater who consistently ranks as the most corrupt public official in Colorado. Really.

"To "promote safety" ( retards! pinheads! idiots!), the casino town of Black Hawk in the Colorado Front Range has banned bikes from local streets. Police have been ticketing cyclists riding through town since the ban became effective last January 2010."
The thing is, you can probably see how this would appeal to the average politician. It's a nice easy to articulate message, that'll cast you in the role of the good guy, looking out for the well-being of the Average Joe. In the event of an election where someone actually stands against you, it'll be good for your record - tough on traffic accidents, tough on the causes of traffic accidents. Or something like that.
BUT (in the UK at least), the fast majority of traffic-related deaths and serious injuries are the result of driver-on-victim violence. Drivers "losing control" of their vehicles and crashing them into other cars; drivers "not seeing" cyclists, and drivers being surprised by the person on the crossing who "came out of no-where", drivers who've "only had the one drink"; drivers who "were on an urgent call". You get the picture.
Yet despite all this danger out there, riding a bike is still good for you - even allowing for these risk factors, cyclists still live on average ten years longer than the Playstation Nation, McDrive Thru', padded saddle population. That's just not a message that's easy to get across though, when you're battling for headlines at election time is it?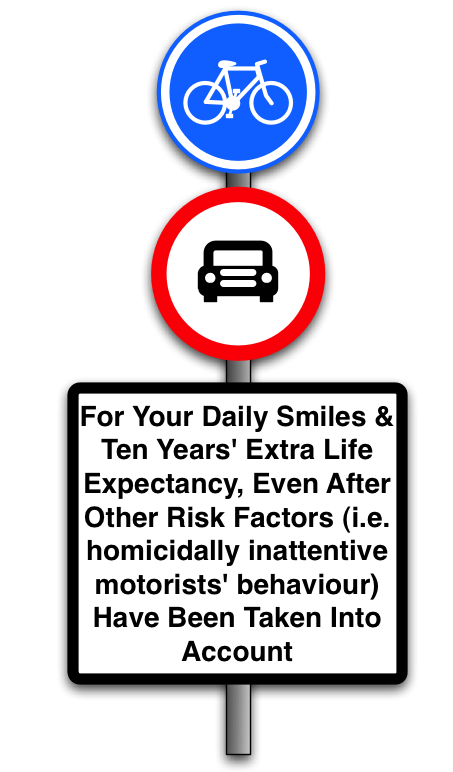 *Credit where credit's due - The title is paraphrasing a line from Prof Martin Rees in this year's BBC Reith Lectures . Educational, informative and entertaining stuff!