It All Adds Up
There's this old guy who swims every morning at Ashington pool, and rides his bike there every day, no matter what the weather. His bike is a beaten up bicycle shaped object, and can be found in various locations around Ashington & Newbigging by the Sea secured with a "chain" that wouldn't defeat the average pair of nailclippers.
Anyway, I was chatting to him this morning and we got into the how-far-do-you-ride discussion. For the last six months I've been riding 2-3 times a week and working damn hard to get my fitness & stamina up for the Ironman, I've covered just over 1,900 (mostly Llycra-clad) miles.
He does an average of 12 miles a day, seven days a week. That's 84 miles a week, or so far this year, also just over 1,900 miles. He's done this wearing jeans and a jumper, or when the weather's warm (chance would be a fine thing!), cut-down jeans and a t-shirt.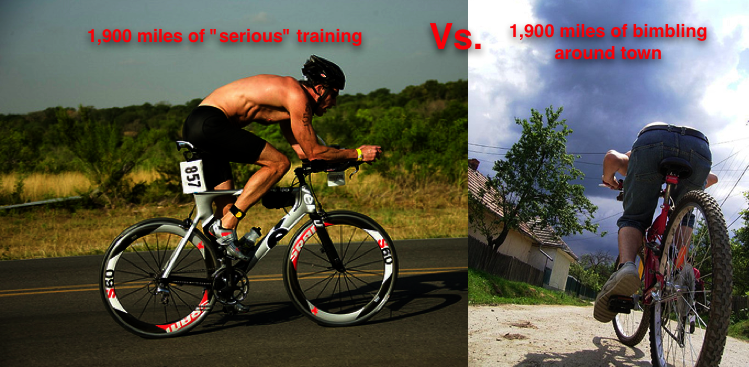 I'm not sure how comfortable he'd be on some of those five & six-hour rides I've done, but that's not really the point is it? For most of the trips most of us take most of the time (i.e. less than six miles each way), regular clothes on pretty much any bike will do the trick.