One Bike Thief You WOULDN'T Want To Tackle
This story was highlighted in the comments of today's Yehuda Moon strip - a bear escaping from Berlin zoo a few years ago . . . and attempting to make his gettaway on a bike. No, this isn't the bloke from the passing-basketballs-are-you-paying-attention video doing a bit of moonlighting (he also wears a rather fetching storm trooper outfit some days ). This is a real live bear: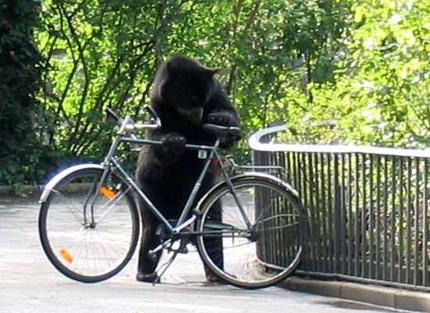 Obviously you're not going to tackle this bike thief. And I'd love to see the insurance claim explaining exactly how that expensive U-lock got smashed! Still, it's nice to see that he's opted for a nice sensible bike with mudguards, a comfortable seating position, rack, chain guard and hub gears. Obviously this is a bear who'll be joining the Slow Bicycle Movement !