Ironman France: Bike 112 Miles!
After the swim, the relief of getting out of the water and onto the bike. I'd anticipated that I'd have swallowed a bit of sea water and that I'd also be somewhat dehydrated, so in my transition bag there was a bottle of plain water to take some gulps from. Also, with the sun now well and truly up, I also took time to slather myself up with factor 50+ sunblock, before trotting off to find my bike.
Even though more than 95% of the bikes had already been taken from transition, I still had a moment of panic when I mistook my bike's row, and thought first of all that it just wasn't there, and then that someone had taken my bike by mistake, leaving me theirs to ride!
Anyway, I DID find it in the end, and headed off down the closed Promenade des Anglais feeling pretty fresh and ready to claw back some places. Within a mile, I had my first shock - a rider who'd crashed out on the straight road, and was being attended to by the paramedics. I've still no idea of the circumstances, but it was a sobering sight.
I put my head down and started to execute the plan that I'd trained for:
First 10 miles: take on fluids to try to sort out any issues from the swim
Miles 10-65 building the fuel base for the day - solids, exactly as I'd done in training: A couple of bananas over 90 minutes, and then some of Wife's flapjack over a couple of hours. Keep drinking the High-5 Zero at a rate of 0.75 - 1 litre/hour
Miles 65-112 race, keeping topped-up with gels, and keep drinking
I'd tried this several times in training, and it worked a treat.
But on Race Day, it didn't. As soon as I started eating the banana pieces I had in my top tube box, I started to get stomach issues. Not the kind of thing that would instantly end my race, but a sort of dull, I've-eaten-too-much-for-dinner pain, coupled with mild nausea. Not good, but I persisted with the plan until the bottom of the short descent from Tourettes-sur-Loup.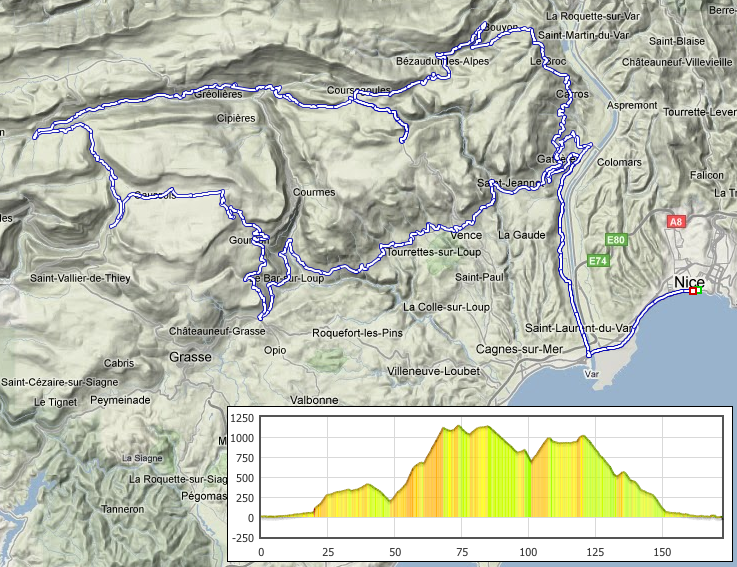 From then on it was a 20km climb to the course's peak. The sun was beating down (and I was glad that I'd topped up that sunblock at the previous aid station!), and it was all I could do to keep drinking - I couldn't force the food down at all. At the aid station half way up, there was a moment of panic when it seemed that they'd run out of water, but it turned out that there was lots in reserve.
On the way down the other side, I started to wonder why I was feeling so lethargic, and why it all seemed such a struggle - I was bonking and dehydrating at the same time. My feed strategy wasn't working, so I had two choices - carry on with it to a DNF, or try to think my way through the problem and formulate a new strategy on the fly. I opted for the latter, and cut the middle part of my feed plan short, going straight to gels. As these are already dosed with extra sodium, I also ditched the High-5 Zero, and went to pure water to drink.
The effect was pretty instantaneous, and I was able to pick up the pace again, though my stomach still wasn't right, and I couldn't eat as much as I'd have wanted. On the long descent from Andon to Gréolières, the road was a little twisty and I was unfamiliar with it, so I hooked up about a dozen yards behind another rider to let her take the risk of finding an unexpected hairpin bend as we flew down this section.
My practice run on the route's final descent a few days previously also paid off, and I was able to make up a lot of places down this by having the confidence about what the road was like.
Along the bottom of the valley leading back to the sea, there was a stiff little headwind blowing, but I didn't care. I was feeling great again, and tucked down on the tri-bars to roll along at around 20mph. Then at the last aid station - barely ten miles from the start of the run, I made a big mistake. I really fancied something different to eat (there's only so much fruit-flavoured snot you can enjoy), and so I grabbed a couple of chunks of banana. Within minutes of munching on the first, my stomach started cramping again, and I couldn't even drink for fear of throwing up.
I struggled on the last few km back to transition, feeling pretty rough again, and I still had a marathon to run before I could claim to be an Ironman.
Gulp!
Things I saw on the bike route:
Stunning, amazing views. If this was a training ride, you'd do it just for the scenery. What they were thinking of setting this course for a race though is quite beyond me!
Lots of people fixing flats.
Despite the no drafting, no chit-chat rule, there was still a great deal of friendship out there. Thank you "Alan" for your encouragement when I was up against it.
Two riders who'd snapped their chains to a DNF. (Remember, when you change down on a hill to slacken off the power)
One rider who was bin-diving. As I rode past, he was stripping the seatpost out of a kid's bike he'd salvaged - presumably his had snapped! I hope the replacement fitted.
Rider with bib 1724, who seemed to be on some sort of hybrid bike, wearing baggy shorts and regular flat-soled training shoes. Respect.
A whole bunch of riders on bikes costing a whole lot more than mine. It gave me a great deal of pleasure to overtake them, and chuckle to myself that really, it's NOT about the bike!
I made up 125 places on the ride, 5% of the field. Seems that all those days cycling up to Consett paid off.
The scooter rider who was pissed at me on the final descent, yelling that I was all over the road, and she couldn't get past me (catch me first . . . ). It put a big smile on my face as the Gendarme at the bottom waved me through the junction, and I'm fairly sure, pulled her over for a quiet word.
Workout:
Type:

Cycle

Date:

06/27/2010

Total Time:

7:38:03.00

Calories:

6690

Distance:

111.85 miles

Average Speed:

14.65 mph

Max Speed:

34 mph

Ascent:

6,000 ft

Descent:

6,000 ft

Average Cadence:

83

Max Cadence:

113