Ironman France: Run 26.2 Miles!
I couldn't believe it - I'd got to the end of the bike, 20 minutes ahead of schedule! The Family were waiting to see me coming into the paddock and then into the transition tent to ditch the bike shoes and slip on my trainers for that short run - I was just 26.2 miles from the end of the course! Four laps to the airport and back, and it would all be over.
The plan for the run was to do the first lap slow & find my legs again, wind it up to an easy, keep-going-for-ever-pace for the middle two laps, and then finish like a hero. Simples!
But life isn't really like that, is it?
The first lap was OK - the pace was a little slower than I'd have wanted, but acceptable - 68 minutes against a target of 64. But my stomach was still far from right, and I couldn't eat anything like what I wanted to. The plan was actually to eat nothing for the first half lap anyway - just top up on fluids to transition my stomach from bike- to run-loading, but it was a real struggle to force a gel down my neck at the turn-around. At each of the next aid stations of the lap (they were every mile or so) I had some more water, before reaching the finish line, waving to Family, and then heading back out for another circuit.
This was the lap where the wheels came off though. The first half of it was fine for pacing, but I just couldn't eat anything, and it was now a struggle to even drink. By the half way point I was bushed, and by the time I was still 2½ miles from the end of the lap, I just couldn't run. All I could do was stagger on, walking through each of the next two aid stations like a zombie - waving the food and fluids away like the torture that they were to me.
And all the while, I was feeling lower and lower - staggering on with an increasing sense of disappointment and disillusionment. Half a mile from the end of the lap, I reached the edge of despair, and realised that I wasn't going to finish. All I had left to do was get to the end of the lap, and shuffle past the timing mat into transition and it would all be over. I would be a total, miserable, failure, but what did that matter?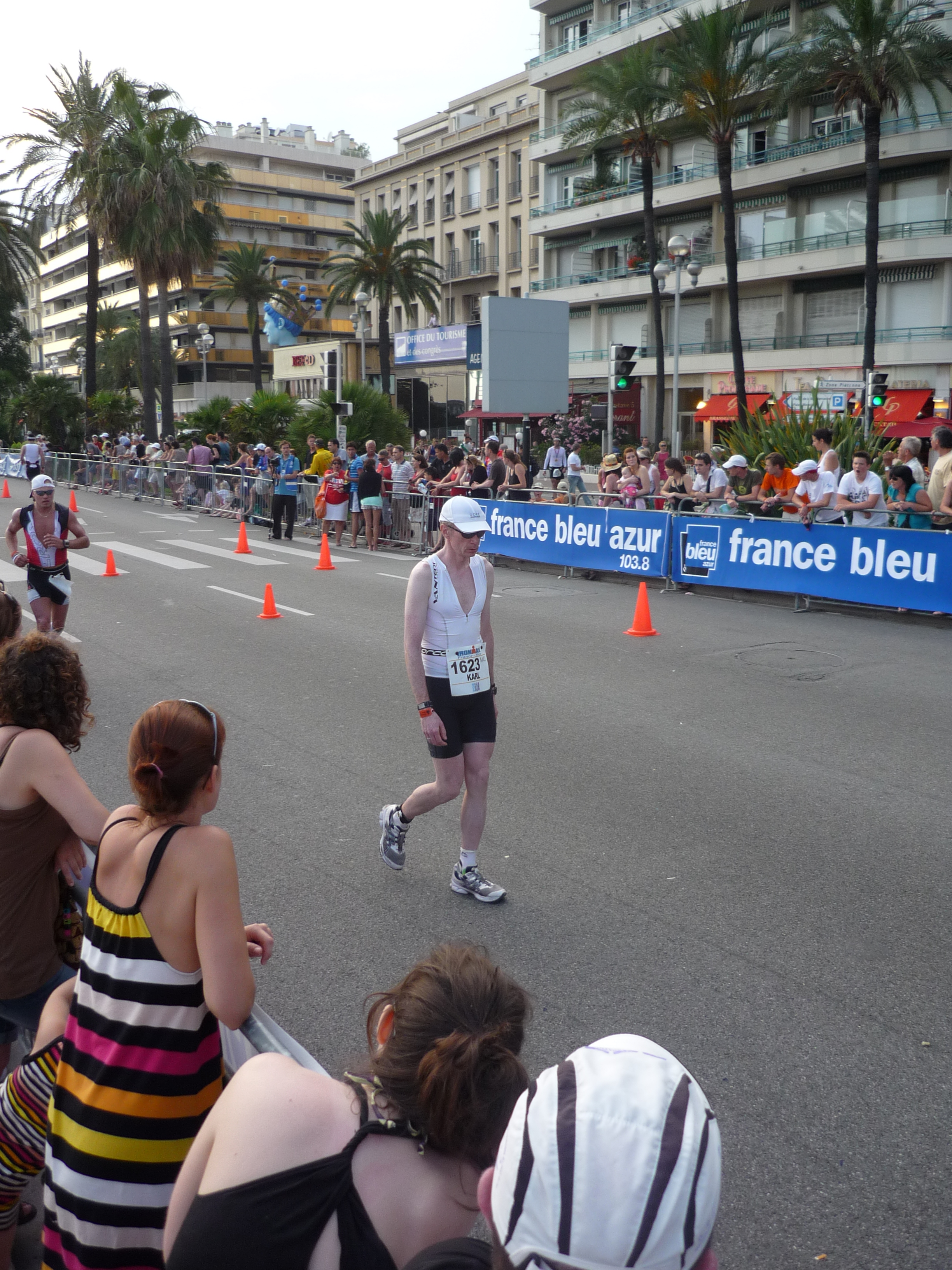 This was my long dark tea-time of the soul.

What on earth had I been thinking of entering this race? How bloody selfish of me to spend so long this year training instead of with my family. And what kind of a waste of space would put his family through having to witness this train-wreck that I'd become?
You get the picture.
And there just before the point where I could slink away from this hell was my family. I staggered over - a shadow of my former self, and all-but sobbed that I just couldn't do it. Everyone looked really concerned, but Wife just said that I'd be all right - all I needed to do was walk for a bit - after all, I had 3½ hours left to complete the course. It was just that sort of gentle suggestion - no shouting, no anger with me. But I couldn't believe it - she wasn't even going to let me quit.
I walked off toward the turn-around. At the very point of the turn, all I had to do was keep going in a straight line, and it would all be over…
But I found myself turning back up the course and over the timing mat. And now I was feeling properly angry - with Wife for not letting me quit, with the other athletes who'd already finished (the course was noticeably sparser - damn you early finishers!), with this stupid Groundhog Day course (a four lap marathon - what sort of a moron would plan that?!), but mostly with myself for getting into this situation. And with the anger came a new flush of chemicals released into my bloodstream - chemicals that would normally inhibit rational thought in favour of basic fight or flight instincts. But here they also washed away the fog of despair, and I could see clearly what I needed to do.
First up, I was obviously bonked to oblivion. I needed to get my arse to the next aid station, and force a gel and some water down my neck, no-matter what the consequences on my stomach. Secondly, while it is technically possible to walk a half marathon in 3½ hours (Phil from the Sweat365.com team did just that a couple of years ago), I was in no state to do so. To be guaranteed of making the 10:30pm cut-off was to run a significant proportion of the distance.
So that was a new plan formulated - march myself to the aid station, eat, and then as soon as the fuel cut in, start to run again. And with a fresh flush of adrenaline in my blood, I now had the chutzpah to do just that. Daughter & Father In Law kept up with my march for a while, but I left them behind just before the pit stop. Within four minutes of swallowing the gel and two cups of water, I was running again.
I walked through each of the aid stations and drank, and had a second gel on the way back to the end of this lap, which was now back at my keep-going-for-ever goal pace.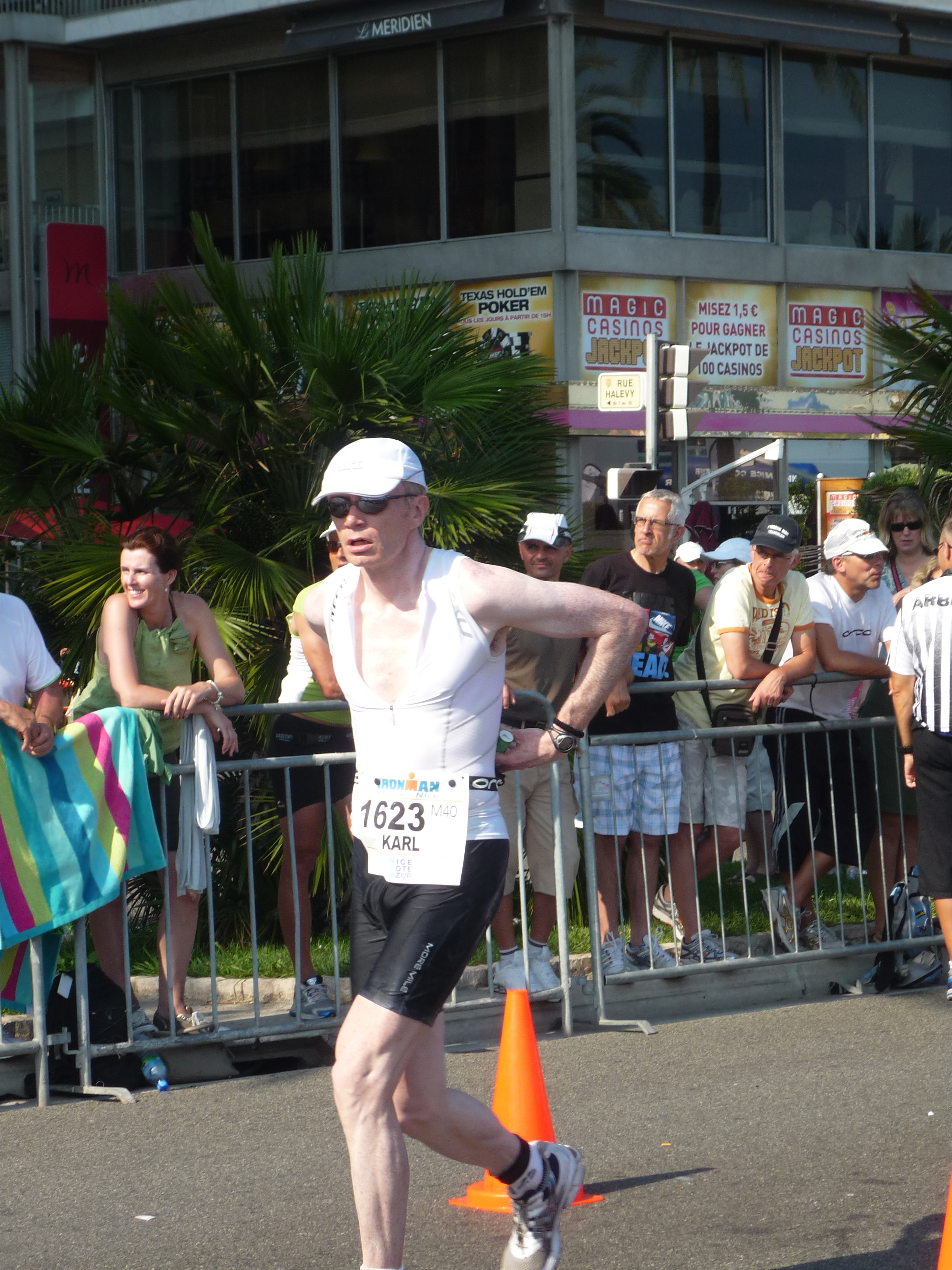 I passed Daughter & Father In Law a few hundred yards into the final lap, and told them to get back to the finish line - I'd see them there to finish the race! This lap didn't go totally smoothly though - I still wasn't able to eat as much as I'd have liked, but I had enough to get me through, even if I had to walk about a third of it.
And then I was at the finish. Race marshals were doing Mexican-waves to welcome finishers, so I joined in before walking on to find Daughter for that last hundred yards or so's running.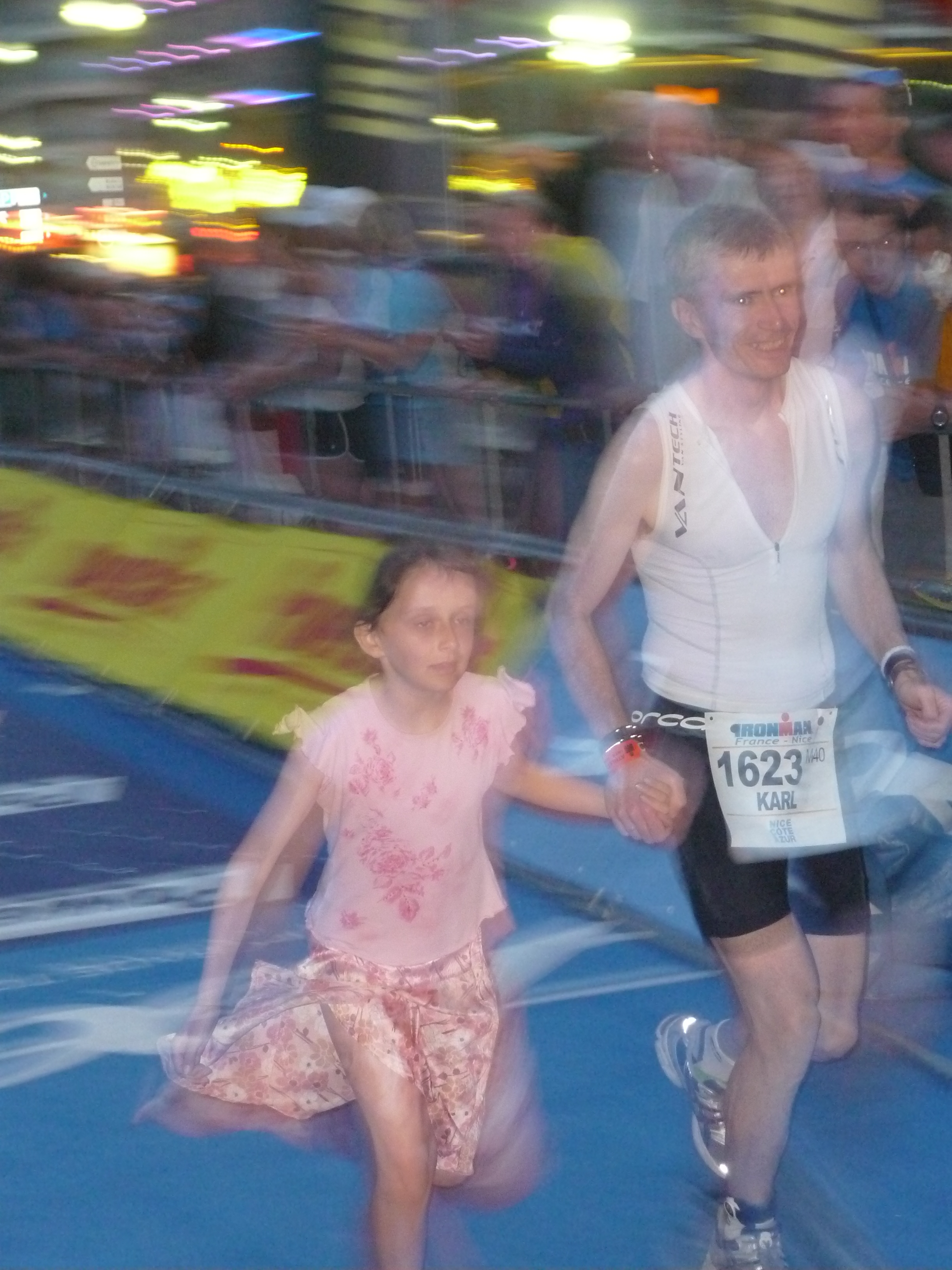 Yes. I . Am. An. Ironman!
But I didn't do it alone - without my Family there, I'd have been one of the DNF statistics that mark such events.
So thank you.
xxx
Workout:
Type:

Run

Date:

06/27/2010

Total Time:

5:15:00.00

Calories:

3067

Distance:

26.2 miles

Average Pace:

12:01.44/mile