Ironman France: Swim 2.4 Miles!
Race Day.
Breakfast was at 02:30 - four hours before the off to allow time for my guts to settle. Then after reading the good-luck cards left out for me, it was back to bed for an hour or so's kip before getting up at 05:20 to shave, put to coffee on and be monosyllabic at Father In Law, who'd volunteered for the early shift on the taxi service into town.
Loading the bike up with food & drinks . . . taking off my "street wear" to reveal my race kit, and then struggling into the wetsuit. Drop the streetwear bag off, and then head off towards the beach with a whole lot of newly-acquired friends, and a real feeling that we were all brothers (and sisters) in this together as we stared out at the flat pre-dawn French sea.
But we in it shall be remembered-
We few, we happy few, we band of brothers;
For he to-day that sheds his blood with me
Shall be my brother; be he ne'er so vile,
This day shall gentle his condition;
And gentlemen in England now-a-bed
Shall think themselves accurs'd they were not here,
And hold their manhoods cheap whiles any speaks
That fought with us upon Saint Crispin's day.
Looking at the course laid out before us, I was confused - there seemed to be too many buoys. Which ones were we supposed to swim around?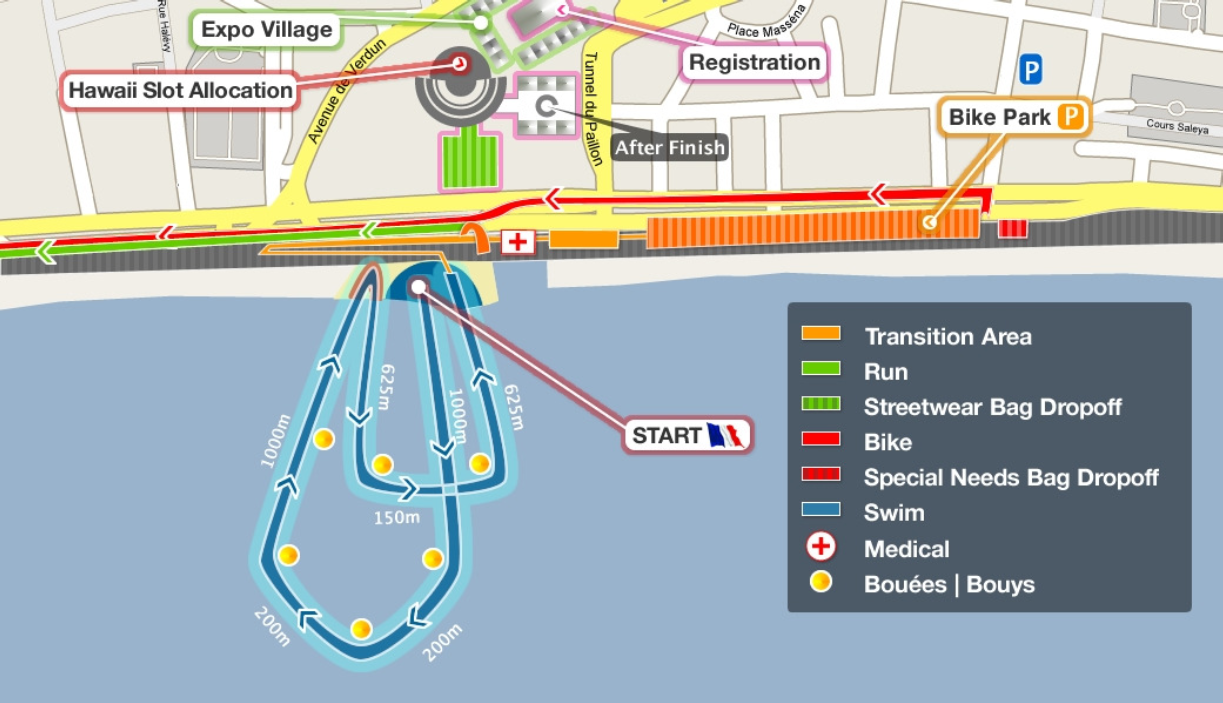 There seemed to be some yellow ones nearer the shore, then in the distance three bigger red ones. Surely those were the markers for the first, big loop, then the second loop was the yellow ones?
I asked one of my new-found, long-lost blood brothers.
No. The little yellow ones were laid down by the French coast-guard as "don't swim past here" markers for regular, sensible people (who doubtless were yet a-bed) not to swim past. The big red buoys I could see were for the second smaller loop, and those tiny, tiny red ones I could just make out in the distance were for the first big loop.
Oh crap.
Then I was on the shingle in the slow-swimmer's pen, and the bangin' techno had started (I danced along in my own private nightmare of Fear & Panic, singing the words to Muse's Map of the Problematique to myself - nerves are a wonderful dis-inhibitor), and before I knew it, the starting gun.
As soon as I started, I realised that there was a problem with the course from my eye-level. Firstly, my goggles are non-prescription, which is fine for seeing the other end of a swimming pool, but a target that's 1,000m away? And then there was the issue of the curvature of the earth. At 5cm above the water when I looked up, the horizon's just 800m away. So no matter how big my target was, it's bulk was hidden by the sea!
All I could do was follow the crowd, and aim for the gap between the nearer buoys - hopefully all would become clear when I got there.
Checking my watch at 1,000m, things seemed to be going more or less to plan - 28 minutes, which would give me a swim split of just short of 2 hours. Along the outside triangle there was a row of smaller buoys in the water - perfect for following and drafting another swimmer, picking up a little time, but then I was alone again for a long and none-too-straight swim back to the shore, staggering out of the water for the timing mat before setting off for the "short" loop back to my bike.
Thoughts about the swim:
Damn my eyes and the curvature of the earth!
Didn't drink too much sea water. Good.
Got enough in my mouth though to kill my taste buds for the next few hours
Spat enough out to add to the dehydration
Some minor cramp, but I controlled my legs' kick to keep this at bay
Forgot to put any lube behind my right armpit, and rubbed up a bit of a wetsuit love bite. Ouch!
Completed the swim twelve minutes over my target time, but well inside the cut-off: Race on!
Workout:
Type:

Swim

Date:

06/27/2010

Total Time:

1:52:00.00

Calories:

818

Distance:

3,862.43 m

Average Pace:

2:53.41/100m