Moving A Tandem Around The Country
As it turns out, I was amazed at how easy this was. Last year I'd taken the front wheel, handle bars, and captain's saddle off in order to fit it into the car to drive down to That London for the Dunwich Dynamo. The drive down was fine, but the drive-of-the-living-dead to get home was no fun at all.
So this year, I decided to take the train. On East Coast, all you need to do to get your tandem on is make TWO bicycle reservations. And bicycle reservations are free, so there's nothing much else to stop you!
For me, the problem lay at each end - getting from Whitley Bay to Newcastle, and then from Kings Cross to Von Smallhaussen's in Hackney. You see, you can't take a regular bike on the Tyne & Wear Metro, let alone a tandem. And I wouldn't even bother trying to get it down onto the London Underground. So I had to ride the tandem solo, loaded up with . . .
Clothes for four days
Clothes for the Dynamo on Saturday night
Running shoes & other stuff for running on Saturday morning
Complete cycle tool kit - not just a multi-tool, but the full works.
Spare tubes, pump, and road-side tool kit
Suit in a suit bag slung over my shoulder - also contained smart shoes, etc for a meeting on Friday.
Water bottles, gels, and about a 6" cube of Wife's Wonderful Flapjacks (n.b. Schwarzschild radius of wife's flapjacks is approximately 5.9999")
etc
You get the picture - let's just say that I used to be able to pack light . . .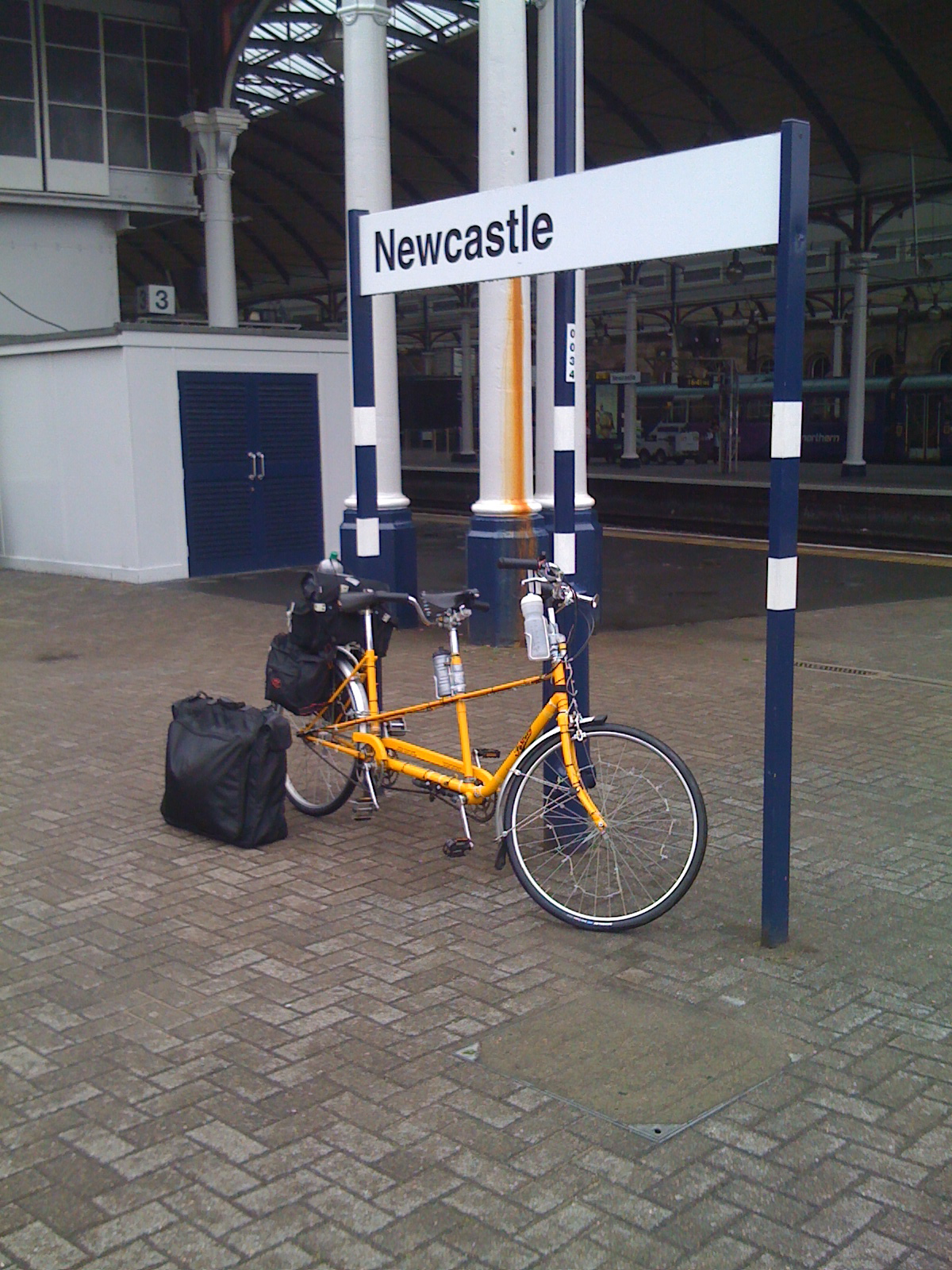 Naturally it rained, but I was prepared for this - I had waterproofs in my luggage (stored next to the kitchen sink). So for the most part, it was just ambling along cycling on a very heavy bike. Quite enjoyable really . . .
Workout:
Type:

Cycle

Date:

07/26/2010

Total Time:

3:00:00.00

Calories:

1315

Distance:

35 miles

Average Speed:

11.67 mph