Cycling in That London - Finding The Right Route
On the road I'm a pretty confident rider. Assertive, ready to hold my own, claim my space, use the gimlet stare of power to overcome the innate sense of dominance, invulnerability and superiority that some drivers seem to feel. You get the picture.
Yet last Monday, I think I had the sort of experience that probably sends the floaty skirted cycle chic wannabes back to the safety of their Chelsea Tractor 4×4s on a daily basis. I cycled from Stoke Newington to Kings Cross , in the rain, during the rush hour, and on an extremely heavy, slow tandem that was fully loaded with my weekend's luggage.
The roads were wet and slippery (a cyclist behind me fell off at one point for no apparent reason), and the volume of traffic was just awful, especially once I joined the bottom section of the A1, to turn right at Angel & down Pentonville Road to Kings Cross. I found the buses particularly intimidating - both inadvertently when I'd find myself between two such monsters as pictured above, and deliberately.
For example, when I was on the direct bus route down Pentonville Road (which is also sign posted for bikes):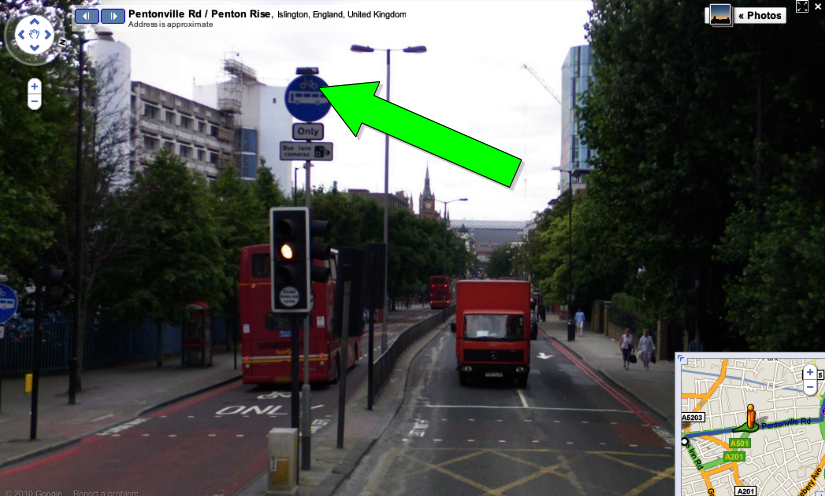 The road west is segregated from the general traffic coming up the hill, and as such it's only just wide enough for a bus. There is no room for a bus to overtake a cyclist, and no room for a bike to get past a bus that's stopped to pick up passengers. The driver of the bus behind me didn't seem to consider either of these a problem though - first of all edging so close to my back wheel that I could smell his screenwash (I think it was Old Spice , or maybe Brut 33 ), then as I slowed down because of the bus stopped in front of me, he used his horn to remind me that he was driving ten tons of metal right behind me. And, no doubt, that buses pay road tax.
Gimp.
Frankly, after this short ride, I wondered why on earth anyone would ride a bike in London. The answer is of course that I was a stranger in town, and like the Dutch tourists I sometimes see on the Coast Road looking bewildered and terrified,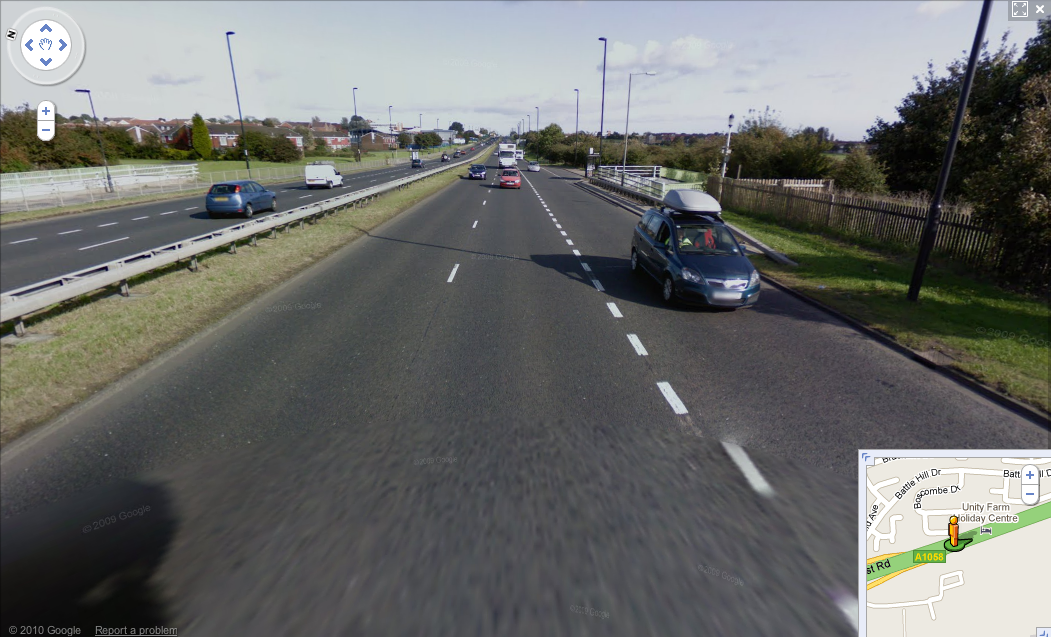 I was following the obvious route - the one that's clearly signposted, and involves the minimum number of turns. So I could memorise the route ("Head south to Angel; turn right and go straight on 'till you get to Kings Cross):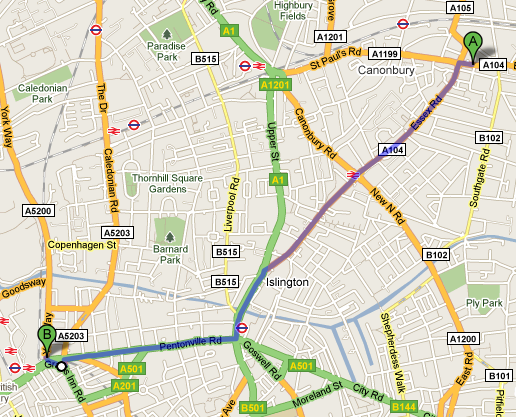 A local would have chosen a different kind of route. Perhaps something like this one, as recommended by TFL's cycle journey planner :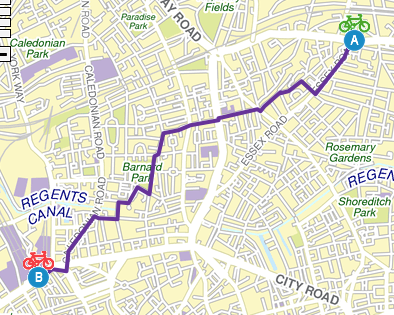 This is typical of the sort of route that my friends guide me on - if Dr Seth meets me at Kings Cross, I'm sure our route is an even more picturesque, less blighted by traffic version of the above. And when I've ridden with Von Smallhaussen from her place, down into the City, we've taken a route through late Georgian / early Victorian streets where you'll hardly see a car.
The problem is that the potential cycling population of London is probably more familiar with the route that I took - the main roads are the ones that buses use, and so they're the routes that most people see every day.
Until safe cycling routes become obvious to the everyday Joe / Joanna, I fear that London (or for that matter any UK city) will struggle to achieve real improvements in cycling rates. Sure, they'll trumpet a 117% increase in London cycling over the last ten years, but this is starting from a very low base - double nothing is still nothing. Putting the improvement into context, TFL is looking to get a massive 5% of all journeys to be made by bike, by 2025 . I'm being sarcastic of course - there's nothing massive about 5%, which is such a low goal that the danger isn't that they'll fail, but rather that they'll succeed and consider it a job well done.
Compare this with the Netherlands, where across the whole country, 27% of all journeys are by bike . It'll take much more than a route planner on a web site and a few tins of blue paint to achieve that, and perhaps this is why TFL has set such a pitifully low target.