Dunwich Dynamo 2010
It's been a busy week, and I should have written this about, oh, a week ago. But never mind.
This year was the second Dunwich outing for our tandem, Daisy. She'd been bought with a very specific purpose in mind - the 120 mile overnight funfest from London to Dunwich on the Suffolk coast. This year's team included . . .
| | |
| --- | --- |
| Tall Robbie - a man who takes his carbohydrate consumption very seriously indeed | |
| | Von Smallhaussen - a woman who obviously doesn't mind hanging around with a bunch of extras from the Muppets |
| Dr Strangelove - that yellow, hi-viz top glows all by itself. I've no idea why. | |
| | Algernond - I should probably have warned you about this picture before you scrolled down to it. Sorry about that. |
| Someone with very poor dress sense indeed. Um . . . that'd be me in fact. | |
| | And a cast of thousands of extras |
So what's the Dunwich Dynamo like? For us it was slow - the tandem isn't the speediest of bikes, and we were laden with the usual everything-including-the-kitchen-sink quantity of luggage. Though when travelling downhill, this did have some advantages . . .
We had a couple of problems early on with the synch chain (the chain that connects the front and rear pedals) coming off - this had never happened before this weekend, and with it coming off twice in the first 15 miles, I was worried that this could end up being a very long night, involving much grease on hands. Unlike refitting a chain on a single-seater (just get it on in any position and you're good to go), the synch chain on a tandem must have the two sets of pedals lined up. If not, you end up in all sorts of comedy problems.
At about 10, we were passed by someone who recognised me - either from here, Twitter, or Flicker, I guess. Or maybe it was the JCB-yellow tandem who's the star. We got a cheery, "Hi, you must be Karl On Sea", which was nice. I've no idea who you were, and we couldn't keep pace to find out, but "hello" from me anyway!
We got to the Axe & Compasses at about 10:45. It's 30-ish miles from the start, and an ideal location to top up on fizzy drinks - beers, shandies and lemonade. You can figure out for yourself who had what to drink. There were quite a few other cyclists around, and the bar staff were dishing out all the water you could want to fill your bottles.
We headed off, and as is usual with the tandem, soon got separated from the rest of our group. It also seemed hard for everyone to keep track of who was in front, and who was behind - within a few miles we'd passed and been re-passed several times.
At about 50 miles, we saw some blue flashing lights ahead at the top of a hill. We passed an ambulance with paramedics tending to a cyclist at the edge of the road.
I've no idea what had happened, but soon after, another larger ambulance came past us heading back to the scene. A little after that, a call from Algernond (who'd just realised that he and Robbie were behind us) revealed that the road had been temporarily closed. They had no idea where Dr Strangelove had got to, so we agreed to rendezvous at the village hall at Sible Hedingham, which was the location for the feed station this year.
Arriving at 1am, the place was full of cyclists, but we soon located the Dr, and just as quickly, Robbie & Algernond joined us. After a stack of flapjacks and banana-and-peanut-butter bagels, it was time to go again.
This part of the night gets a little vague for me, though we did meet some drunken revelers on a hill at about 3am. One of them tried to help us up, and nearly managed to pull the tandem over. But it was well intentioned, and we didn't fall off. So apart from my soiled underpants, no harm done.
It got light surprisingly quickly (as in 15 minutes to go from night to day - go figure), and at 90 miles, Von Smallhaussen's insistence that she couldn't eat or drink anything finally caught up with her. Yep - at about the same mileage as last year, she bonked again. Fortunately we were on the look out for the symptoms, and so spotted them earlier.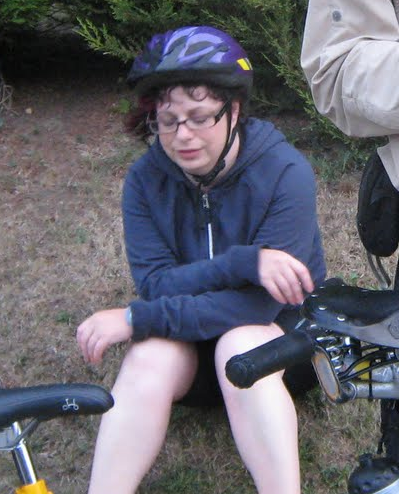 This was soon fixed with some Cliff Bar Shot Blocks (nomnomnomnom!), and some flapjack . . . though the latter had to be pretty much forced down her neck.
And then it seemed that in no time we were at the beach - arriving on the dot of 8am:
And ready for a proper fried breakfast . . .
. . . a refreshing dip in the sea . . .
. . . and smuggling out the little surprise we'd brought for Algernond - Sunday was his birthday, and so needed properly celebrating!
All this excitement, on top of the night's riding was too much for me though, and pretty soon the inevitable happened . . .
waking up in time to get the bikes on the lorries, and ourselves on the coaches back to London.
So. Next year's Dynamo is 16-17 July, and we have a plan - one that won't involve the tandem though:
Saturday morning - Cambridge (chèz Algernond) to London (40 miles)
Saturday night - Dunwich Dynamo XIX (115 miles)
Sunday morning - fried breakfast, kip on the beach again, cream teas.
Sunday afternoon - Dunwich to Cambridge (75 miles)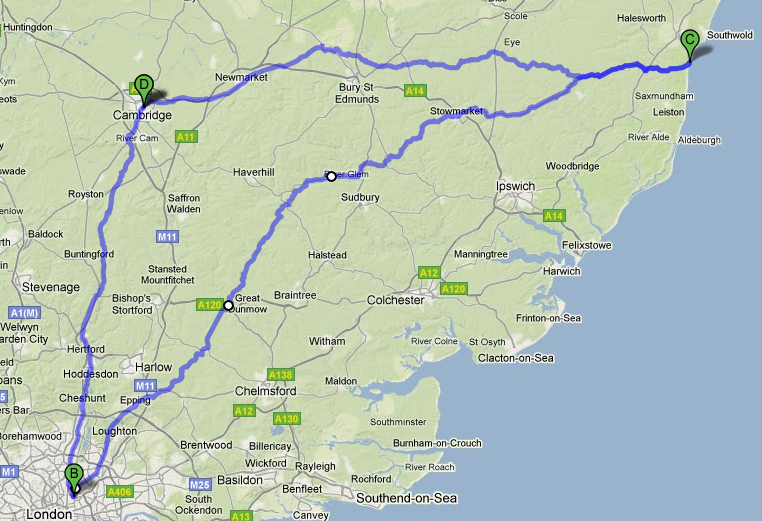 Because one monster-size overnight ride just isn't enough!
Workout:
Type:

Cycle

Date:

08/01/2010

Time:

13:02:21

Total Time:

10:00:00.00

Calories:

4382

Distance:

116 miles

Average Speed:

11.6 mph

Max Speed:

35 mph