OMG! It's A ClusterBIKE*!
Sometimes I can't figure out if my life is wonderful . . . or just very very strange. Wednesday was one of the days in which the two possibilities seemed to blend: I'd volunteered to be one of the day's galley slaves on the John O'Groats to Lands End conference bike record attempt that's raising money for Cancer Research .
What's a conference bike? One of these:
Don't they all look happy? You sit in a circle and pedal, and because each rider has their own freewheel, you don't all have to pedal at the same time. This provides an eco-friendly form of transport that's fun and ideal for in-town use on, say, short sight-seeing tours. The thing is, it's over 800 miles for the shortest route from John O'Groats to Lands End, and this bike was taking detours through Manchester and London to make over 1,100 miles.
The leg I'd volunteered to help on was Newcastle to Northallerton, so I'd ridden to Central Station to meet the bike. After locking up, I met two other likely-looking volunteers before we were all picked up by a minibus decked-out in Cancer Research stickers. Turned out that the day before had been a tough one, and they'd only made it as far as Morpeth - about 15 miles back up the road.
Once there, I got my first sight of The Beast: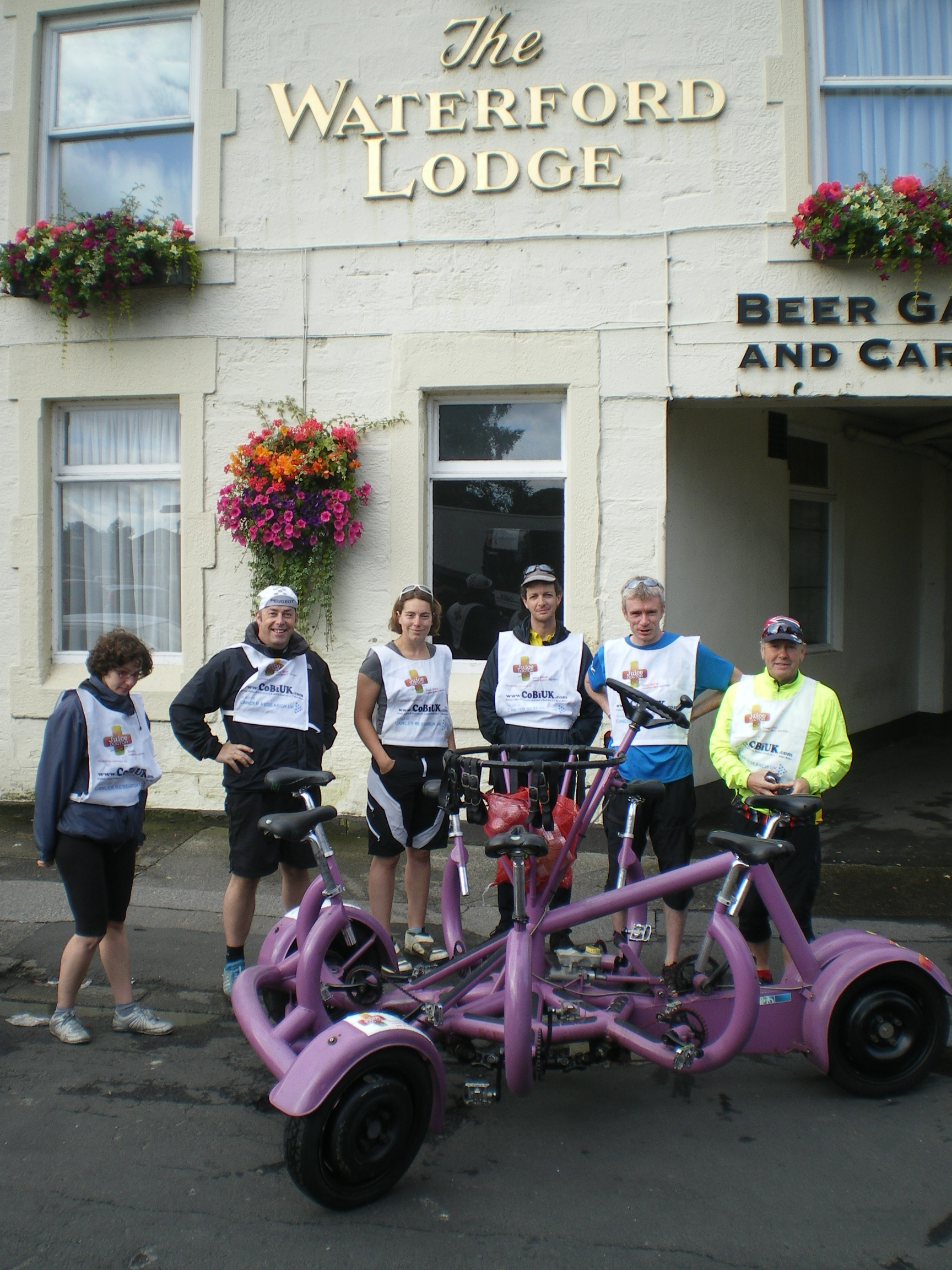 And then after a second breakfast of muesli, courtesy of  one of the ride's sponsors , we were off. There was a slight problem with the bike - one of the seats was out of action, so we had a team of five galley slaves, plus the driver (who also pedals).
How does a seven-seater bike ride? We found out what the day was going to be about on the way out of Morpeth - straight up the hill to Stobbshill - that this bike handles like a 200kg piece of kinetic sculpture. The only way to make it move is to apply a whole lot of effort.
Then there's the gearing. The good news is that there's no gearbox, derailleurs or other technical stuff to fail. The bad news is that there's only one gear, and that it's set up for pootling around town. So flat out at about 140rpm, you're doing about 15 mph. Still, at least that means you can go up hills, though due to the weight this is pure torture.
That 200kg must make a difference going down hill though, right? Yep - you all get to freewheel as the transmission (for you engineering geeks out there - it's a ring of universal couplings) roars beneath your feet. Apparently it can do over 40mph. I've no idea how fast we got it up to, but every down hill was an experience of "wheeeeee" excitement coupled with a huge sense of
OMG. We. Are. ALL. Going. To. DIE!
Not unlike riding a runaway train in fact.
Anyway, when we got to Newcastle, we were treated to a tour of the Cancer Research labs at the university. This was quite a humbling contrast between the silliness of what were were doing, and the serious, studious application of effort that's needed to understand and defeat cancer.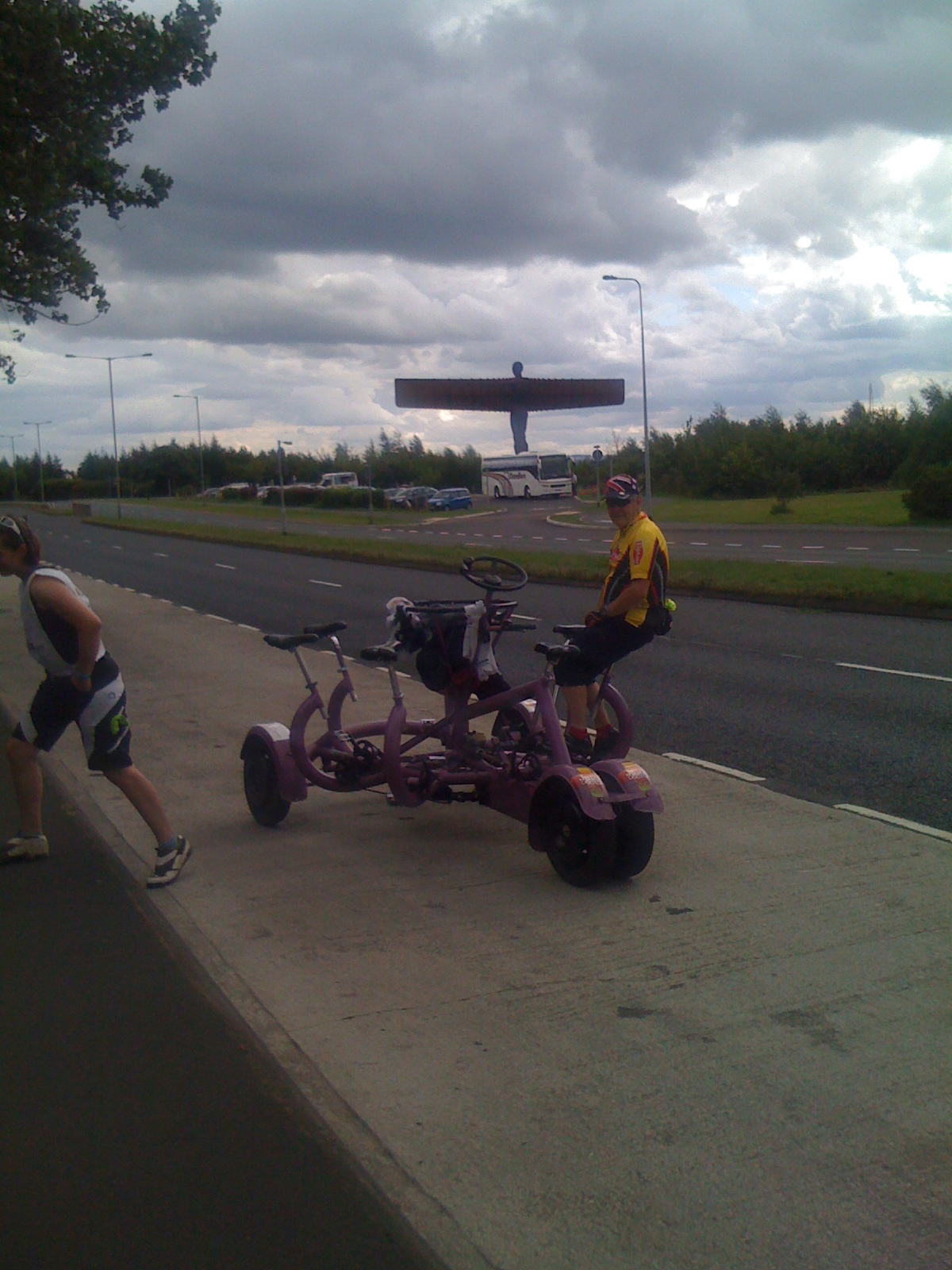 After lunch, we continued south, and the humour developed more of a gallows-edge to it:
Help! I went to the gym in John O'Groats, and they led me blindfolded to this thing, and now they won't let me off!
Actually, that's pretty much how it felt - like we'd signed up for a spin class from hell that went on and on and on. I tried to maintain morale by telling my repertoire of camel jokes, though as this is a family publication I'll not repeat any of them here.
South of Chester-le-Street, we were on the cycle path next to the road when our driver had to stop to water the countryside. Naturally, this was too much of a temptation, so we made off with the bike, forcing him to run to catch up.
After Durham (and a driver changeover), the bike developed a mechanical problem - the bolt holding the rear brake caliper in place came loose, jamming the rear wheels. Once we figured out what the problem was & removed the offending bolt, there was a bit of a debate - try to fix at the roadside (we couldn't get the wheel off to get access to the problem), or continue with just the front brakes? I think it's a mark of how addled we were by this point that we chose the latter option.
Then finally we were in Darlington. We picked up a pair of locals as an escort for a few miles, including a chav complete with wife-beater-vest and flat cap combo, riding a re-painted Raleigh Shopper (surely this is a symbol of a true bicycle culture?):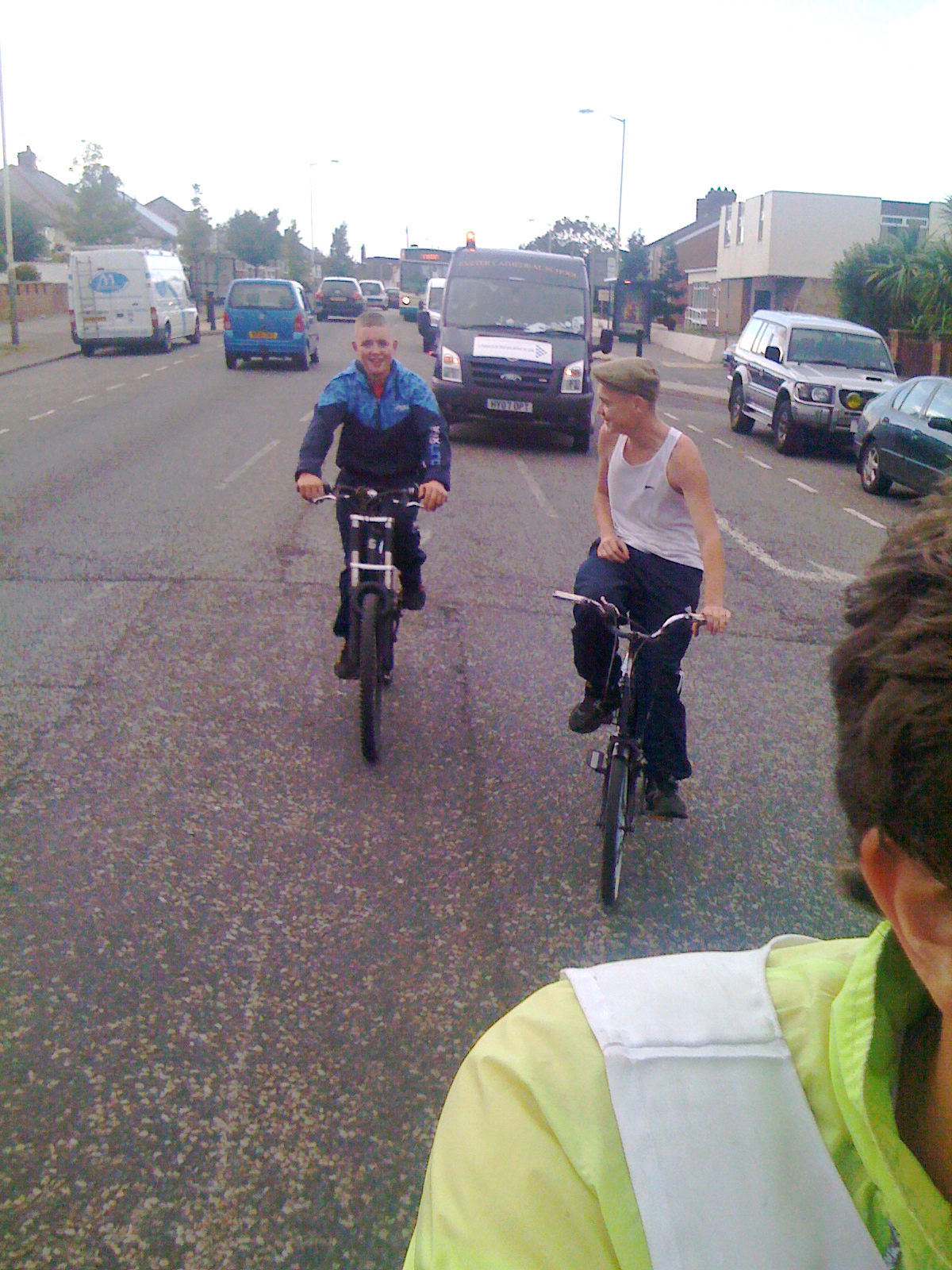 Some of the good folks from the Darlington Cycle Campaign were camped out on one of the many roundabouts of the town to cheer us on (which was lovely), and then we'd finally arrived: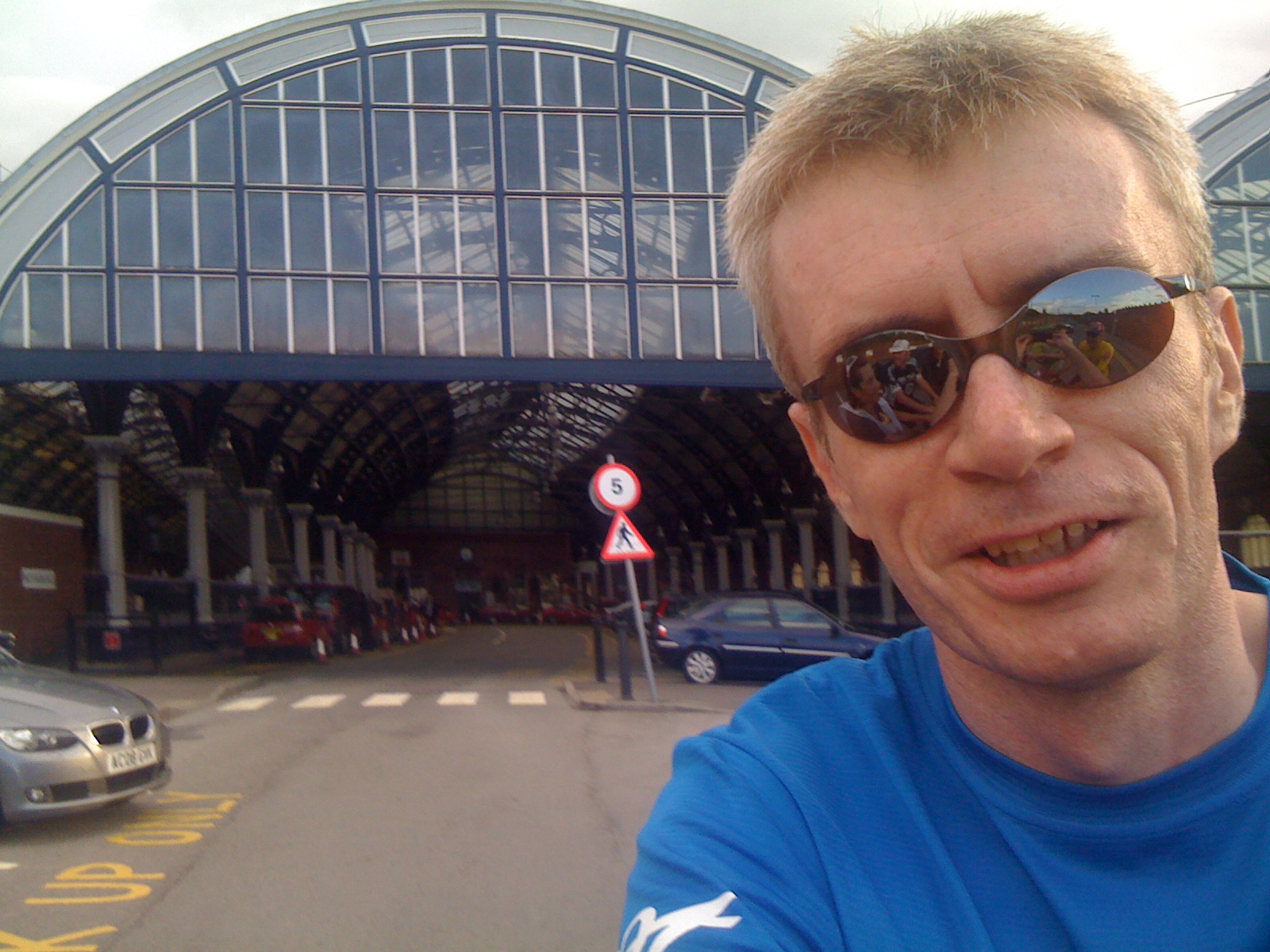 In all, this was a very tough day - never has 50 miles seemed so far and needed such effort!
The strangest thing of the day was the attitude of drivers - held up behind our minibus (which was acting as a shield), they got frustrated, like drivers always do. But then as soon as they pulled out to overtake and saw the bike, the universal reaction was to smile, laugh, and wave. There were also a whole lot of photos taken with mobile phones, while steering with the knees. But let's not talk about that.
The thing is, I really got used to that "Oh look! It's a big purple bicycle-kinetic-sculpture-thing!" reaction, and riding home (via a couple of errands), I was shocked to find myself just another annoying cyclist on the road in front of cars. I miss those smiles - maybe I'd better trade my bikes in for a seven-seater . . . ?
*Oh, and one last thing - the title of this blog post is a cleaned up version of how the bike was described on it's first day out from John O'Groats . You meet the strangest people when riding this thing!