This New Chain Has My Name On It
Cleaning bikes on Wednesday evening, I checked the chain on my fixie, Byron. Not such good news: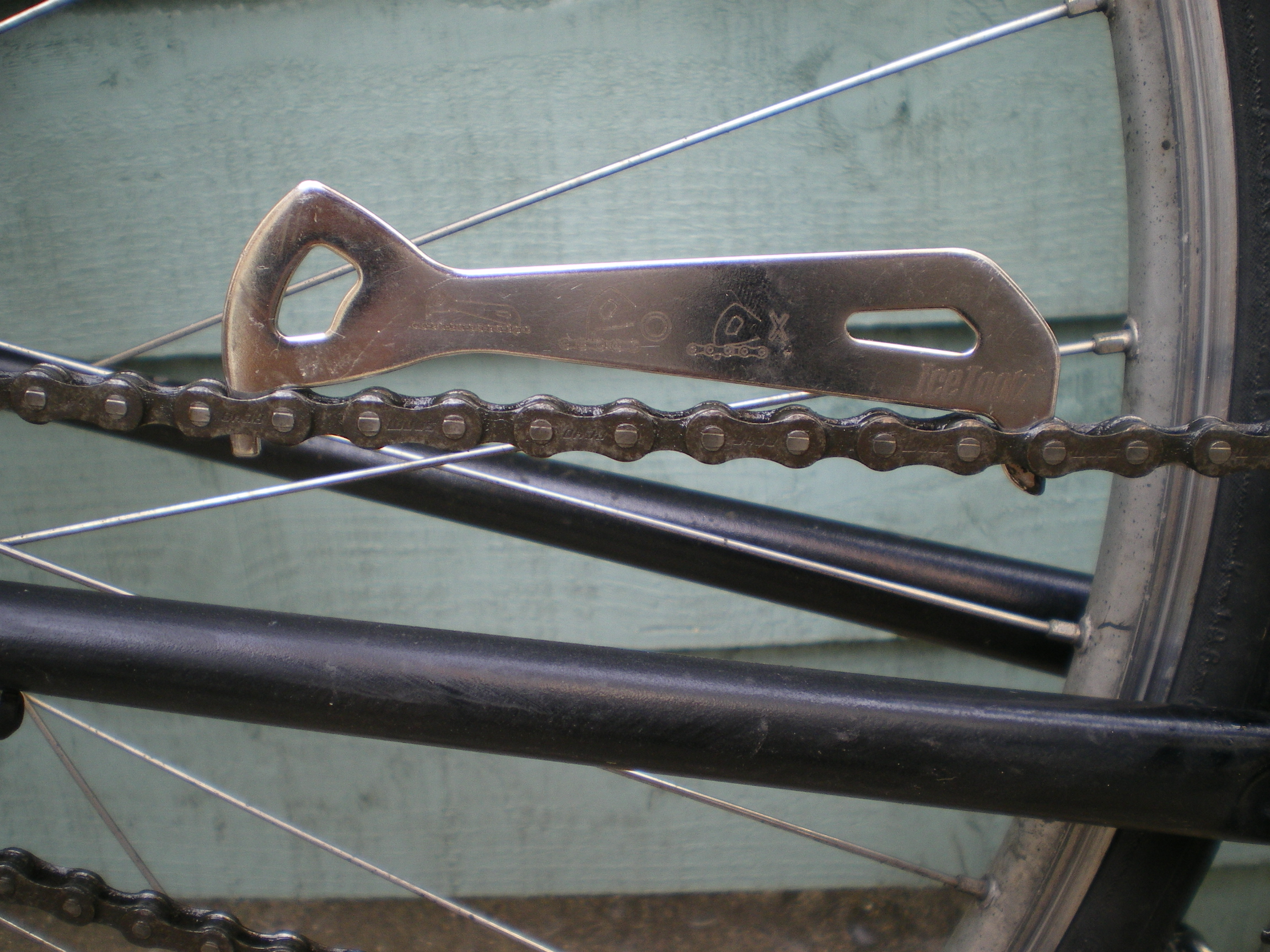 Basically, if the peg on the left fits in between the chain links, it means that the chain's "stretched", and needs replacing before it starts to wear away the rest of the transmission.
Chains don't really stretch of course - what happens over time is that road grime gets in between the pins and rollers. Thousands of pedal strokes later, this has acted as a very efficient grinding paste, wearing down the nice snug fit of a new chain and allowing slack to build up. The pitch (distance between links) has increased, and the super-hard rollers of the chain will then wear down the soft-as-clarts material of your chainrings, sprockets, and jockey-wheels. Woe, poor-shifting / your fixie's chain jumping off and the inevitable trip to the expensive components end of the bike shop follows.
What can you do to prevent this? A full chaincase is the obvious way to prevent that road grime getting at the chain in the first pace - my Pashley's done over a thousand miles, and the chain still looks like new. But for bikes with derailleur gears, or where you just want less weight and stuff, this isn't an option. You need to regularly clean the chain.
You can either use
the ShelBroCo Chain Cleaning System , or if time's a little tight, one of these chain cleaning kits . You basically fit the bath over the chain, fill with degreaser to the line, and then turn the pedals backward to run the chain through the solvent bath. After a couple of dozen pedal revolutions, remove the bath, hose down the chain to remove residual solvent, dry it with a rag, and then re-lube it. You can get all sorts of fancy lube, but apparently good old-fashioned 3-in-1 like granddad used to use still takes some beating.
Whenever you clean the chain, make sure you check it for wear - either with one of the chain tool gauges like I have, or by measuring the pitch with a steel rule - ten complete links should be less than 10 1/16". If it's any longer, you need to replace the chain, and if it's longer than 10 1/8", the chances are that other parts need replacing too. Get your credit card out, and go to the bike shop.
My chain wasn't too badly worn though, so I could get away with just replacing it - a short trip down the road to Whiptail Cycles in Tynemouth , ten minutes or so of fiddling on, and here's what I'd got: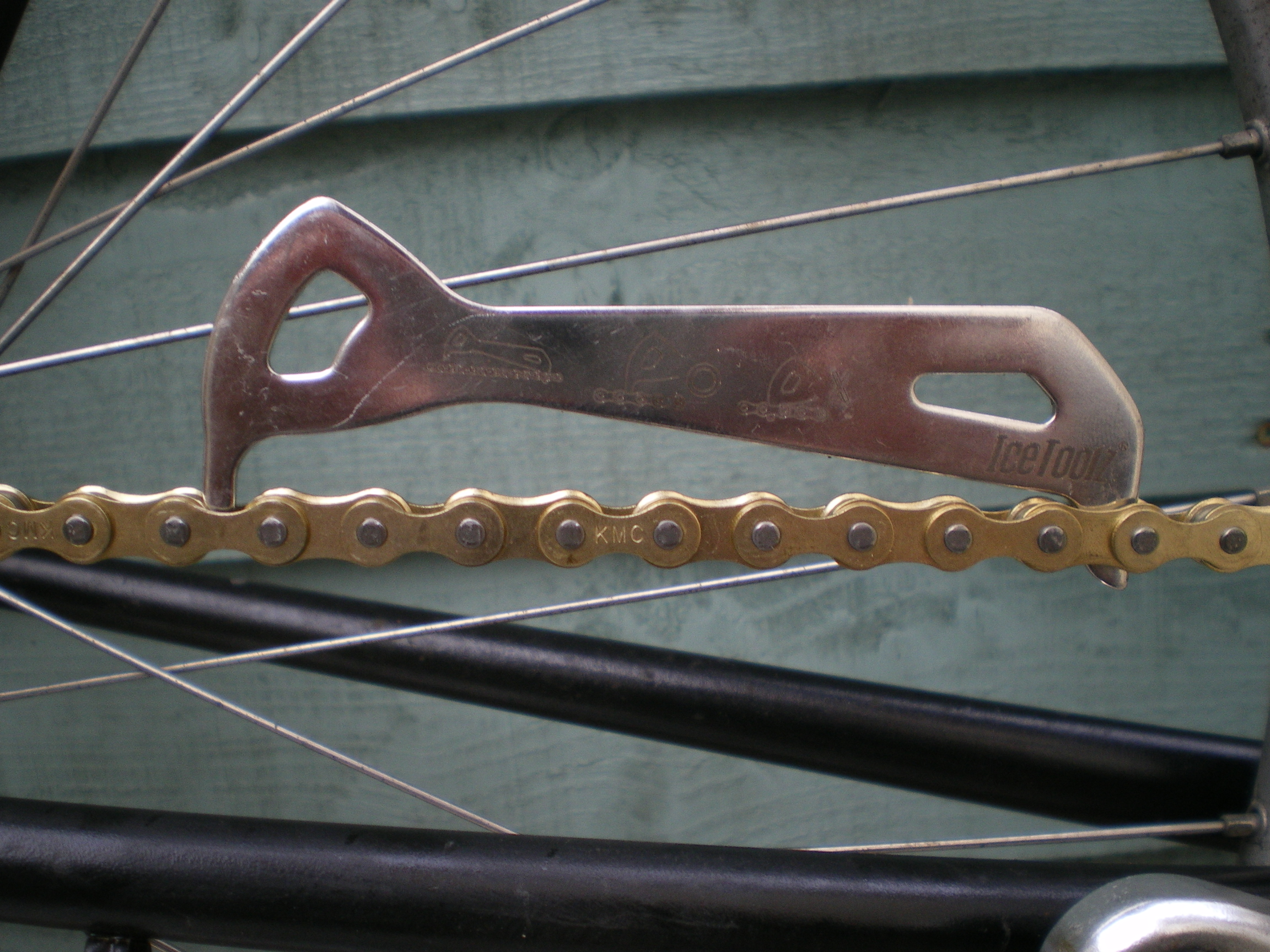 I like two things about this new chain - firstly, the gold colour matches the gold-anodised brake levers & callipers on Byron. Secondly, it's got my initials on it: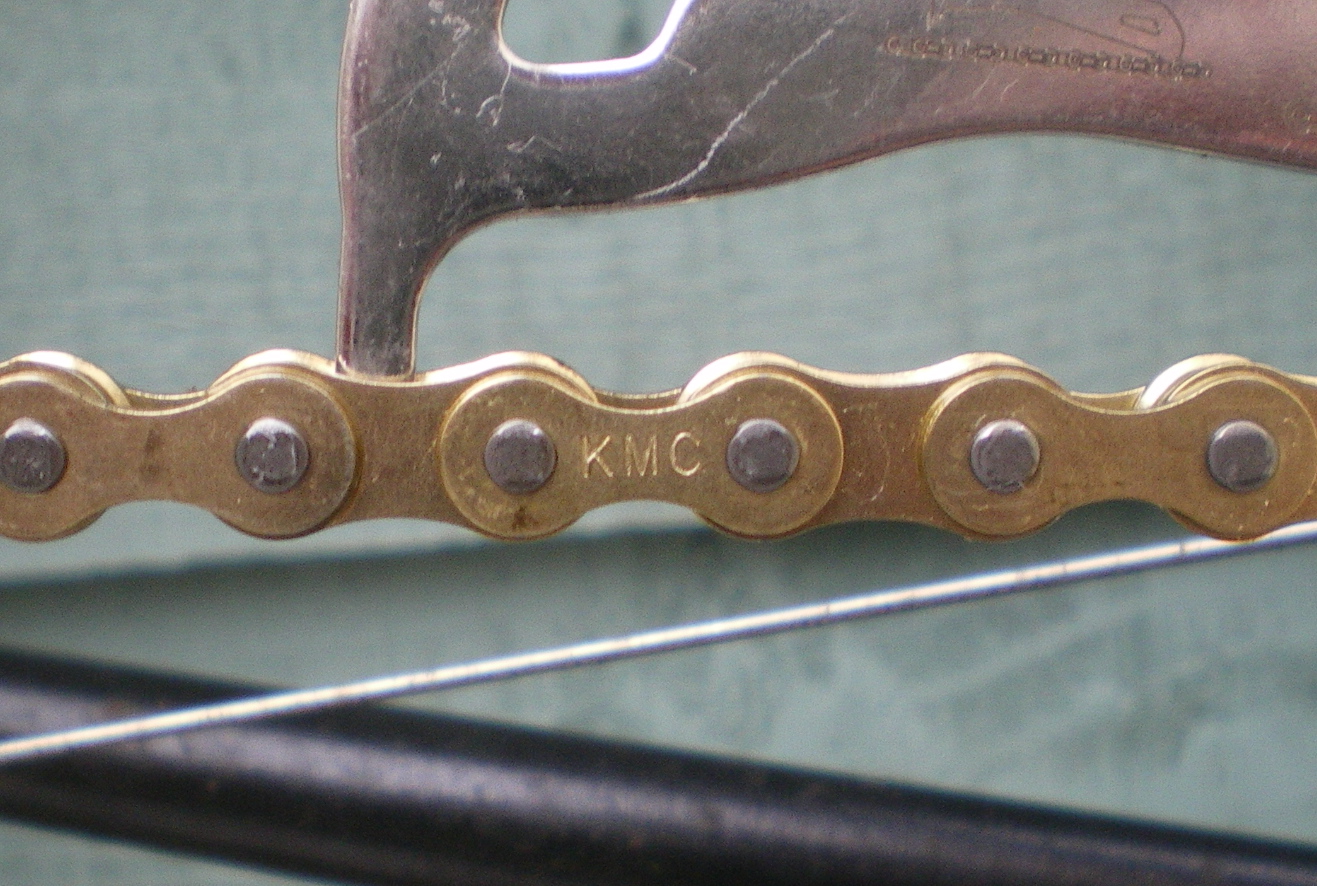 Yes, I am that shallow.
Workout:
Type:

Cycle

Date:

09/04/2010

Total Time:

00:25:00.00

Calories:

243

Distance:

5 miles

Average Speed:

12 mph