Gimme Shelter
Monday was windy. I mean really, properly windy - the sort of weather where if I were to listen carefully outside my front door, I'd probably hear people speaking Dutch; when a dog takes a pee against a lamp post in Groningen, there's a strange tang in the air in Whitley Bay. Mountainous seas thrown in as an afterthought.
So I rode to work.
The journey in wasn't such a problem - 30mph of tailwind can make life pretty easy. After work I had a meeting in Newbiggin By The Sea, which meant that the obvious route home was down the cycle path parallel to the Spine Road . . .
Those trees and bushes on either side of the path are a great windbreak (as well as doing an impressive job of screening out the traffic noise), but I only realised exactly how good when I was further into my journey, and on the stretch of road that runs from Blyth to Seaton Sluice: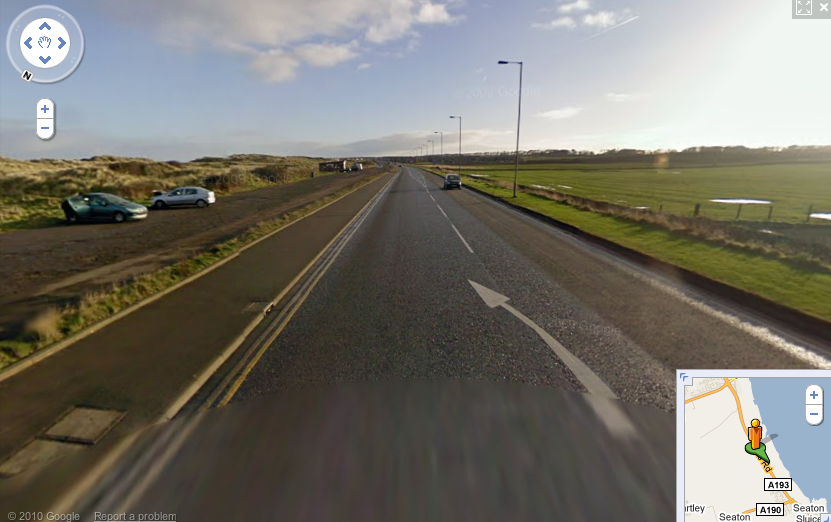 I was riding Byron, my fixed-wheel-quick-and-sort-of-sensible-but-not-really commuting / training bike, and was reduced to crouching low over the handlebars grinding it out & struggling to keep the bike at just 5mph. At several points I thought that just getting off and walking would be easier and probably quicker.
I guess this would be the yang for the morning's yin.
But there's also a serious point to this for anyone thinking of designing cycle routes for people to use for commuting or other non-leisure journeys (not that you can't have fun on commuting rides): A person riding a bike has a pretty low power output when compared with a car, and not many of those torques either.
So hills are bad - they're a big disincentive for people to ride, even if they're relatively short - which is why the DfT's Cycle Infrastructure Design Note 2/08 goes to great length in explaining different gradient limits under different circumstances. Yet it makes NO mention at all of the effects of wind on people riding a bike. But given a choice of riding up a series of hills for an hour, or into a headwind, I'd choose the hills every time - at least you get to the top of a hill and have the chance of a rest on the way down.
Wind is just so . . . smegging relentless !
So if you are working in a local authority, and are in charge of making provision for cyclists, please can you plant some trees and bushes all the way along the route. Gimme shelter, and the ride will be much more enjoyable.
Workout:
Type:

Cycle

Date:

09/06/2010

Total Time:

2:10:00.00

Calories:

1582

Distance:

34 miles

Average Speed:

15.69 mph