Hit By A Car
I'm not sure if this was a bungled assassination attempt, or if it was an expertly performed damned-near-thing, instigated on behalf of the car Mafia in an effort to warn me off.
Here's what happened…
Riding home through Blyth, my route takes me through a series of five roundabouts. The third of these includes a traffic island on the way in that I guess is intended to break up the visual line of the road to encourage drivers to slow down. The effect of this island is to narrow the road for all concerned, and unless you take the primary position, leave you vulnerable to being squeezed out: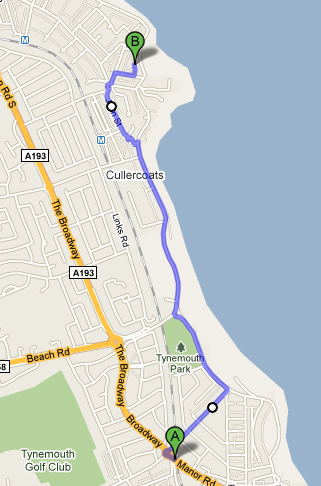 Which is what happened to me - caught in a stream of traffic, I didn't pull far enough out to make overtaking me absolutely impossible. So you know what happens - as you approach the point where the island cuts off the road, you start to wonder if the guy overtaking is going to have room to complete his move.
And it turns out that he does . . . if he pulls over into the piece of road that you're occupying, and along the way manages to apex the left hand bend.
I fended the car off with a hand, but all that did was delay things. The car continued coming across with the rear bumper passing in front of my handlebars and clipping my front wheel. A big wobble, emergency unclipping, and all the time in the world (or so it seemed) to wonder if I was going to fall just like Wife did last year, and if having a dislocated elbow would hurt as much as she seemed to think at the time . . . and then the car was gone. I was still upright, flushed full of adrenaline and mad as hell.
But despite my best efforts, I couldn't catch him. And with all that adrenaline, I never even thought to try to memorise the number plate.
OK - here are my learning points from this:
TAKE THE FLIPPIN LANE. I no longer care about the hoots and honks from behind me.
If faced with a similar situation again, slamming on the brakes would probably be more sensible than trying to fend off a car!
Other things . . .
I've now dug out my helmet camera. No, I'm not going to wear this on my head, but strap it to the bike du jour's head tube. I've had enough of taking this crap from drivers, and will get evidence.
I wish this were a country where cycle infrastructure made riding a bike safe, efficient, direct, and was significantly car-free.