Cleaning Your Bike While Riding It
The front wheel on the bike I've been commuting with for most of this month is kinda old. It was a replacement (not original) wheel on the Raleigh Record Sprint I bought second hand in 1989, and was a cheep wheel that I've not really loved too much.
It gets the occasional clean. Well, I say clean - I mean wipe over with a rag about once a year or so.
But now that I'm using this bike more, AND using it to ride to work, I want it to look better. I want to make it totally clear that I'm riding a bike because I want to - not because I'm some sort of a slob who can't even figure out where the car keys are.
Cleaning a bike is pretty easy - especially a fixed-wheel bike that has none of those messy gear mechs to worry about. But cleaning the wheels, once they've been left to their own devices for a while is a bit of a chore. It needs elbow grease and patience just to do the rims. And the hubs are the same, only they're hard to get at because of all the spokes in the way.
So I've come up with a solution - I visited a local craft shop, and bought two pipe-cleaners. A nice soft one, and one made of what feels like bristly plastic. I twisted these together, and made a loop to go around the hub.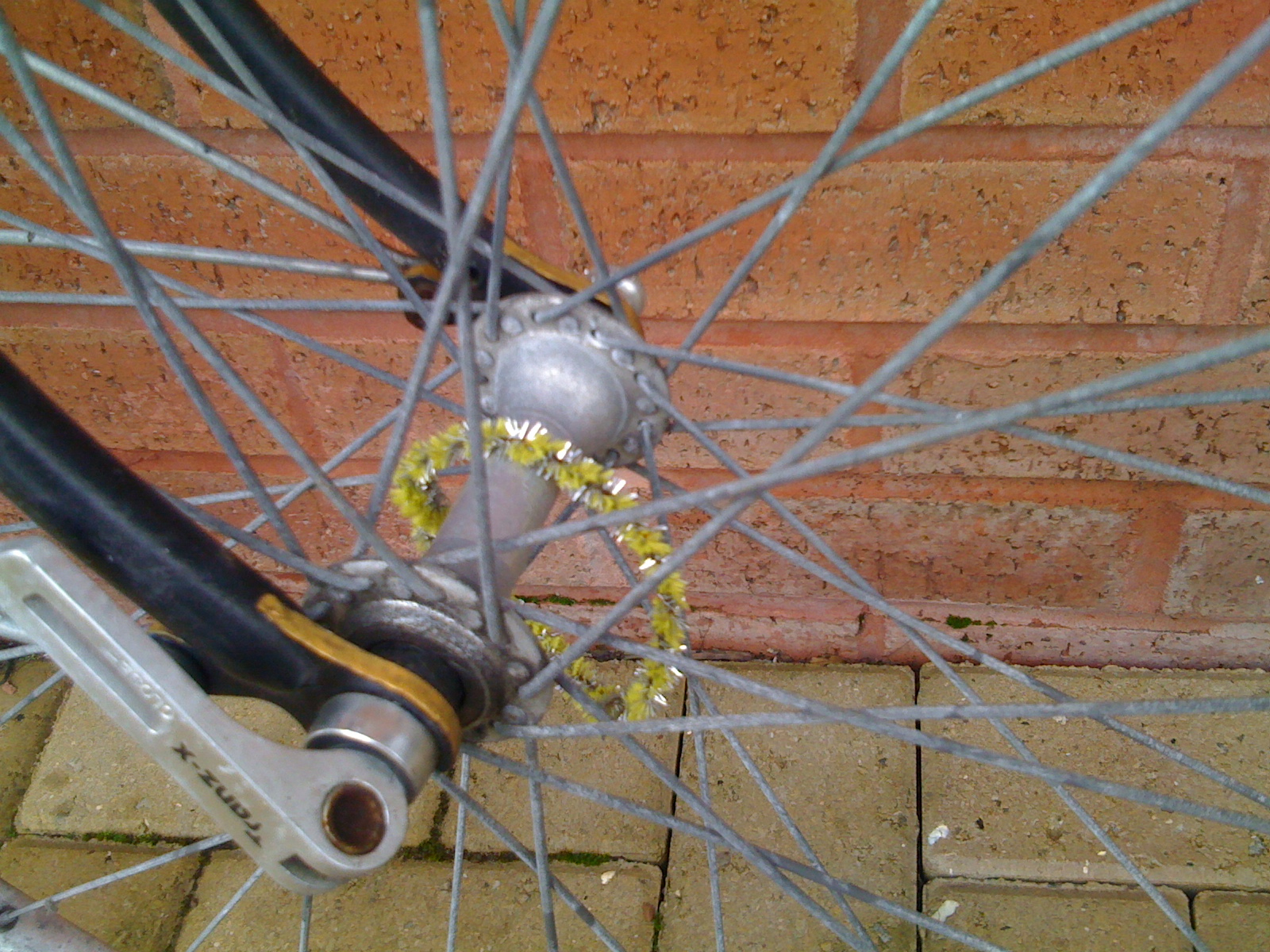 Ta-Da!
A little smear of polish on the hub and I'll soon be able to see my face in it!
I'm so pleased with this that I've been wondering about how to clean the chain as I go along too, although I do foresee five little problems with this:
Maybe this isn't such a good idea . . . although there's always the option of adding a guard to the chain to prevent it getting mucky in the first place. Hmmm….
Workout:
Type:

Cycle

Date:

09/27/2010

Total Time:

2:26:00.00

Calories:

2132

Distance:

39.6 miles

Average Speed:

16.27 mph