Invisible Road Danger
This is National Cycle Network Route 1, approaching Whitley Bay. It's an on-road section of the route - what do you notice?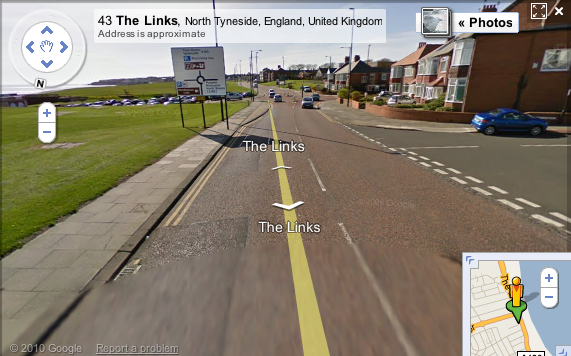 See the way the pavement is built out into the road? That's because just after that, there's a mini-roundabout - the build-out is to break the visual line of the road, and encourage drivers to slow down for the roundabout.
The problem you get is that if a car's overtaking you as you approach the build-out, they make no allowance for it, and you end up in a situation where you're running out of road very quickly. Or if the driver hasn't started to overtake you but is planning to, they get very surprised when you notice the hazard and pull out in front of them.
This situation is made worse as:
There's no warning that the road narrows (with a sign like this ). If you're not a local riding this road every day, there's a high risk of being taken by surprise by it
The hazard is over the brow of a small hill, so you don't get much warning of it, and neither do the drivers of cars
Because of that hill, you tend to be going faster than many drivers expect - they start their overtaking manoeuver too late to get past (or even properly level with you) before the road narrows
The road surface is uneven on the approach to this point (you can see the repairs in the photo), so you tend to end up riding closer to the pavement than you otherwise would - that's where the smoothest surface is
My solution is to use the gimlet-stare of power over my shoulder at the traffic, and then pull out to a very assertive primary road position from roughly the position shown in the photo.
But this is a solution that relies too heavily on my road sense. If you were in North Tyneside Council's Highways department, what changes would you make to this junction to make it safer for people on bikes?