What Can Jackie Stuart Teach You About Riding A Bike?
Jackie Stuart - ex-Formula One champion ? Surely there's nothing we'd want to learn from him, is there?
Well here's the thing - I read an article in New Scientist in about oh, 1993, about some jolly clever chaps who were trying to understand how champion drivers are faster than their vanquished rivals. They got Jackie Stuart to drive a range of different cars around a track and measured his position on the road. I suppose they used lasers or something suitably scientific. I can also believe that lab coats, glasses and clipboards may have been involved.
Anyway. What they found out was that he took subtly different lines through each bend, depending on the car he was driving. Your average driver takes what he believes to be a "racing line" through a bend, by turning at a uniform rate as they corner: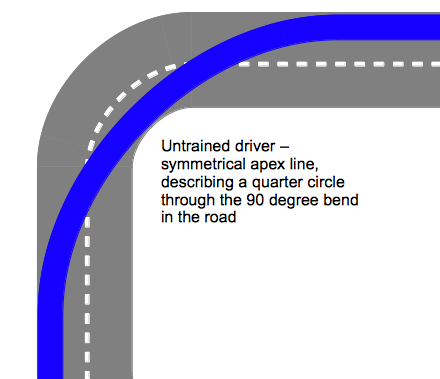 A professional racing driver though has an instinctive grasp of the vehicle's dynamics, and adjust their cornering to take account of the available friction. So, in a car with great brakes but a low-torque (low acceleration) engine:
… or conversely, a vehicle with poor brakes, but relatively speaking, great acceleration: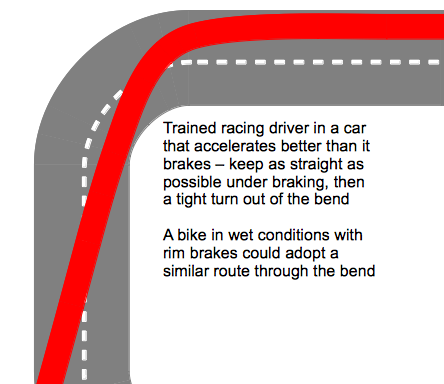 But these are on a race track. How does it affect you on the road?
Well, your typical driver about town isn't a tartan-wearing, side burn-sporting two-times world champion racing driver. But the chances are that behind the wheel they think they are. So when faced with a bend or curve in the road, they take the "racing line" - not a problem if they're by themselves, but it can have consequences for any cyclist they're sharing the road with: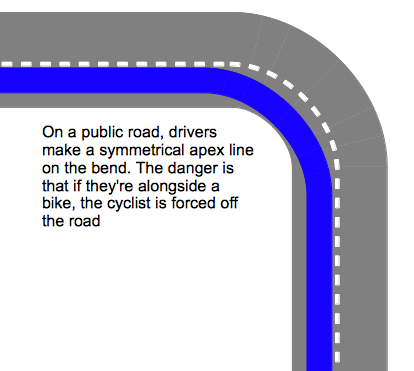 So how should you ride when approaching a left-hand bend in the road - even one that's far less than the 90º that I've drawn? I've found that taking the primary position on the way into the bend to prevent the driver from starting to overtake, but then hiding in the secondary position (in the bend's shadow) seems to work for me: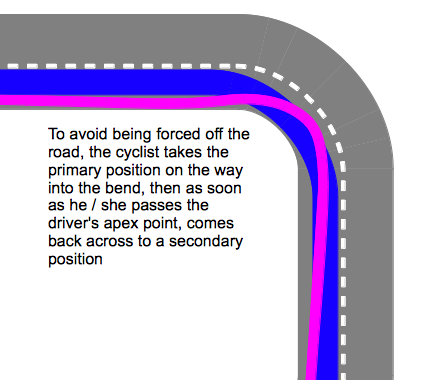 … or am I being overly-analytical about this stuff? What do you think?