Hub Gear Failure
Bah! The gears on my Pashley have been a little odd the last couple of times I've been out - not very good at shifting down from second to first while stationary, and vaguely notchy feeling in 4th and 5th. Something definitely in need of adjusting.
But today on the way into work (breakfast networking thing), the problems came home to roost. First up after about a dozen miles, it got jammed in first, no matter what I did with the shifter. This freed itself after a while, but I thought I'd better take it to the shop in Bedlington for some professional-looking-at-attention.
It seemed fine for a while . . . and then just jammed in first gear again. OK, so first gear is better than no gears at all. But I had 20 miles to do to get into the office and then home. And with a flat out speed of around 8mph and my legs doing something 130rpm, that would be a long, hard, slow ride.
So I hitched a lift home from someone in the office who has a big enough car to fit the Pashley into.
With the manufacturer's manual in hand, I've now freed hub and re-adjusted it so that it'll select all five gears, but 'tain't right. Fourth gear is still very notchy, and there's no way I can trust it 'till that's fixed.
And fixing hub gears . . . surely Sheldon Brown can advise on taking them apart and finding the problem and making it all better again and putting them back together without having any bits left over?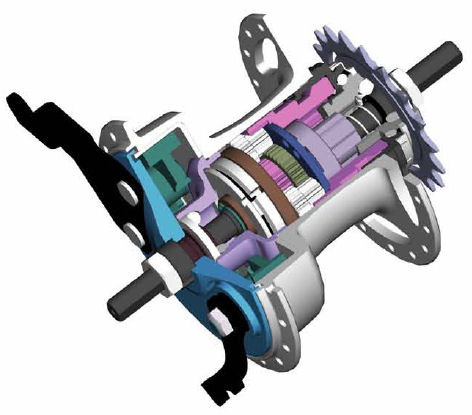 Look - I have a degree in engineering, yet the above diagram and it's associated parts list (what the hell are "pawls"?), coupled with concepts like backlash and the risk of a spring firing a tiny yet vital component over my shoulder as I unscrew the mechanism from its casing scares the bejasus out of me.
Time for . . .
A call to Ben at Whiptail Cycles in Tynemouth
A cry for help via Twitter
Tapping into the knowledge of the CTC forums
Riding a different bike for the rest of this week
Workout:
Type:

Cycle

Date:

10/05/2010

Time:

16:26:19

Total Time:

2:00:00.00

Calories:

584

Distance:

19 miles

Average Speed:

9.5 mph