Whitley Bay's 20mph Zones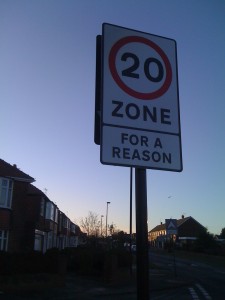 Without joined-up thinking we're never going to get anywhere fast. My personal immediate bugbear on this principal is the hit-and-miss approach to speed limits in Whitley Bay. The council set up some 20mph zones (a Good Thing), but . . .
In discussions with the previous cabinet member responsible for transport (Clr Frank Lott), I was told that the hope with these was that drivers might stick to a 30 mph limit. One of us was seriously missing the point in this meeting.
They're patchy. So you end up with situations where in the space of a hundred yards or so, you can go from 20mph to 30, to 40, and back to 20. This is confusing, and sends distinctly mixed messages.
What I want is for there to be a BLANKET 20mph speed limit across the whole of North Tyneside, with the only exceptions being the very few roads that handle large volumes of traffic and have slip-roads to cope with higher speed limits - I'm thinking of the A1058 Coast Road and the A19. People will argue that this'll bring traffic mayhem to the borough, but the reality is that reducing the speed limit from 30 to 20mph means that journeys will take an extra minute per mile for drivers who're driving AT the speed limit. And given how long we spend waiting around at junctions, most drivers would be lucky to et near the speed limit across a whole journey. Hardly an inconvenience.
Don't get me wrong - I really don't expect a blanket 20mph speed limit to result in a sudden uptake of cycling. For that, we will need to import more than Dutch beer. But it's one thing along the way that'll make Daughter feel safer, AND if (heaven forbid) anyone I know is involved in a [so-called] car accident, it will greatly improve their chances of surviving.
HOWEVER . . .
I spent a long time in the past working as an engineer, so the first thing I'd want to do is measure and understand the problem. So I've set out to create a map of North Tyneside's 20mph speed limits.
This is quite a way off being finished, but I'd like to demonstrate to you the problem with the way the zones have so far been inconsistently applied.
Have a look at these photos from Google Streetview and see if you can tell what the current speed limit is. No cheating by looking up the locations - these pictures were taken prior to recent changes to speed limits, so the chances are that cheating will only count against you!
Leave your answers as a comment - whoever's in the UK and scores highest (WITHOUT CHEATING) get's a pair of my home-baked bagels via the Toast By Post service I'm now running.
Answers below (a=90mph; b=150mph, etc), and whoever scores highest gets the prize.
Good luck!