Cyclists: Safe To Ignore Completely
I've been enjoying the articulate & well reasoned arguments against Vehicular Cycling that've been put up recently by Freewheeler, David Hembrow, and Crossrider, amongst others.
These have all got me thinking, about the flawed logic that seems to be the received wisdom of "Cyclists' (with a capital "C") groups" in the UK. As freewheeler puts it, the kind of things that won't bring about mass cycling include:
The mainstream Cyclists' (with a capital "C") groups keep on about these things, as if with enough belief and repetition they WILL lead to an upsurge in cycle use, and we will achieve a genuine critical mass / safety in numbers / whatever. Maybe it will, but cycling in the UK is pretty much stuck at less than 2%, despite years of repeating demands (sort of) for these four things.
They'll tell you - as will politicians in the pay of petroleum - that it's too unrealistic to expect any sort of Dutch miracle here. And besides, the risk is that we'll be forced off the road and onto sub-standard, crappy cycle routes-to-nowhere if we bleat on about it too much. The logic is that we need to get a big enough critical mass in order for politicians, DfT mandarins and local councils' planning / traffic engineers to take us seriously.
Can you see the flaw in this? It's repeating the same behaviour, while expecting different results.
What's needed is a different approach, and a better understanding of how to get changes through despite apparent apathy & opposition. Seeing as I have an MBA, I've been taught that the whole world can be simplified into 2×2 matrices, so how could we analyse this problem? Now you should bear in mind that I don't actually have any qualifications in political science, so basically I'm just making this stuff up as I go along. But maybe we could use a grid something like this to compare perceptions of things that can be changed with the public clamour to make those changes: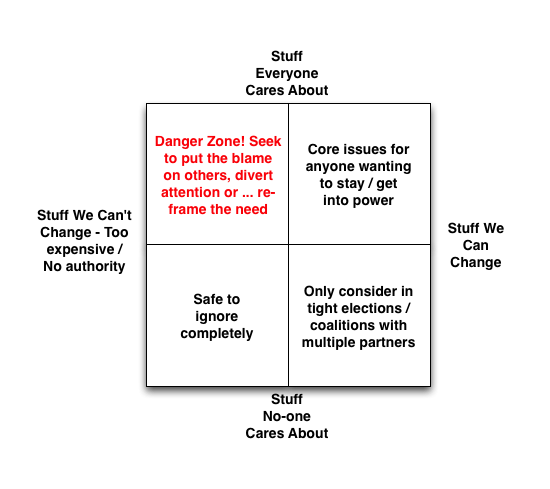 Of course, the reality of any situation would tend to distort this grid - with enough people concerned about an issue, you'd be amazed how easy it is to find ways to do things that would otherwise be impossible: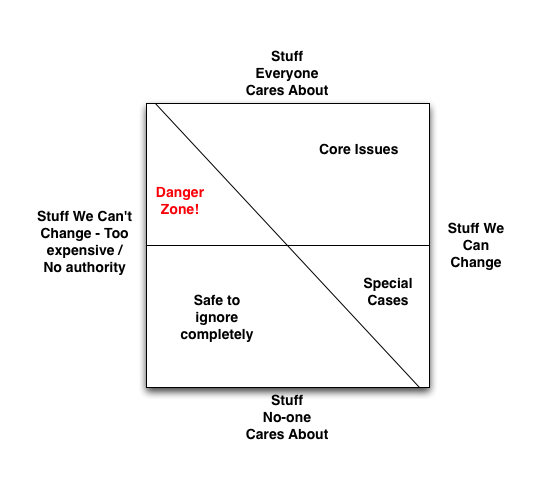 So how would we place the issue of bringing about mass cycling in the UK on this grid? And what would be the competing pressures that it'd have to overcome?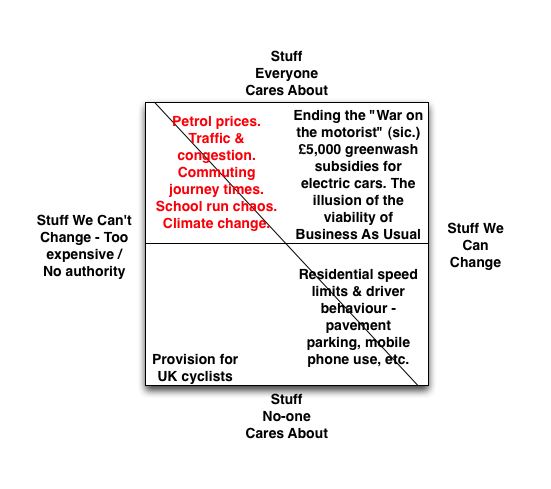 We can claim that implementing proper, direct, prioritised, wide, smooth, pleasant and convenient-to-use Dutch bicycle infrastructure is easy and cheep to do, but unless we change this grid, it isn't going to happen. With only 1-2% of the population's trips made by bike, Cyclists (with a capital "C") representing only a small number of these, and Cyclists (with a capital "C") groups more interested in policies that re-enforce the status quo than actual change, provision for UK cyclists (with a lower-case "c") is firmly in the "Safe to ignore completely" box. A real change to how the British get around for those 75% of trips that are less than 10km is frankly never going to happen.
Or is it?
When the Dutch realised that cars were killing children in the 1970s, they had the advantage that cycling was still well above our 1-2%, which by itself probably moved the issue up from "safe to ignore" to the "danger zone". But they also re-framed the issue into emotive terms - "Stop de Kindermoord" ("Stop the Child Murder").
Child murder. Just the sort of phrase to move the issue across to the core of political policy!
So what can we do along these lines? As a first step, it's time to organise around what we actually want, and get involved at all levels of power to put this message across - politicians, planning departments, employers (especially large employers, and employers groups), and even driver's organisations. That in itself will make it appear that we're a larger more important group than the motoring lobby would have government believe.
But we also need to re-frame the message - moving it away from features (the things that we want - that nice Dutch infrastructure, with many more regular people riding bikes for everyday transport), to focus on it's benefits (what it does - takes traffic off the road), and ultimately on the benefits of the benefits (what people GET from it - if we were to follow the Dutch campaign, it's a significant cut in the No. 1 non-genetic cause of childhood deaths in the UK). What that does is move the issue across from the danger zone and into the core agenda issues for anyone who wants to get into / stay in power.
It's to discuss stuff like this that I'm going along to the initial meeting of the Cycling Embassy of Great Britain on 29th January. I hope to see you there!