Pickles Claims Cyclists Are Incontinent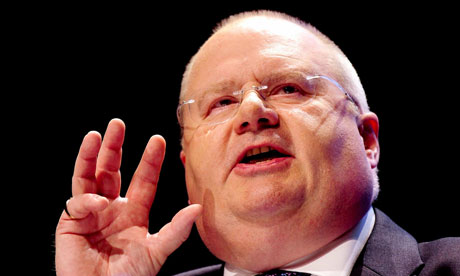 Our glorious Secretary of State for Communities and Local Government isn't afraid to tackle the big issues, and speak plainly when there's an embarrassing problem that needs to be addressed.
He's the sort of friend who'll tell you when you've got B.O. or bad breath. The sort of bloke who'll confidently call a spade a f*cking shovel, and be damned. He's the sort of minister you can rely on to tell his boss the truth, no matter how uncomfortable. A Top Bloke in every respect, as this exchange with Mark Ames, of I Bike London fame shows:
Mark Ames:
We're here today to talk about sustainability and liveable cities, and as a cyclist the end product of these kinds of discussions for me and for my fellow cyclists and pedestrians are the actual conditions on the streets.

So, as Secretary of State for Communities and given the known effect that overuse of private car transport has on local communities in terms of urban blight and noise, pollution, obesity and all the rest, how do you reconcile and balance those problems that face communities with your and Philip Hammonds ending of the so called war on the motorist?

Eric Pickle:
Well I mean, I'm a fat guy and me on a bicycle is not a pretty sight, as to this…

Chairman.:
It works for Boris…

E.P.:
Boris is more svelte than me, I mean… Common, don't be such a p… don't be such a puritan! We can find a reason… Well, not everybody can pedal in rubber knickers up and down the place to go to work. It's a question of finding a proper balance, that's what we're trying to do, is a proper balance. Boris's bicycles work really well, I want to see that extended around the country. And I think we need to find better ways for making it safer for cyclists. Even I might venture out eventually if we make it just a little bit safer. And I think we've got to look for intelligent ways of helping people _pool_cars_, work together. Also we're going to be introducing more points for _electric_cars_. I want to see public transport being made better, that's why we're, I think, paying that more attention towards high-speed rail underlines.

Everything has got to be a kind of a balance. You see, the problem with the old system was, we artificially restricted the number of parking places for new developments, and all that simply happened is people parked on the roads. Now without getting too emotional about it, I lost to constituency (?) young people precisely because of this ridiculous policy because people parked on the side and fire engines couldn't get through to the appropriate place. So it's just a kind of an example of _how_targets_don't_match_ reality. We think 'Job done' because we got this kind of target. And I think that the motor vehicle has a perfectly respectable place in society and people who use them aren't the enemy. So let's encourage bikes, lets encourage walking, let's encourage obese people like me to lose a bit of weight by doing all this kind of things, but let's not regard of people who travel by car as the enemy.
OK, so Eric "Creosote" Pickles is obviously a little sensitive about his weight, but at least he's got the decency to point out what everyone else has been avoiding. It's the real elephant in the room when it comes to riding a bike on Britain's (and especially London's) roads:
"Well, not everybody can pedal in rubber knickers up and down the place to go to work."
Yes, that's right. Thank goodness someone's at last had the decency to say it. Anyone who wants to ride a bike needs to get kitted out with incontinence pants.
Because on a bike, you're almost certain to have the crap literally scared out of you on a daily basis by some murderously inattentive moron of a motorist, who's in too much of a hurry to bother waiting 'till it's safe to pass; has no idea how wide their vehicle is; assumes that you're a mirage when they turn across your path; has a Very Important phone call in progress; has to read and reply to this text Right Now ("lol just ran ovr a bike"); will frankly never see you no matter how hi-vized up you get; or (as a payer of Road Tax) is just much more important than you.
On days when this doesn't happen, it's generally because the traffic's stationary and completely gridlocked - something that all those extra free & unrestricted parking spaces, and subsidised electric cars are sure to ease. On these days, smug, tax-avoiding, anti-freedom-of-choice people on bikes are likely to find themselves laughing so much that they lose control of their bladders. i.e. yet another time when those rubber knickers are needed.
It's because most non-cyclists know about these problems that they claim they couldn't possibly cycle to work as there aren't any showers. Makes sense - no-one wants to poo their pants and then have to do a full day's work without a shower first. That's just plain nasty.
Not everyone's comfortable with the idea of wearing rubber knickers. If you don't want to have to wear a medical appliance to wear a bike (or even if you're just not into fetish wear), and want a country where riding a bike is just an everyday, safe, convenient way to get around, then now is the time for you to take action. Get involved with your local cycling campaign group, write to your MP, get face-to-face meetings with your local councillors, read blogs like David Hembrow's, and make sure you support the Cycling Embassy of Great Britain. (Insert sound-bite slogan here).
Meanwhile to lighten the mood a little, here's a video clip from Billy Connolly telling his incontinence pants story: