Learning To Ride A Bike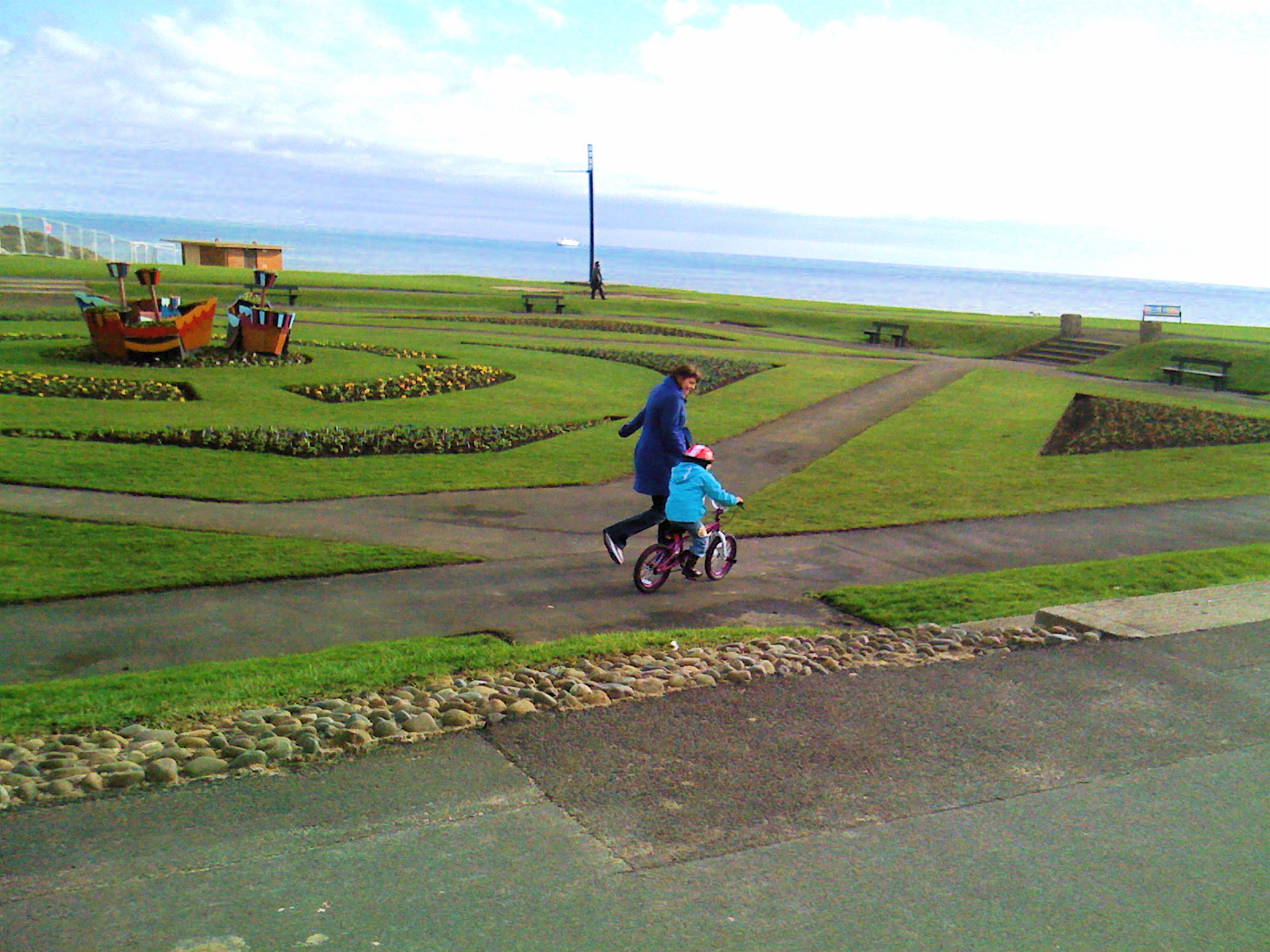 Talking to the receptionist at a client's office yesterday, I was astonished to find that she couldn't ride a bike. When she was young, she'd lived on a main road, so her parents had never let her have a bike. And now, 40 years later, she'd love to, but despite her best efforts, just can't get the hang of it. She also doesn't know where she'd ride, as all roads nowadays are too busy for her to feel safe.
That aside, here's how pretty much anyone can learn to ride a bike within 20-30 minutes:
Throw away the stabilisers / training wheels. They're a menace, and lead to more learner's spills than anything else, as it's impossible to corner correctly with them on.
Lower the saddle so that the learner can put both feet flat on the ground.
Take off the pedals - you'll need a 15mm spanner, and remember that the thread on the left hand pedal turns the other way!
In a nice quiet back street or an empty playground (less stuff to bump into), get the learner to sit on the bike and scoot along for ten minutes or so. They can basically walk while sitting on the bike, and the idea is that they get a feel for the steering and the brakes in a situation where if things start to go a bit pear-shaped, they can just put their feet down.
Once they've got the hang of steering, get them to see how long they can coast along for with both feet off the ground. Within a few minutes, they should be able to do a few tens of yards, and steer one way or the other at will.
Put the pedals back on, and make sure the bike is in a nice low gear.
The learner is now going to pedal rather than walk the bike, and the chances are that they'll forget what they've already learned, so they'll need your help. To begin with you'll have to walk alongside them pretending to take their weight by hanging on to the back of the saddle / their waistband / belt with one hand. What you're actually doing is keeping your other hand at the end of the handlebars to take control of the steering!

Staying upright on a bike has nothing to do with gyroscopic effects from the wheels, and everything to do with steering.
As a rider starts to topple one way or the other, the bike stays upright by making miniscule adjustments to steer the bike tighter into the fall.
When you do this, your forward momentum counteracts the steering, and you get pulled upright.

Explain all this as simply as you can to the learner, and have them start to pedal off slowly, while you walk alongside. Chances are that they'll start toppling quite severely, and you'll have to take control of the steering with gross over-corrections. After just a couple of these sorts of false starts though, they will start to get the hang of it, and they will remember the muscle-memory of how they stayed upright before you put the pedals on.
Pretty soon you can move back and just "help" by holding the saddle. And almost as soon as that's all you're doing, you'll be able to let go entirely - they'll be riding all by themselves.
Once they're convinced that they can do it without you hanging on, you can start doing things like raising the saddle to a more sensible height.
Results guaranteed, or your money back!