In Defence Of The Hierarchy Of Provision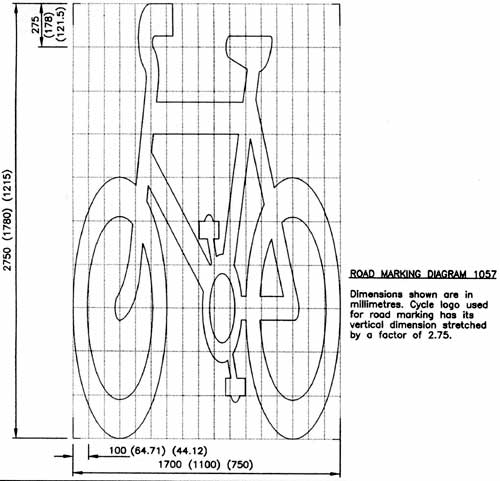 In 1997, CTC, together with the Department for Transport (DfT), published Cycle-Friendly Infrastructure. This proposed a range of solutions for planners and engineers to consider when trying to accommodate bikes within transport infrastructure, and is still alive and kicking in the 2008 Cycle Infrastructure Design Guide.
This is very much a DfT document - full of detail and a sense that no-matter what you do, you'll end up being in the wrong. So it ends up not so much as a statement of best practice to aspire to, along with the practical steps that'll get over problems, as a series of pragmatic compromises. The problem with this sort of pragmatism is that every step along this path dilutes the end result to the point that councils can create truly crap infrastructure, safe in the knowledge that they've done all that's "practical".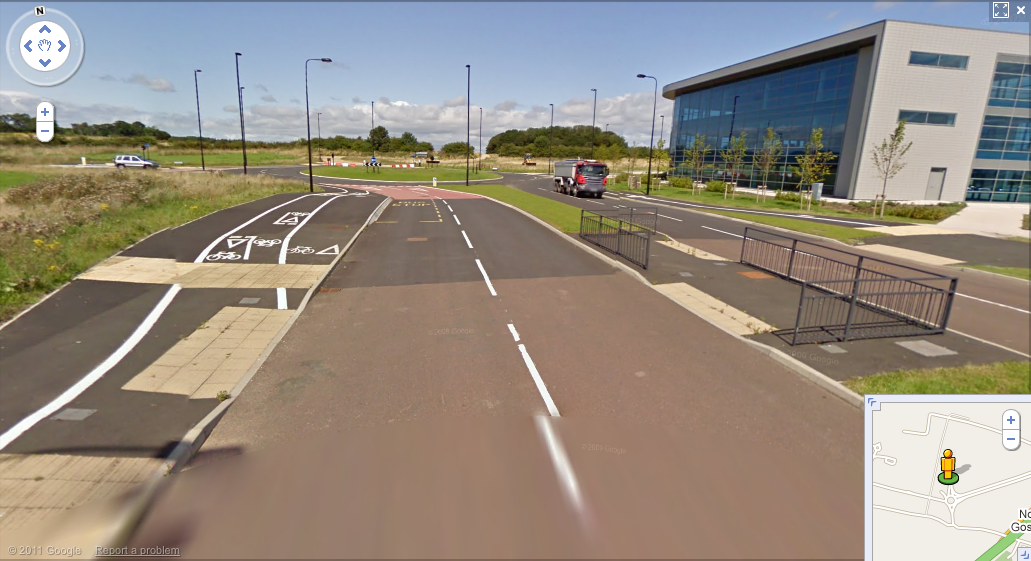 Here you see an example of segregated, off-road cycle provision that was either designed by a five year-old who'd yet to master daubing the walls with crayon rather than just eating it, or where the engineering plans had some sort of crease in them, so the contractors inadvertently mixed two or more sets of routes.
Why are we so bad at this stuff? I think its because it's the last thing anyone ever considers:
| | |
| --- | --- |
| Consider first | Traffic reduction |
| | Speed reduction |
| | Junction treatment, hazard site treatment, traffic management |
| | Reallocation of carriageway space (e.g. bus lanes, widened nearside lanes, cycle lanes) |
| | Cycle tracks away from roads |
| Consider last | Conversion of footways/footpaths to shared use cycle tracks for pedestrians and cyclists |
This is the hierarchy of provision, and forms one of the opening sections of that Cycle Infrastructure Design Guide. In theory, all of these six steps make perfect sense - let's look at each in turn:
1. Traffic reduction could mean a Houten-style centre of town, where it's basically impossible to take a private car:
There are examples of this sort of traffic reduction thing done quite well - like this one just around the corner from my friend Von Smallhaussen: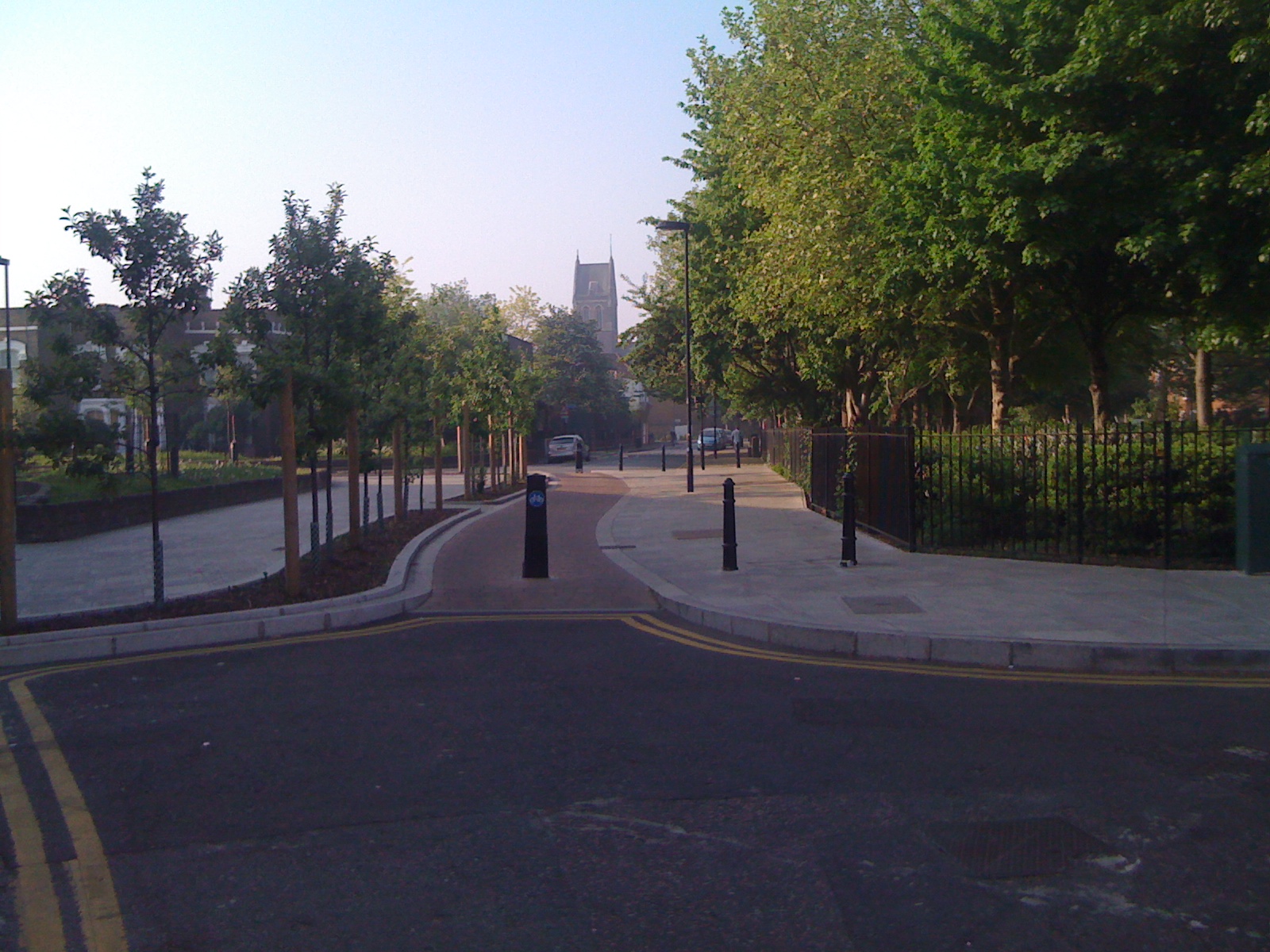 OK, so it would be nice if the transition from road level to the raised area were a little (a lot) smoother, and the cycle path a bit wider, but you can see what they've tried to do here - what was a former rat-run is now a quiet street, yet pedestrian & cyclists are not inconvenienced by using it. Heck - it even looks pleasant (though it was a bit rough & ready when the road was first closed).
Compare this with the more usual engineering solution to traffic reduction: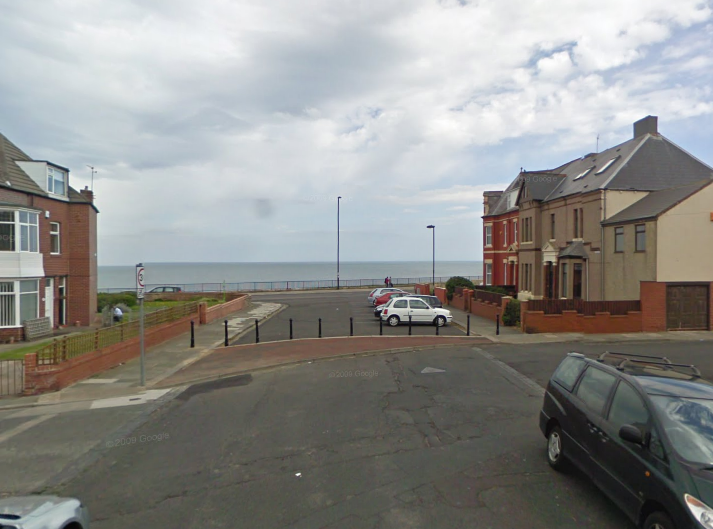 The route from this quiet residential area has been blocked off - indeed, this and a few other similar strategic road closures have probably contributed to this being a quiet residential area. But the route is also closed for anyone on a bike, and the road surfaces either side are just shocking. Is this really an inviting place to ride a bike?
2. Speed Reduction could mean the creation of home-zones, like this one in Blyth: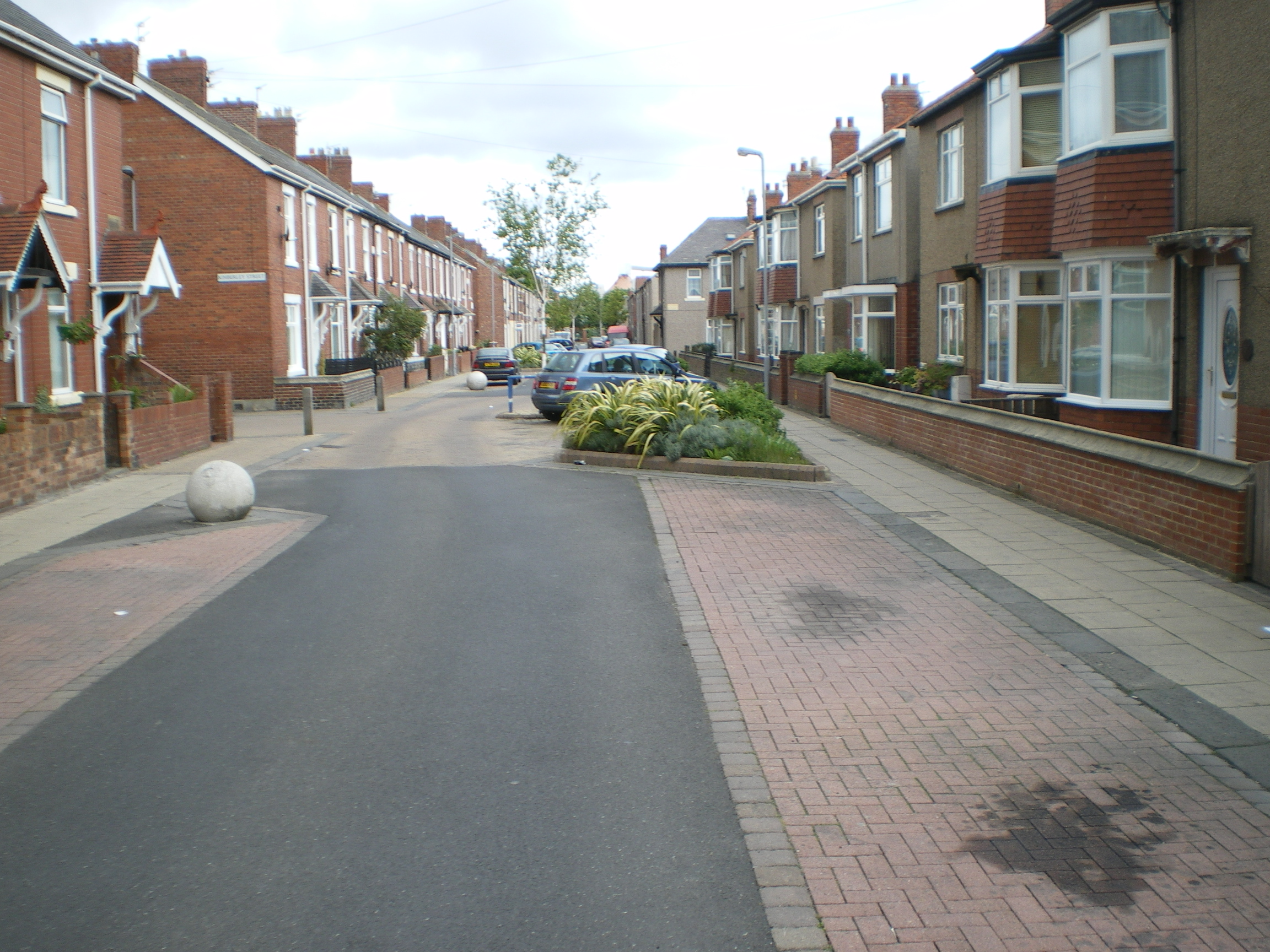 There's a 20 mph speed limit here, but it's largely unnecessary - with the re-allocation of space to create a meandering and often uncertain route, it's just easier to drive slowly. More often though, the approach to speed reduction is to put up a 20mph sign, and some intermittent traffic calming - the sort of thing that encourages drivers to race cyclists to the next speed hump / chicane. Something like this in Ashington, in fact: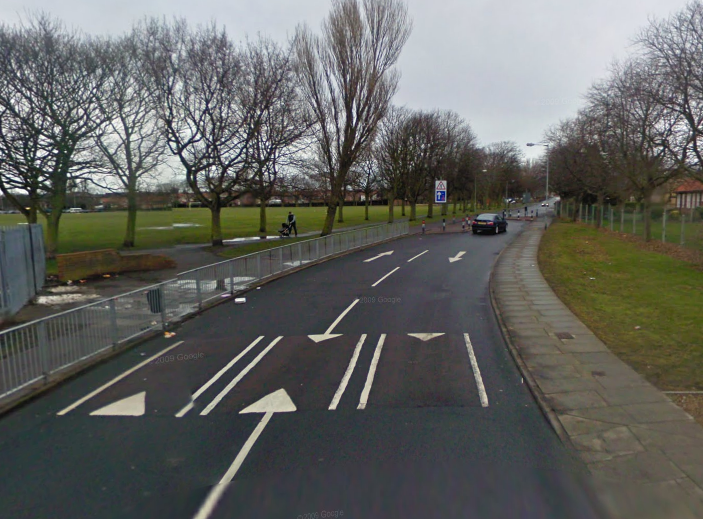 Note the speed cushions in the foreground and the chicane that the car's just going through. Interestingly enough, the priority over oncoming vehicles sign doesn't seem to apply when you're on a bike - if there's a spot on my way to work for slapping windscreens / kicking wing mirrors off, then this is it. The speed limit here is 20mph, and if you ride at that speed without taking the lane, you WILL get some Muppet in a car trying to overtake you.
Part of the problem though with 20mph zones is that they're only introduced where the existing 85th percentile of vehicle speed is less than 24mph - i.e. at least 85% of drivers are driving at pretty close to 20 mph anyway. When the speed limit is dropped from 30mph to 20mph, there is a shift in driver speeds, but as they're already going reasonably slowly, it's not so much about actively changing driver behaviour, as re-enforcing existing norms.
3. Junction Treatment, Hazard site treatment, traffic management - these could mean doing things like tightening junction radii (which also slows traffic), and ensuring that cycle lanes etc. (see below) are where they're most needed, at difficult to read junctions & features like roundabouts. In reality though, hazard site treatment tends to mean putting an anti-skid coating on the approaches to pedestrian crossings, narrowing the road at those crossings (and thereby bringing bicycles and cars into conflict), and adding pedestrian refuges / traffic islands (ditto).
When it comes to traffic management, too many engineers are obsessed with Toucan Crossings (as in "You too can wait your turn while important people in cars drive past"):
I guess their reasoning is that bicycles can flow in much the same way as pedestrians, so (for health and safety reasons), they should be treated a lot like pedestrians. But it's only a short step from a toucan to the obvious final solution beloved of British traffic engineers:
4. Reallocation of carriageway space (e.g. bus lanes, widened nearside lanes, cycle lanes) could mean taking things like the cycle lanes you see in the Netherlands, which involves taking on-street parking away from private cars to allow the full width of our streets to be used: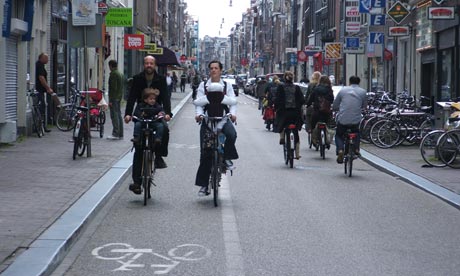 At a push, it could mean (the good bits) of Boris' superhighways:
The reality however, is that more space is being taken away from vulnerable road users to create parking spaces:
… the superhighways can lead to disappointment:
… and while a bus lane means that you've fewer vehicles to worry about, you're still sharing a lane with a ten-ton monster, driven by someone who's got a timetable to meet, and who can't pull out to get around you as the drivers of cars in the remaining lanes aren't about to give up their lane for such a reckless manoeuvre (just watch the first 30 seconds or so of this film - I've a feeling that it was uploaded by a bus spotter):
5. Cycle Tracks Away From Roads could obviously mean the sort of thing that David Hembrow keeps going on about:
These can make cycling is safe AND convenient, as you don't have to stop to cross minor roads:
… and we do have some excellent examples of this in the UK. Except we mess up the junctions: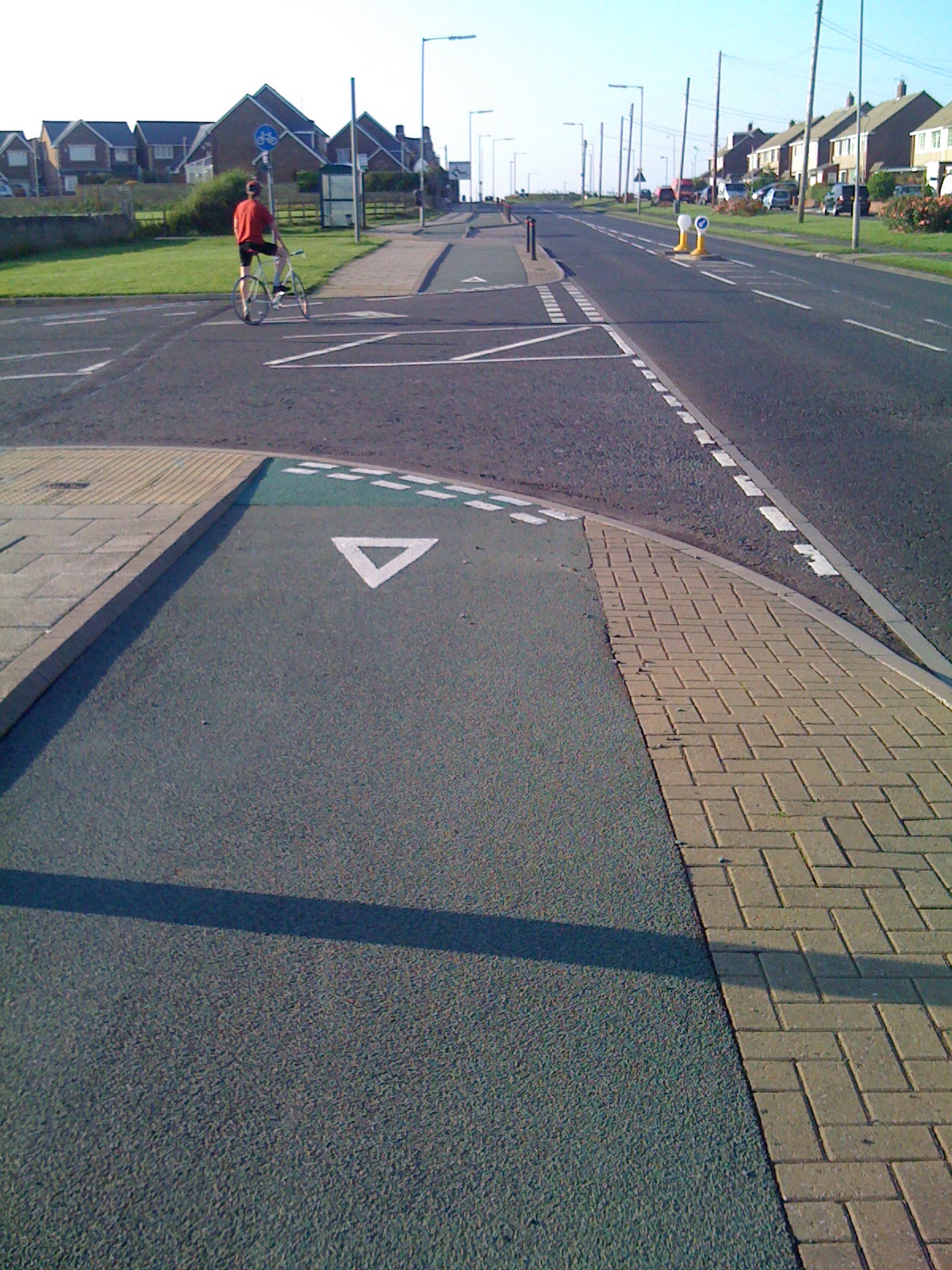 …or forget to join the ends of our routes to anything useful: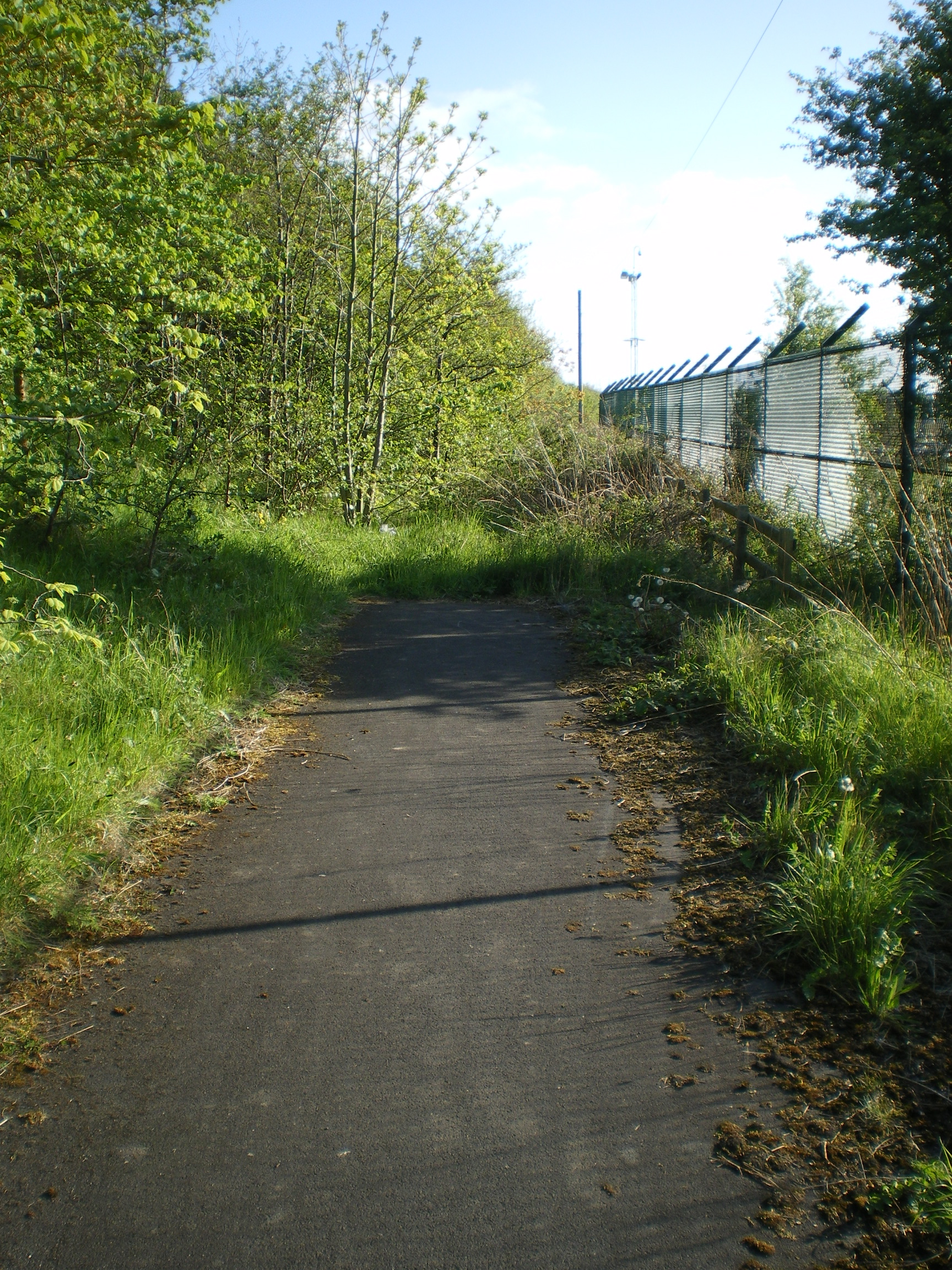 … and even when we build nice new routes like the Sustrans Connect 2 project in Blyth (which has a LOT going for it - I'm a big fan and regular user), we shy away from tackling the tough issues, and naively expect people on bikes to cross the same road twice at those dreaded toucan crossings within a hundred yards.
6. Conversion of footways/footpaths to shared use cycle tracks for pedestrians and cyclists is rightly at the bottom of the list. The problem is that bicycles travel at 4-5 times the speed of the average pedestrian, and pedestrians are accustomed to their freedoms that mean they don't have to walk along the pavement in nice predictable straight lines, and can wear their iPods at all times. The only safe - and courteous - way to ride along shared pedestrian and cyclist routes is at just above a walking speed, and even that is risky. Shared use cycle tracks are neither safe nor convenient.
So why do councils think they're such a good idea?
OK - so all of this may have read like I'm not such a big fan of the Hierarchy of Provision. This isn't the case at all - each of its steps makes perfect sense. If we reduce traffic, slow down what's left, identify hazards & remove them, and where this isn't possible, provide segregated facilities, then I see nothing wrong with it.
In many respects, the first three steps of the hierarchy alone could create a safe and convenient cycling environment for the majority of roads. But unless we can persuade the people who control this stuff to take the tough choices around things like junction design and the proper re-allocation of road space on feeder routes (i.e. not assuming that people feel safe sharing a lane with a ten-ton motorised steel box), we'll only end up with islands of safety.
If all you can do is cycle around the few residential streets where you live, but can't get to the shops, to school, to the pub, or wherever, without first having to be a Confident And Assertive Cyclist, then riding a bike will remain the preserve of the few - the brave, the foolhardy, and the environmentally concerned yoghurt-knitters amongst us.