My Cycle Chic Daughter
Irony of ironies - on the day that I had to drive to work, Daughter rode to school, and left the house at the same time as me: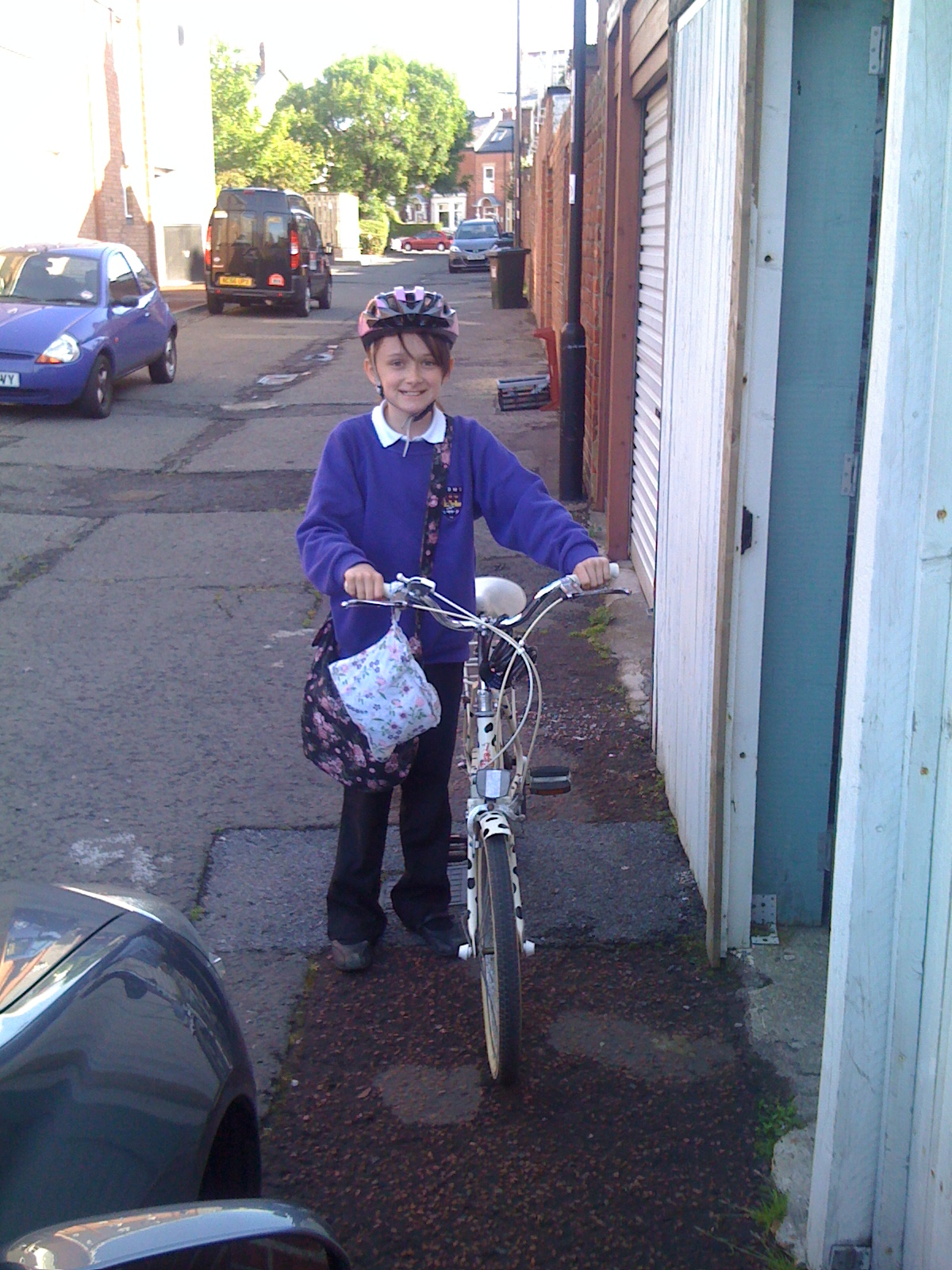 If you're the kind of person who notices these things, you'll probably notice the helmet. She first rode to school a few weeks ago, and got a big telling off on arrival - no BikeAbility certificate & no lid. So we wrote to the school explaining that we were happy with her on-road abilities and had planned out a largely traffic-free route for her anyway.
On the helmet issue, you may know that I wear one for some kinds of riding (the kind where statistics tell me I'm more likely to fall off - i.e. when I'm clipped into those pedals and too damned stoopid to remember this simple fact when I come to a stop), but not for others - when I'm bimbling about town; the kind of riding done by normal people in normal clothes. Now I could start a bun fight with the school about this, as once Daughter leaves the school gates, she's our responsibility, not theirs.
But there are other factors - firstly, I actually think that helmets may be appropriate to children. They play all the damned time, and test the boundaries (any child of mine who didn't push boundaries would soon find themselves on our re-education programme), and generally concentrate on having fun. Kids do things that as adults we'd consider pretty obviously risky on bikes. So when Daughter's riding with her friends, I say she should (should, not must) wear a lid - and I also explain the reasoning. If she's just riding with me or Wife - the equivalent of just going for a walk with mum or dad, then I leave it entirely up to her. If she feels that she should wear a helmet, then I'm not going to lecture her. If she doesn't want to, then that's OK (but I'll also keep a closer eye on her natural childhood tendency to high-jinks!)
Secondly, while I want her to push the boundaries, sometimes it's important to respect the rules. If the school rule is that children riding to school should wear a helmet (even though in saying so, they're exceeding their authority), then that is what we'll do - I don't want her questioning their rules about wearing goggles for chemistry lessons, or not putting her hand into the lathe in DT classes either.
Anyway - here are a couple more photos of my cycle chic daughter (just ignore the helmet or jog on if it offends you.) That bag alone must surely rank her amongst the chicest, most high-heeled cyclists of Copenhagen & Amsterdam?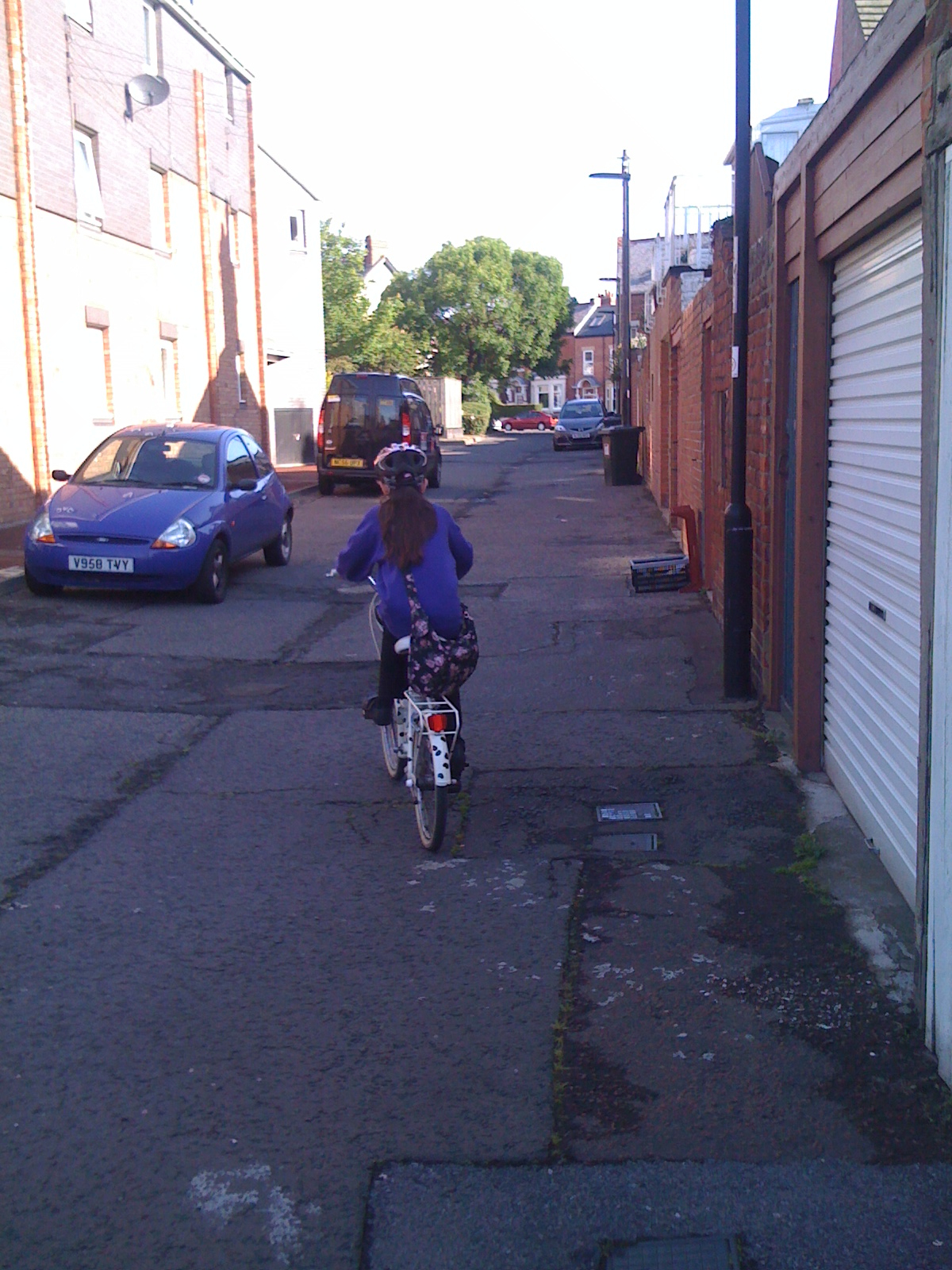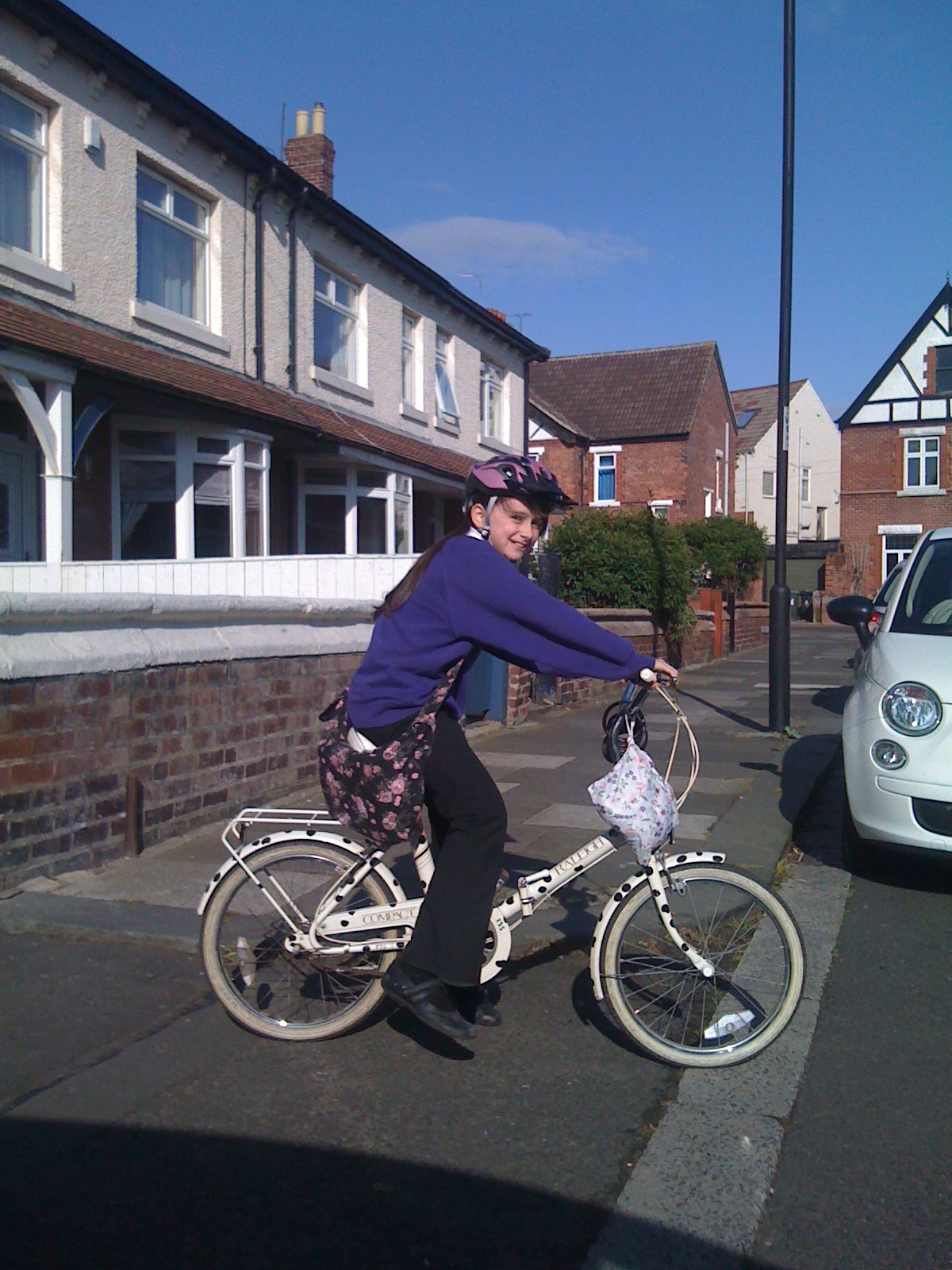 Oh, and in case you were thinking that I'm biased towards no-fun Yootil-I-Tee cycling, here's a picture of Carlton Reid's boy, who's just a few years older than Daughter, and headed out for his first solo training ride today: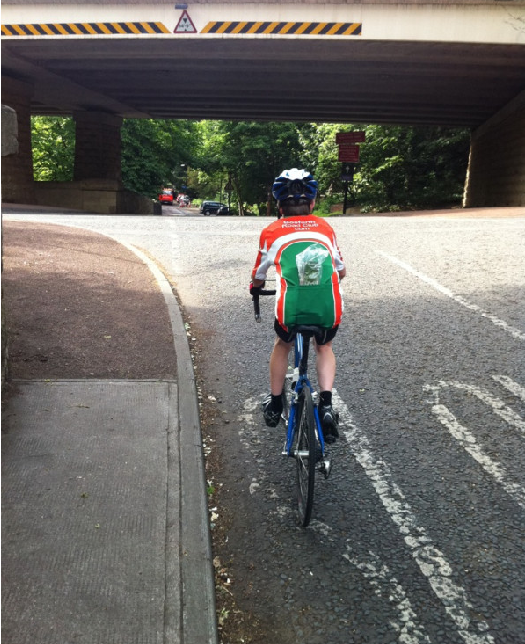 Being a proud dad comes in many different flavours!