Meeting North Tyneside's Council
So after a bit of a faff with diaries, Tom Bailey and I finally got to meet with our local council. For us it was quite an important meeting - the councillor in charge of transport, Ed Hodson, has a reputation for being a bit of a petrol-head, and we wanted to set a broadly positive relationship, while at the same time sticking to our principles.
Naturally the pair of us had cycled to the council's offices, and turned up to the meeting in regular clothes. But the nerves were showing - I complimented Clr. Hodson on his tweed suit as we shook hands (he was wearing a tweed jacket & corduroy trousers), and Tom was uncharacteristically jittery in his opening remarks.
Initially the Councillor seemed a little hostile towards us - surely Cycling was a Health Thing, and the council was doing an awful lot to promote that. So we got talking about riding a bike as a form of transport, and talked about its importance for the town centres. About how local retail benefits from cycle traffic, while it's only the out-of-town chain stores that benefit from making driving easier. About how it takes ~£200k of turnover to create a job at a supermarket, but only ~£50k in a small high-street shop (that raised some eyebrows). About how enthusiastic the local Chambers of Trade are for this sort of thing. About how bikes can increase the mobility of older folks. About the need to do more than the Waggonways (which are great leisure routes, but don't connect anywhere useful as such), and focus on the priority routes into the town centres. About how promotion is one thing, but only by providing the infrastructure will there be any significant change in the overall population's uptake in cycling.
We looked for excuses to give compliments - both Tom and I are big fans of the near-blanket 20mph speed limit that's coming.
When Clr. Hodson raised the issue of pavement cyclists, we were firm - people ride on the pavement because they're scared of the traffic, or because the only way to get around traffic-managing one-way street labyrinths is to do so.
In general on pavement cycling, I take the view that providing cyclist remember that they're on someone else's territory and ride with some courtesy, then there's no problem, while anyone who's going head-down-bum-up on the pavement should have the book thrown at them. So I quite like the new shared-use path that's been created along the sea front. Except along Beverley Terrace, where they've put in some of the most ludicrous two-way segregation for a whole 125m: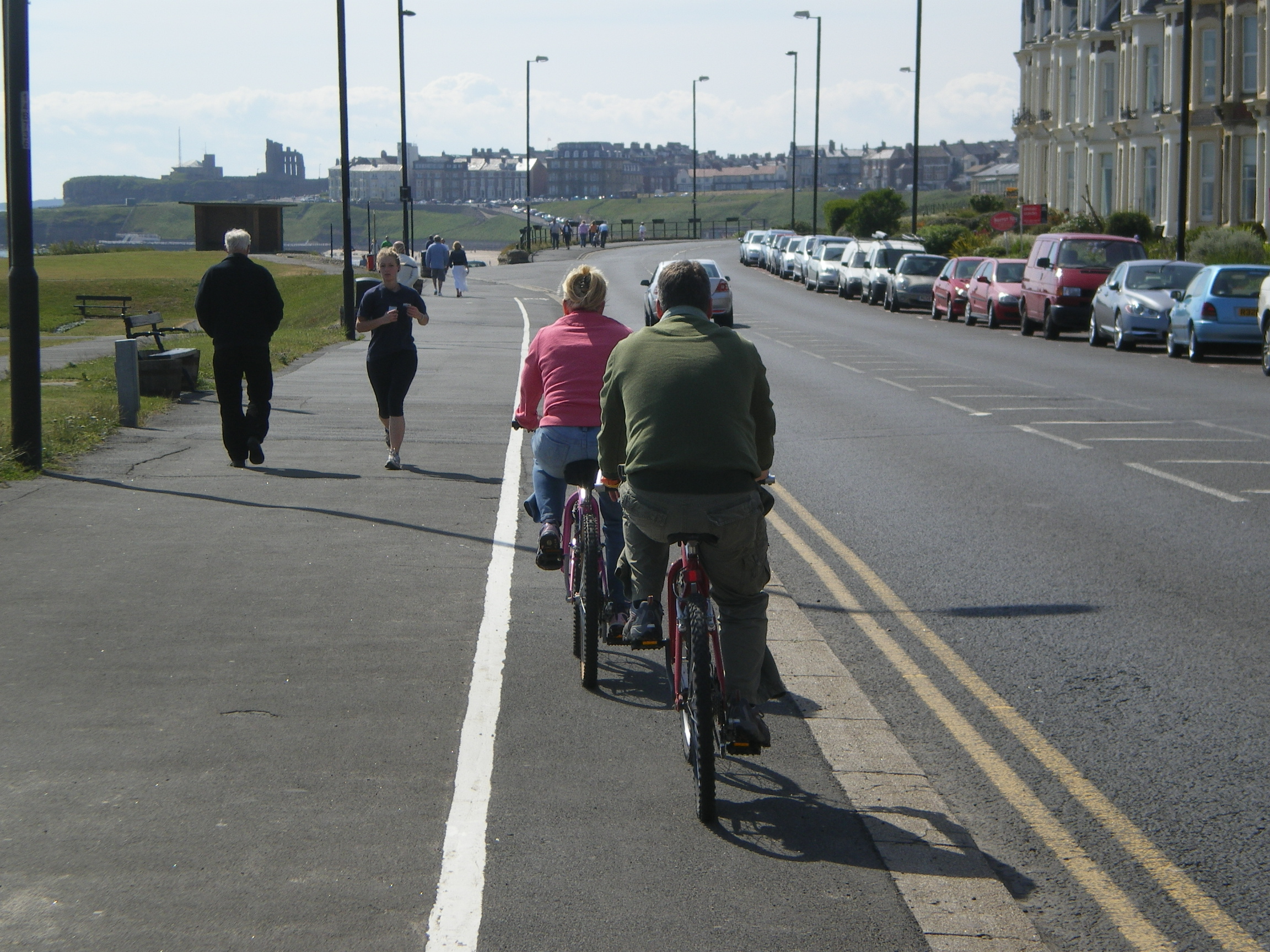 Yes - that's supposed to be a two-way cycle path. They've taken space from the pedestrians, but you'll note the central hatching still untouched in the middle of the road - heaven forbid that space should be taken away from decent, hard-working, road-tax paying motorists.
I might have got a bit soap-boxy about this last point, but thankfully Tom managed to keep us on track. By the end of the meeting, we were all friends again, and agreed:
That the Council will offer the cycle campaign the chance to have input to and suggest changes to road layout on resurfacing schemes scheduled this year and planned for the future. We'll await further information on schemes from the council. The Hybrid on/off road cycle lanes which Camcycle are promoting which might be implemented as part of resurfacing are described here.
That the cycle campaign will put forward proposals for changes to junctions and sections of the road network, particularly in cases where these could be made at low cost (paint and planters). These proposals will be logged by the council and go towards creating a set of designs which could form part of a larger capital program in the future or be implemented as and when opportunities occur. We'll think long term and won't be shy of changes that need DfT approval, the aim should be to maintain and develop N.Tyneside's reputation for innovation even in these difficult times.