Friday Caption Contest - Modfather Of British Utility Cycling Edition
OK - first up the prizes for last week's competition. Some really smashing entries, but the winner had to be Primal Tuna, with "To all the shaved lycra racers on your 2kg bikes… HTFU!". Will be arranging their extensive cycle caravan tour just as soon as the weather turns proper nasty in the autumn.
For this week's competition, we're focusing on Olympic champion and Tour de France hopeful, Bradley Wiggins (pictured, far left). He's not like you and me - to race at his level, you have to be made of tougher stuff; a real-life super hero Übermensch cyborg from a genetically perfect future. Seriously - I'm pretty fit, but compared with Wiggo et al., I'm just a fat bloke who rides slowly and probably starts crying when the going gets tough.
Anyway, Wiggins is quoted in today's Independent on the shambles of the London 2012 ticketing system (a.k.a. "No Corporate Sponsor, No Ticket. You Peasant"), and on London's Boris Bikes:
"[It's] very dangerous," he said. "Most of the people that ride around London don't wear helmets and can't even ride a bike, which just creates more danger on the roads and obviously drivers get frustrated with them, people riding along with iPods on these Boris Bikes with no helmets.

"I think it's a disaster waiting to happen, personally, but what do I know?"
Indeed!
So your challenge this week is to come up with a caption for this photo, to convince our TdF & 2012 Olympic hopeful that riding a bike needn't be all about head-down-bum-up jostling for position in the péleton, and it can be about just getting from A to B with as little fuss & as much style as possible: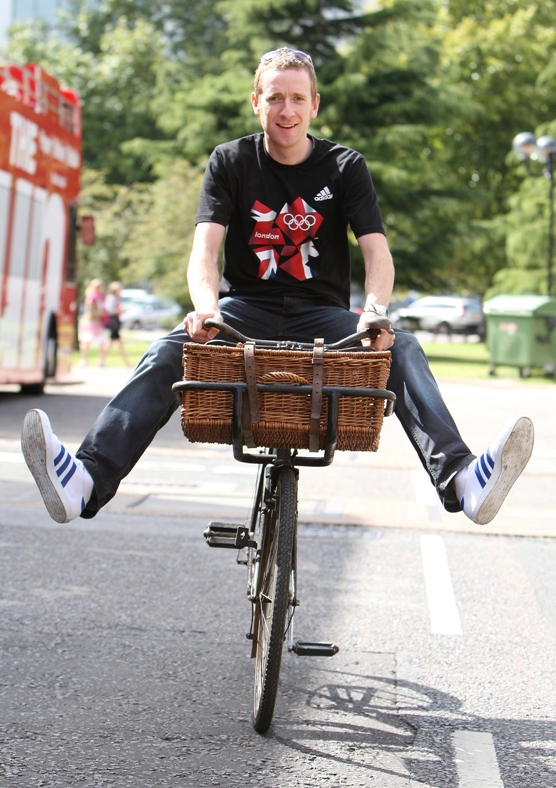 This week we have a [virtual] prize that you'd sell your grandmother to get your hands on:
The actual Lambretta scooter that Bradley Wiggins was due to ride in this year's Giro D'Itallia, AND the actual Parka he wore when he won the Critérium du Dauphiné a few weeks later!
Just leave your caption below.
Good luck!